PERCEPTIONS OF PATIENTS ON DOCTORS' AND NURSES' NON-VERBAL COMMUNICATION IN LAHORE, PAKISTAN: A PHENOMENOLOGICAL STUD
Ayesha Junaid

University of Management and Technology Lahore Pakistan

Muhammad Shaban

University of Management and Technology Lahore Pakistan

Najm-Us -Saqib Khan

Naval Headquarter Islamabad Pakistan
Keywords:
Doctor-patient communication, Linguistics, Non-verbal cues, Paralinguistic cues, Qualitative research
Abstract
Objective:
The study identifies and determines the frequency and types of non-verbal behaviours of doctors and nurses as perceived by patients and elucidates their effect on healthcare delivery.
Study Design: Descriptive study.
Place and Duration of the Study: The study is conducted in outpatient departments of Red Crescent Hospital, Dina Nath and Fatima Memorial Hospital, Lahore, Pakistan, for a period of 2 weeks.
Patients and Methods:
Semi-structured Interviews of 40 patients (20 from each hospital) coming for their appointments are conducted and analysed by Heidegger's Phenomenological principles. Purposive sampling method is used to recruit the volunteer patients from various socio-economic strata in this study.
Results:
The findings revealed that majority of the patients (80%=32) perceived non-verbal behaviours of the professionals spontaneously. The most frequent behaviours affecting healthcare delivery were facial expressions and the tone of voice. It was found that age, class and education are the factors that affect patients' perceptions. In total fourteen kinds of non-verbal behaviours were perceived by the patients amounting to 139 repetitions. The researchers have analysed only those non-verbal cues in the study that were found most frequently.
Conclusion:
Non-verbal communication plays a significant role for the development of interpersonal relationship between doctors, nurses and patients. As many messages are transmitted paralinguistically, the health professionals must be trained to understand and gauge their own non-verbal cues towards the patients.
Downloads
Download data is not yet available.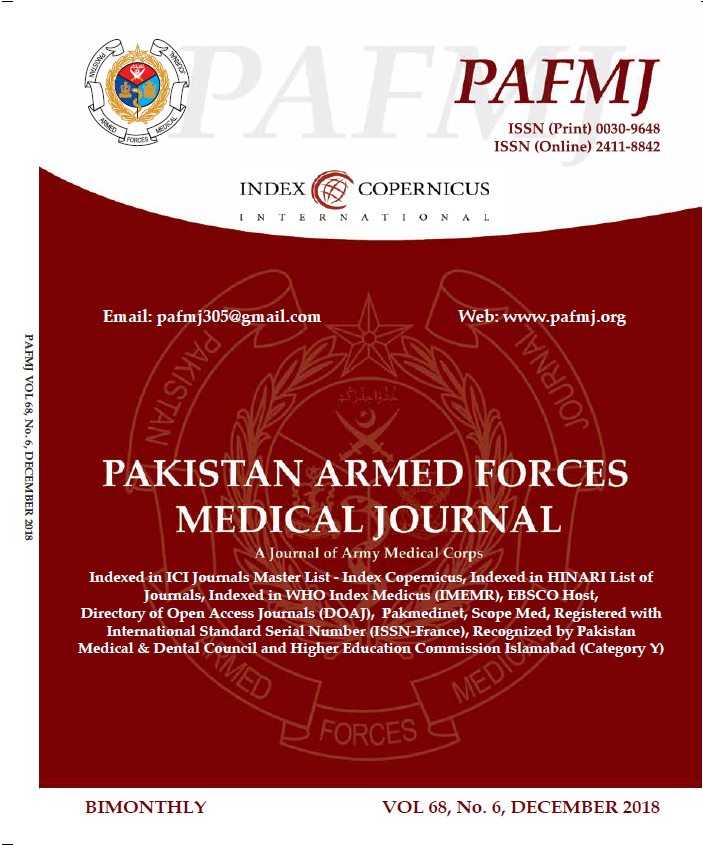 How to Cite
Junaid, A., Shaban, M., & Khan, N.-U. (2018). PERCEPTIONS OF PATIENTS ON DOCTORS' AND NURSES' NON-VERBAL COMMUNICATION IN LAHORE, PAKISTAN: A PHENOMENOLOGICAL STUD. PAFMJ, 68(6), 1731-36. Retrieved from https://pafmj.org/index.php/PAFMJ/article/view/2604
Section
Original Articles