THE HEPATITIS C UNTYPE-ABLE GENOTYPES, AN EMERGENCE OF QUASI-SPECIES IN HCV INFECTED PATIENTS
:The Hepatitis C untype-able genotypes
Qanita Fahim

Combined Military Hospital Lahore/National University of Medical Sciences (NUMS) Pakistan

Irfan Ali Mirza

Combined Military Hospital Lahore/National University of Medical Sciences (NUMS) Pakistan

Ayesha Khalid

Combined Military Hospital Lahore/National University of Medical Sciences (NUMS) Pakistan

Anum Imtiaz

Combined Military Hospital Lahore/National University of Medical Sciences (NUMS) Pakistan

Asad Ahmad

Avicenna Medical College Lahore Pakistan
Keywords:
Hepatitis c-virus, Genotypes, Untype-able variants
Abstract
Objective: To determine the frequency of Type-able and untype-able genotypes in hepatitis C infected patients,
and to observe their association with gender, age, Alanine Aminotranferease and viral load.
Study Design: Cross-sectional analytical study.
Place and Duration of Study: Department of Microbiology, Combined Military Hospital, and Lahore, Pakistan
from Sep 2017 to Mar 2018.
Methodology: Six hundred forty seven anti HCV antibodies positive serum samples by Enzyme Linked Immuno
Sorbant Assay were received from a total of 6791 serum samples. The positive sera were subjected to qualitative PCR and quantitative real time (RT) PCR to determine pre-treatment viral load. Quantitative PCR positive sera with viral load >500IU/ml were further subjected to molecular genotyping by using Ohno et al method.
Result: Out of 647 positive serum samples, type-specific PCR fragments were seen in 424 sera, while 13 (3.1%) of serum samples were of untype-able genotype. In all age groups genotype 3a had emerged as a predominant
genotype 397 (93.6%), followed by 1b 8 (1.9%), 3b 4 (0.9%), 1a 2 (0.5%), while no sample detected to have 2a, 2b,
5a, 6a and mixed genotypes. The highest prevalence of untype-ables were seen in 61-70 age group.
Conclusion: Need of the hour is proper sequencing of untype-able genotypes via upgrading existing methodologies. It will not only help the clinicians in achieving sustained virological response but also help in identifying new genotypes/subtypes.


Downloads
Download data is not yet available.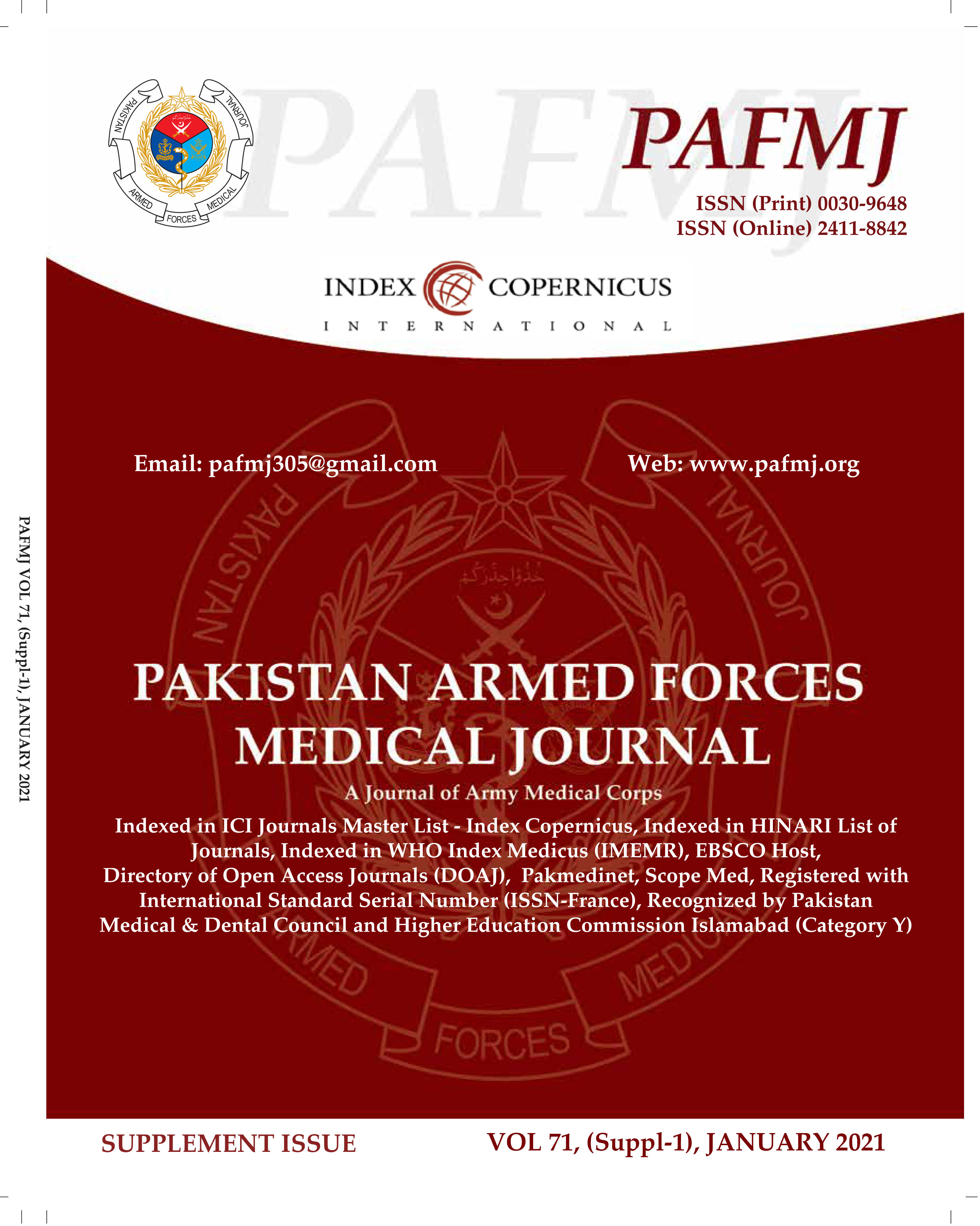 How to Cite
Fahim, Q., Mirza, I., Khalid, A., Imtiaz, A., & Ahmad, A. (2021). THE HEPATITIS C UNTYPE-ABLE GENOTYPES, AN EMERGENCE OF QUASI-SPECIES IN HCV INFECTED PATIENTS. Pakistan Armed Forces Medical Journal (PAFMJ), 71(Suppl-1), S106-12. https://doi.org/10.51253/pafmj.v71iSuppl-1.2603
Section
Original Articles