FREQUENCY OF HEPATOCELLULAR CARCINOMA AND ASSOCIATED SOCIODEMOGRAPHIC FACTORS IN TREATED PATIENTS OF CHRONIC HEPATITIS C
Keywords:
heaptocellular carcinoma, Hepatitis C virus, Incidence, Treated
Abstract
Objective: To look for frequency and associated socio-demographic factors of newly diagnosed patients of heaptocellular carcinoma (HCC) among patients treated adequately for hepatitis C infection.
Study Design: Correlational study.
Place and Duration of Study: Gastroenterology Department, Pak Emirates Military Hospital Rawalpindi, from
Nov 2017 to Oct 2018.
Methodology: This analysis was performed on 170 patients treated effectively for hepatitis C with standard antiviral therapy at our hospital. They were followed up for two years after the sustained viral response has been achieved. Ultrasonography was done in all cases and contrast enhanced computerized tomography scan done on patients who were positive on ultrasound. Factors like age, gender, genotype of heaptocellular carcinoma, presence of cirrhosis and model for end-stage liver disease (MELD) score were related with presence of heaptocellular carcinoma among the target population.
Results: Out of 170 patients included in final analysis 121 were male, 49 were female. About 53 patients were
diagnosed as suffering from heaptocellular carcinoma while 117 were negative for that. Thirty six patients had
cirrhosis while 134 non cirrhotic. After applying the binary logistic regression genotypes other than 3, high model for end-stage liver disease score & presence of cirrhosis had a strong relationship with presence of heaptocellular carcinoma among the patients treated for hepatitis C virus.
Conclusion: Physicians and patients cannot ignore the possibility of a malignant outcome even after successful
treatment of hepatitis C. Local protocols should be set for screening especially the high risk cases even after
treatment of hepatitis..........
Downloads
Download data is not yet available.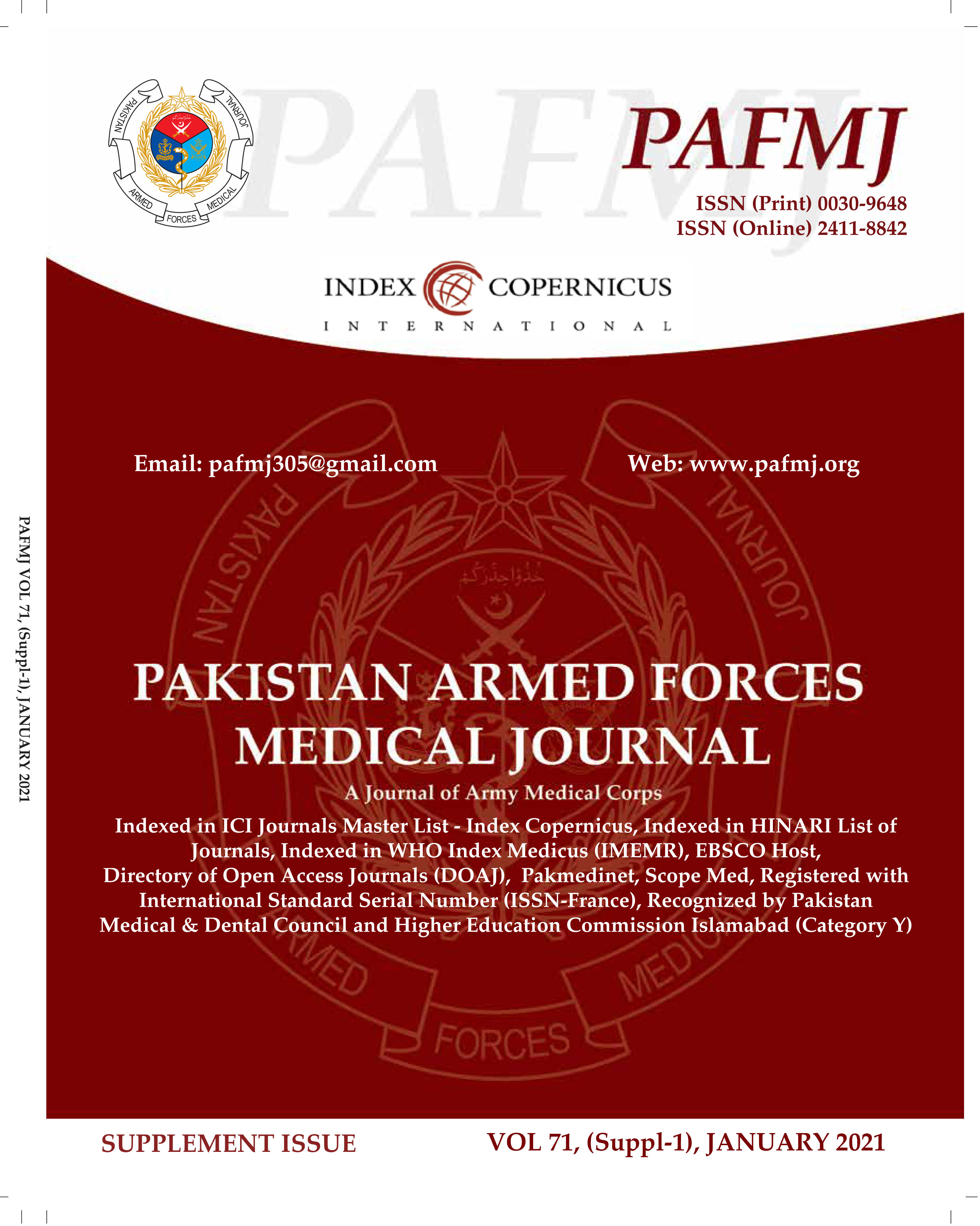 Downloads
How to Cite
Tariq, R., Abbas, A., Saeed, F., & Qureshi, Z. A. (2021). FREQUENCY OF HEPATOCELLULAR CARCINOMA AND ASSOCIATED SOCIODEMOGRAPHIC FACTORS IN TREATED PATIENTS OF CHRONIC HEPATITIS C. Pakistan Armed Forces Medical Journal, 71(Suppl-1), S52–56. https://doi.org/10.51253/pafmj.v71iSuppl-1.2602
Section
Original Articles