FREQUENCY OF BETA THALASSEMIA TRAIT AMONG THE HEALTHY INDIVIDUALS - A SINGLE CENTRE STUDY
Muhammad Arif Sadiq

PAF Hospital Islamabad Pakistan

Ahmad Muqeem

PAF Hospital Islamabad Pakistan

Rizwan Yusuf

PAF Hospital Islamabad Pakistan

Asma Bilal

Islamabad Medical and Dental College Islamabad Pakistan
Keywords:
Thalassemia, Haemoglobinopathies, Beta Thalassemia Trait
Abstract
Objective:
To determine the frequency of beta thalassemia trait among the asymptomatic healthy individuals.
Study Design: Cross sectional study.
Place and Duration of Study: This was carried out at Pakistan Air Force (PAF) Hospital Lahore from Jan 2016 to Jun 2017.
Patients and Methods:
The subjects were both male and female who came from all over Pakistan for central medical board for selection in Pakistan Air Force. Their ages were between 18 and 28 years. Their complete blood counts were measured on Sysmex KX 21 hematology analyzer. Candidates with microcytic hypochromic indices without anaemia were screened for beta thalassemia trait. Haemoglobin (Hb) electrophoresis was done on cellulose acetate paper at alkaline PH. HbA2 estimation was done by measuring the absorbance of elute on spectrophotometer. Beta thalassemia was diagnosed if the subject had HbA2 more than 3.5%. The data was analyzed using statistical package for social sciences (SPSS) software version 17.
Results:
A total of 2279 individual were enrolled in the study. Among them 2061 (90.4%) were males and 218 (9.6%) were females. Out of 2061 males, 91 (4.41%) were found to have beta thalassemia trait whereas among females only 6 (2.75%) out of 218 had beta thalassemia trait. The overall frequency of beta thalassemia trait was found to be 4.25%.
Conclusion:
The overall frequency of beta thalassemia trait in our study was found to be 4.25%. Thalassemia screening should be carried out along with normal health screening tests at least once in lifetime.
Downloads
Download data is not yet available.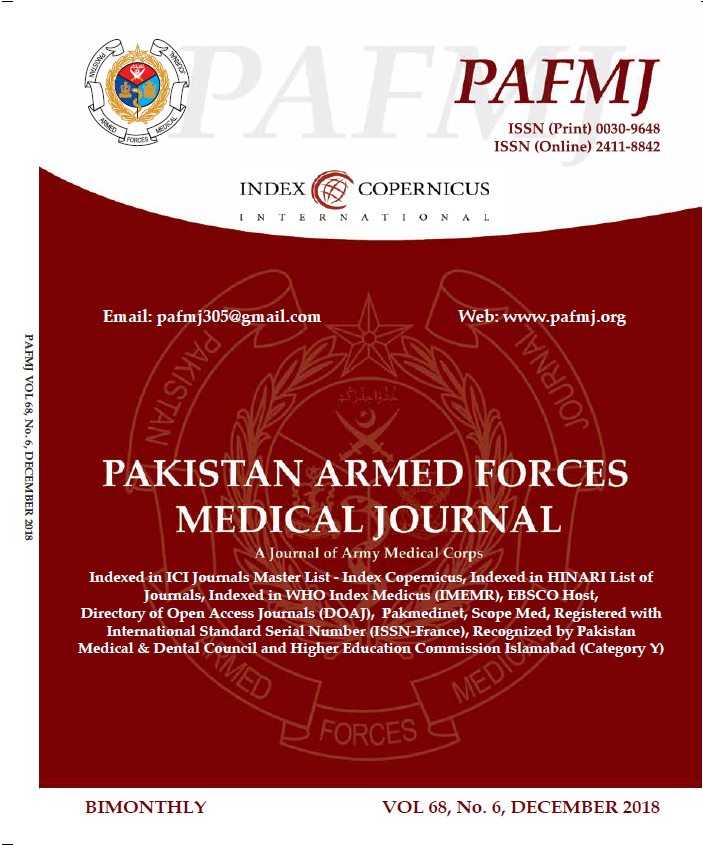 How to Cite
Sadiq, M., Muqeem, A., Yusuf, R., & Bilal, A. (2018). FREQUENCY OF BETA THALASSEMIA TRAIT AMONG THE HEALTHY INDIVIDUALS - A SINGLE CENTRE STUDY. PAFMJ, 68(6), 1716-19. Retrieved from https://pafmj.org/index.php/PAFMJ/article/view/2594
Section
Original Articles