COMPARISON OF ONLAY VERSUS SUBLAY MESH REPAIR FOR VENTRAL ABDOMINAL HERNIAS. A RANDOMIZED CONTROLLED TRIAL
Taseer Ibrahim

Pak Emirates Military Hospital/National University of Medical Sciences (NUMS) Rawalpindi Pakistan

Waqas Ahmed

Pak Emirates Military Hospital/National University of Medical Sciences (NUMS) Rawalpindi Pakistan

Iftikhar Ahmed

Pak Emirates Military Hospital/National University of Medical Sciences (NUMS) Rawalpindi Pakistan

Komal Mushtaq

Pak Emirates Military Hospital/National University of Medical Sciences (NUMS) Rawalpindi Pakistan

Adee Hussain

Pak Emirates Military Hospital/National University of Medical Sciences (NUMS) Rawalpindi Pakistan

Naveed Ahmed

Pak Emirates Military Hospital/National University of Medical Sciences (NUMS) Rawalpindi Pakistan
Keywords:
Ventral Hernia, Sublay, Onlay, Mesh Repair
Abstract
Objective:
To compare onlay versus sublay mesh repair for ventral abdominal hernias in terms of mean operative team, frequency of post-operative wound infection, seroma formation and hematoma formation.
Study Design: Randomized controlled trial.
Place and Duration of Study: Department of General Surgery, Pak Emirates Military Hospital Rawalpindi, from Apr 2017 to Dec 2017.
Material and Methods:
A total of 78 patients (39 in each group) diagnosed as a case of ventral abdominal hernia meeting the inclusion and exclusion criteria were included in the study. Patients with complicated hernias, recurrent hernias and bleeding disorders were excluded. Group-A patients underwent mesh repair by the onlay method while group-B patients underwent mesh hernioplasty via the sublay technique. All patients were followed for wound infection, seroma formation and hematoma formation. Data was analyzed by SPSS ver. 23.0.
Results:
The mean operation time in group A was 46.10 ± 7.25 minutes while in group B, the mean operation time was 77.82 ± 9.97 minutes (p<0.001). The frequency of wound infection was 5.13% vs 0% (p=0.49) and hematoma formation was 5.13% vs 7.69% (p=0.999) between the two groups respectively which were statistically insignificant. However, seroma formation between the two groups was 23.08% vs 5.13%, which was statistically significant (p=0.023).
Conclusion:
Sublay mesh repair for ventral hernias is better than onlay mesh repair for ventral abdominal wall hernias in terms of frequency of complications. However, it requires a longer operative time.
Downloads
Download data is not yet available.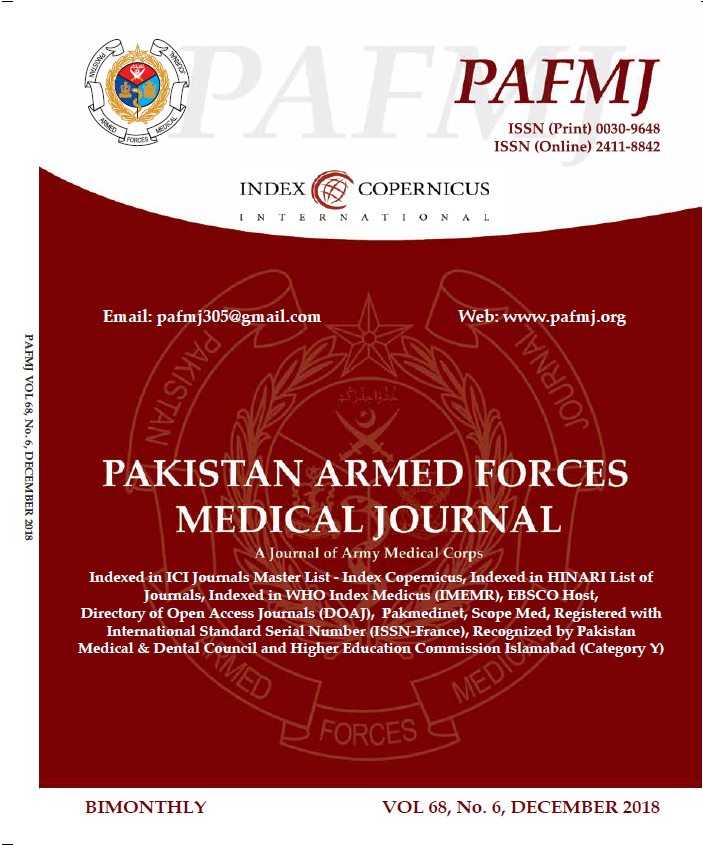 How to Cite
Ibrahim, T., Ahmed, W., Ahmed, I., Mushtaq, K., Hussain, A., & Ahmed, N. (2018). COMPARISON OF ONLAY VERSUS SUBLAY MESH REPAIR FOR VENTRAL ABDOMINAL HERNIAS. A RANDOMIZED CONTROLLED TRIAL. Pakistan Armed Forces Medical Journal (PAFMJ), 68(6), 1700-04. Retrieved from https://pafmj.org/index.php/PAFMJ/article/view/2586
Section
Original Articles