ADVERSE EFFECTS OF LOW FREQUENCY NOISE ON ALVEOLAR BONE OF MICE, AN UNSEEN DILEMMA
Toqeer Ahmed Iqbal

Federal Medical and Dental College Islamabad Pakistan

Abdullah Qamar

*CMH Institute of Medical Science Bahawalpur/National University of Medical Sciences (NUMS) Pakistan

Saima Mumtaz

Federal Medical and Dental College Islamabad Pakistan
Keywords:
Low frequency noise, Periodontal ligament, Periodontium
Abstract
Objective:
To observe the destructive effects of low frequency noise on periodontium with special emphasis on the alveolar bone.
Study Design: Laboratory based randomized control study.
Place and Duration of Study: The study was conducted at Anatomy department of Army Medical College, Rawalpindi, in collaboration with animal house of National Institute of Health, Islamabad. The study continued for one year, from Sep 2012 to Aug 2013.
Material and Methods:
Thirty adult BALB mice were divided into three equal groups. The animals from group A (Control) were exposed to routine outside environment of animal house with normal daily activity going on. The animals from experimental group B were kept in an environment having complete silence with no exposure to external environment. The animals from group C (Experimental) were exposed to low frequency noise of 200 Hz continuously for a period of three months. This sound was generated by an analogue frequency generator having uninterrupted power supply (UPS). At the end of the study, animals were sacrificed and histomorphological changes were observed on the alveolar bone. The data was collected at the end of study and analyzed using SPSS version 21. The results with p-value <0.05 were considered to be statistically significant.
Results:
There was significant distortion of normal architecture of the alveolar bone. A few detached bony fragments were also found scattered among fibers of periodontal ligament in specimen from group A and C. No significant change was found in specimen from experiments group B who were kept in silent environment.
Conclusion:
Exposure to low frequency noise has a significant destructive effect on alveolar bone of experimental animals.
Downloads
Download data is not yet available.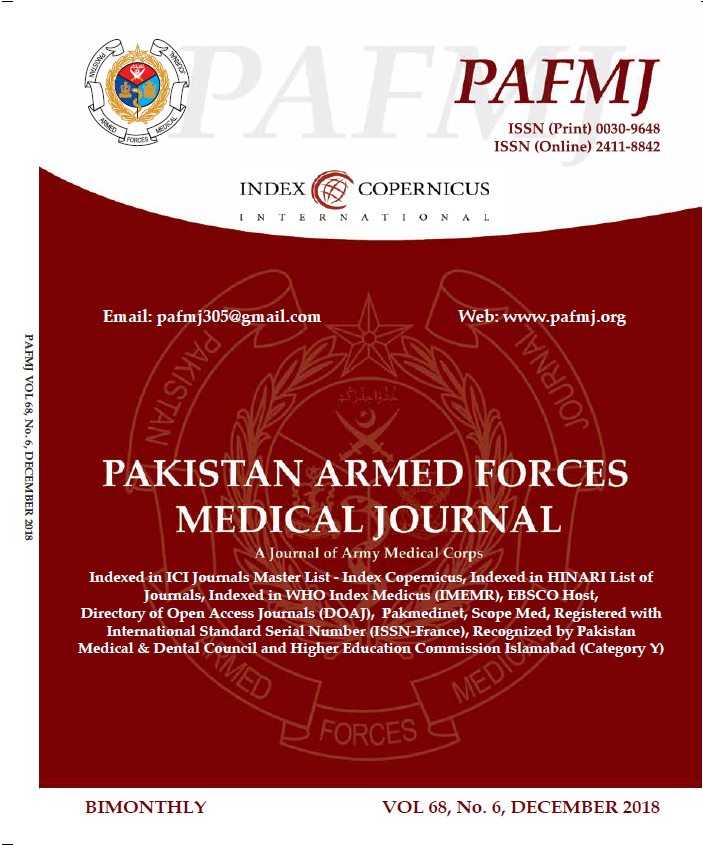 How to Cite
Iqbal, T., Qamar, A., & Mumtaz, S. (2018). ADVERSE EFFECTS OF LOW FREQUENCY NOISE ON ALVEOLAR BONE OF MICE, AN UNSEEN DILEMMA. PAFMJ, 68(6), 1686-90. Retrieved from https://pafmj.org/index.php/PAFMJ/article/view/2578
Section
Original Articles