AWARENESS AND PRACTICE OF PREVENTIVE STRATEGIES IN PATIENTS OF CUTANEOUS LEISHMANIASIS
Asher Ahmed Mashhood

Combined Military Hospital Peshawar/National University of Medical Sciences (NUMS) Pakistan

Sakina Sadiq Malik

Combined Military Hospital/National University of Medical Sciences (NUMS) Rawalpindi Pakistan

Mustansar Majeeb Ul Haq

NUMS Head Quarter Rawalpindi Pakistan

Qamar Uddin Khan

Combined Military Hospital Peshawar/National University of Medical Sciences (NUMS) Pakistan
Keywords:
Cutaneous leishmaniasis, Preventive strategies
Abstract
Objective:
To find the level of awareness and practice of preventive strategies in patients of cutaneous leishmaniasis (CL), presenting to dermatology outpatient department (OPD) of Combined Military Hospital Peshawar.
Study Design: Descriptive/observational.
Place and Duration of Study: Dermatology department, Combined Military Hospital, Peshawar from Oct 2015 to Jan 2016.
Material and Methods:
One hundred patients of cutaneous leishmaniasis from dermatology OPD were selected after informed consent and permission from Hospital Ethical committee. They were given a comprehensive questionnaire comprising questions about socio-demographic factors, knowledge and practice of preventive strategies against cutaneous leishmaniasis.
Results:
All the affected patients were males. Mean age was 29.34 ± 7.69 years. All were serving persons. All the patients developed the disease while serving in FATA and surrounding areas. Mean disease duration was 3.79 ± 2.6 months. Questions regarding attitudes and practices revealed that 75% patients were sleeping on the floor, 43% acquired the disease while living in residences made from rocks and mud, 34% lived near forests, 63% were using mosquito nets, 75% were using mosquito repellant, 38% had regular insecticidal spray and 87% were using barrier clothing.
Conclusion:
There is a need for more health education to create awareness amongst our troops and it should also be stressed that the preventive measures must be ensured at unit and brigade level to minimize the incidence of the disease. For effective anti-sandfly measures, the referred document may be consulted.
Downloads
Download data is not yet available.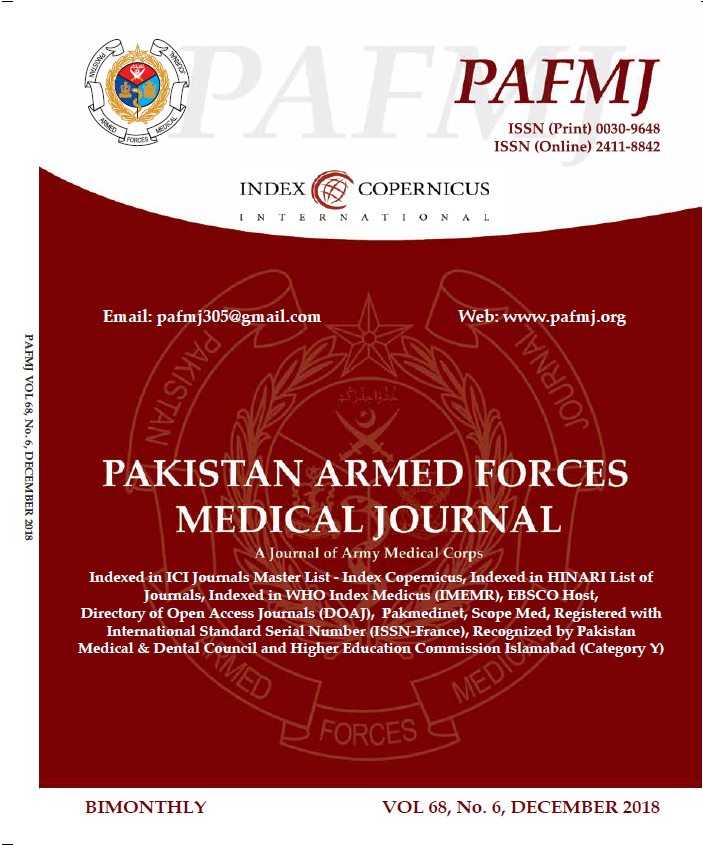 How to Cite
Mashhood, A., Malik, S., Ul Haq, M., & Khan, Q. (2018). AWARENESS AND PRACTICE OF PREVENTIVE STRATEGIES IN PATIENTS OF CUTANEOUS LEISHMANIASIS. Pakistan Armed Forces Medical Journal (PAFMJ), 68(6), 1683-85. Retrieved from https://pafmj.org/index.php/PAFMJ/article/view/2577
Section
Original Articles