DIAGNOSTIC ACCURACY OF SPLENIC ARTERY PULSATILITY INDEX IN PREDICTING FIBROSIS ASSOCIATED WITH CHRONIC HEPATITIS C
Hidayat Ullah

Yusra Medical and Dental College Islamabad Pakistan

Ateeq Ur Rehman

Armed Forces Institute of Radiology & Imaging/National University of Medical Sciences (NUMS) Rawalpindi Pakistan

Huma Aslam

Armed Forces Institute of Radiology & Imaging/National University of Medical Sciences (NUMS) Rawalpindi Pakistan
Keywords:
Splenic artery pulsatility index, Hepatitis C infection, Chronic hepatitis C
Abstract
Objective:
To find the diagnostic accuracy of splenic artery pulsatility index in predicting fibrosis associated with chronic hepatitis C.
Study Design: Cross-sectional validation study.
Place and Duration of Study: Armed Forces Institute of Radiology and Imaging Rawalpindi, Departments of Medicine and Pathology, Pak Emirates Military Hospital Rawalpindi, from Sep 2014 to Feb 2015.
Material and Methods:
Seventy-five patients with evidence of HCV infection as detected by positive anti HCV antibodies and HCV RNA for more than 6 months were recruited in this study using consecutive sampling. Ultrasound evaluation of liver and spleen was carried out after overnight fast along with doppler evaluation of splenic artery. Histopathological findings, of the subsequently done liver biopsy, were recorded as gold standard. Findings were recorded on the already prepared proforma. Statistical package for social sciences version 20 was used for the analysis of the data.
Results:
The average age of the patients was 36.87 ± 8.16 years. Sensitivity, specificity, Positive predictive value, negative predictive value and diagnostic accuracy of increased splenic artery pulsatility index in assessing the severity of hepatic fibrosis were 80.8%, 91.8%, 84%, 90% and 88% respectively. ROC curve showed area under the curve to be 0.917 with p<0.001.
Conclusion:
Splenic artery pulsatility index is a simple, non-invasive and reproducible technique for assessing hepatic fibrosis in patients with chronic hepatitis C and can reduce the number of staging liver biopsies.
Downloads
Download data is not yet available.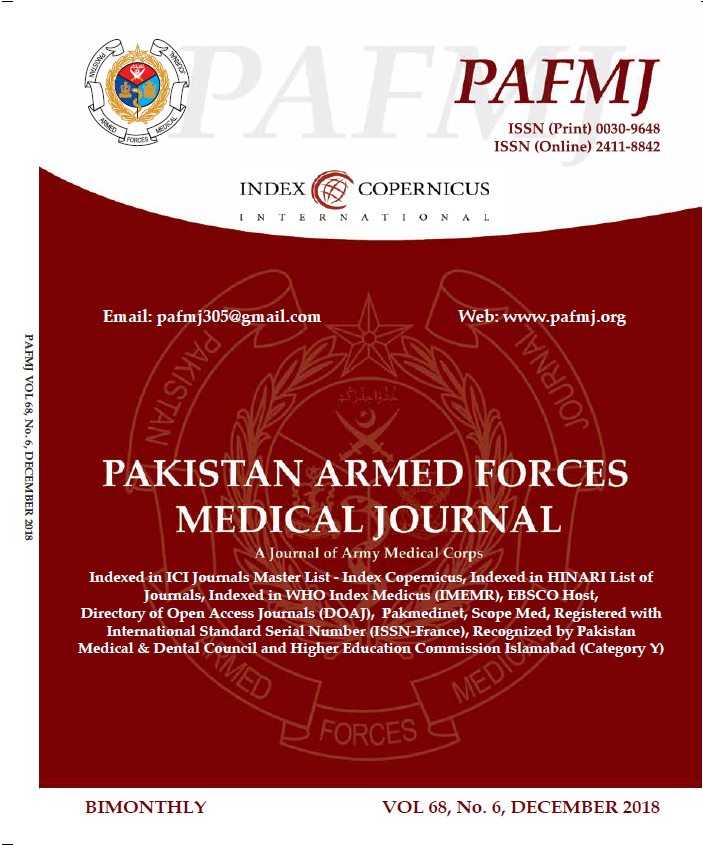 How to Cite
Ullah, H., Rehman, A., & Aslam, H. (2018). DIAGNOSTIC ACCURACY OF SPLENIC ARTERY PULSATILITY INDEX IN PREDICTING FIBROSIS ASSOCIATED WITH CHRONIC HEPATITIS C. Pakistan Armed Forces Medical Journal, 68(6), 1630-35. Retrieved from https://pafmj.org/index.php/PAFMJ/article/view/2561
Section
Original Articles