USE OF E-TECHNOLOGY, PHYSICAL ACTIVITY AND OBESITY AMONG ADOLESCENTS OF RAWALPINDI AND ISLAMABAD
Iffat Atif

Yusra Medical and Dental College Islamabad Pakistan

Hassan Bin Usman Shah

Yusra Medical and Dental College Islamabad Pakistan

Maria Hassan

Yusra Medical and Dental College Islamabad Pakistan

Mehreen Satti

Yusra Medical and Dental College Islamabad Pakistan

Hafsa Maryam

Yusra Medical and Dental College Islamabad Pakistan

Maryam Waheed

Yusra Medical and Dental College Islamabad Pakistan

Sehrish Riaz

Yusra Medical and Dental College Islamabad Pakistan

Farkhanda Batool

Yusra Medical and Dental College Islamabad Pakistan
Keywords:
Physical activity, Obesity, E-technology, Adolescents
Abstract
Objective:
To determine the relationship of e-technology use and physical activity with obesity among adolescents of Rawalpindi and Islamabad.
Study Design: Cross sectional study.
Place and Duration of Study: Different schools of Islamabad and Rawalpindi, from Mar to Aug 2015.
Material and Methods:
A cross sectional study was conducted among 305 adolescents between ages 17-19 years, from different schools of Islamabad and Rawalpindi, selected through consecutive sampling technique. Structured close-ended questionnaire was administered and data obtained was analyzed by SPSS version 22. Correlation test was used to ascertain association between BMI, time spent using e-technology and physical activity duration.
Results:
The mean age of the participants was 15.7 ± 2.4 years. It was revealed that 13.3% of the respondents were underweight, 64.5% were of normal weight, 17.3 % were overweight and 9.5% were obese. The majority of females were found watching television (73.1%) and using cell phone (60.6%) whereas majority of the males were fond of playing videogames (63.7%) and using computer (72%). A positive correlation of 0.64 was found between e-technology use and BMI of individuals whereas physical activities were having negative correlation of -0.231 with BMI.
Conclusion:
The current study concluded that use of e-technology was directly associated and physical activity was inversely associated with obesity, suggestive of elevated consequences of sedentary activities on adiposity during adolescence. This issue must be addressed by raising awareness among adolescents about healthy lifestyle practices for their healthy and productive life in future.
Downloads
Download data is not yet available.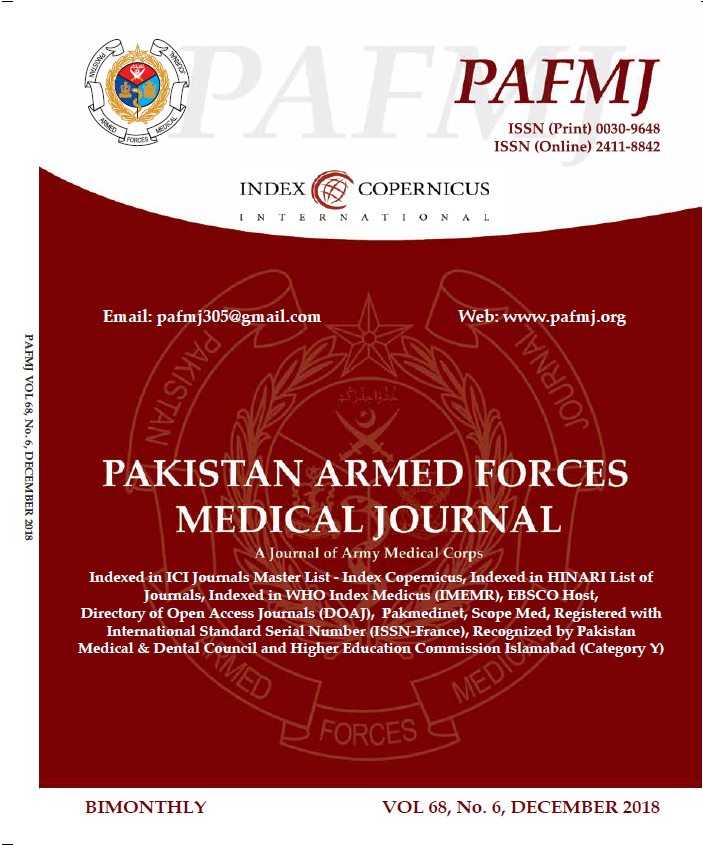 How to Cite
Atif, I., Shah, H., Hassan, M., Satti, M., Maryam, H., Waheed, M., Riaz, S., & Batool, F. (2018). USE OF E-TECHNOLOGY, PHYSICAL ACTIVITY AND OBESITY AMONG ADOLESCENTS OF RAWALPINDI AND ISLAMABAD. PAFMJ, 68(6), 1588-93. Retrieved from https://pafmj.org/index.php/PAFMJ/article/view/2553
Section
Original Articles