COMPARISON OF EFFECT OF OLANZAPINE AND RESPERIDONE ON SERUM PROLACTIN LEVELS IN PATIENTS WITH FIRST EPISODE PSYCHOSIS
Muhammad Haroon Khattak

Combined Military Hospital Lahore/National University of Medical Sciences (NUMS) Pakistan

Siddique Kakar

Combined Military Hospital Gilgit/ National University of Medical Sciences (NUMS) Pakistan

Akram Hamdani

Combined Military Hospital Lahore/National University of Medical Sciences (NUMS) Pakistan

Farrukh Akhtar

Combined Military Hospital Lahore/National University of Medical Sciences (NUMS) Pakistan

Sohail Ali

Combined Military Hospital Lahore/National University of Medical Sciences (NUMS) Pakistan
Keywords:
Psychosis, Hyperprolactinemia, Antipsychotics
Abstract
Objective:
To compare frequency of Hyperprolactinemia with Risperidone and Olanzapine in patients with first episode psychosis.
Study Design: Randomized controlled trial.
Place and Duration of Study: Combined Military Hospital (CMH) Lahore, over a period of six months from Sep 2015 to Feb 2016.
Subjects and Methods:
Total 60 patients who had psychosis as accompanying feature in any of the various psychiatric illnesses according to ICD-10 diagnostic criteria were enrolled in this Randomized controlled Trial. Fasting venous blood samples for serum prolactin were collected between 0800 hrs and 1000 hrs at baseline (first visit). The patients were then randomly assigned to receive risperidone or olanzapine by lottery method. Serum prolactin levels were then collected at 3 months follow-up visit. All samples were tested in labortary of Pathology department, CMH Lahore for measurement of serum prolactin levels and results were verified by a classified pathologist. Confounding variables were identified and excluded by exclusion criteria.
Results:
A total of 35 patients (58.33%) developed hyperprolactinemia. The olanzapine group showed 13 out of 30 patients (43.33%) and risperidone group showed 22 out of 30 patients (73.33%) with raised prolactin levels with p-value of 0.018 indicating that the difference was statistically significant.
Conclusion:
Frequency of hyperprolactinemia is high with risperidone than with olanzapine in first episode psychosis.
Downloads
Download data is not yet available.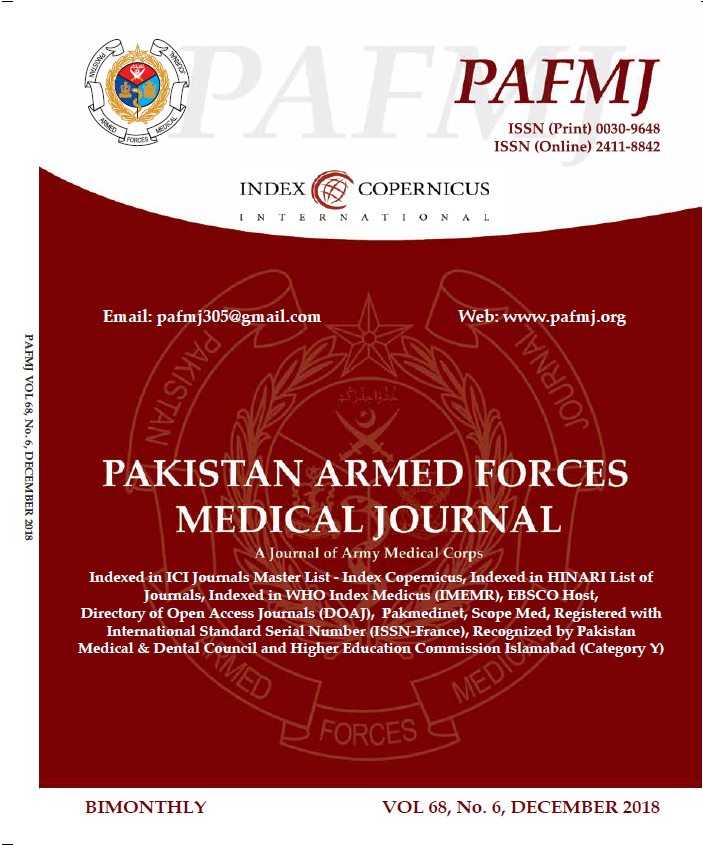 How to Cite
Khattak, M., Kakar, S., Hamdani, A., Akhtar, F., & Ali, S. (2018). COMPARISON OF EFFECT OF OLANZAPINE AND RESPERIDONE ON SERUM PROLACTIN LEVELS IN PATIENTS WITH FIRST EPISODE PSYCHOSIS. PAFMJ, 68(6), 1538-43. Retrieved from https://pafmj.org/index.php/PAFMJ/article/view/2536
Section
Original Articles