EFFECT OF USING VERSION IMAGE GUIDED SYSTEM ON SURGICALLY INDUCED ASTIGMATISM (SIA) IN PATIENTS UNDERGOING CATARACT SURGERY
Asad Habib

Armed Forces Institute of Ophthalmology/National University of Medical Sciences (NUMS) Rawalpindi Pakistan

Muhammad Saim Khan

Armed Forces Institute of Ophthalmology/National University of Medical Sciences (NUMS) Rawalpindi Pakistan

Mazhar Ishaq

Armed Forces Institute of Ophthalmology/National University of Medical Sciences (NUMS) Rawalpindi Pakistan
Keywords:
Verion, Phacoemulsification, Cataract, Astigmatism
Abstract
Objective:
To analyze the effect of use of VERION image guided system on surgically induced astigmatism (SIA) in patients undergoing cataract surgery.
Study Design: Randomized controlled trial.
Place and Duration of Study: The study was conducted at Armed Forces Institute of Ophthalmology, Rawalpindi, Pakistan from Aug 2016 to Dec 2016.
Material and Methods:
Sixty eyes undergoing cataract surgery with already existing corneal astigmatism of at least 0.5 diopter (D) were included in the study. Cases with already existing ocular pathology or any per operative complication were excluded. Non-probability (purposive) sampling technique was used. Patients were randomly grouped into two groups 1 and 2. Group-1 underwent normal conventional phacoemulsification with no specific predetermined incision site. Group-2 underwent keratometric assessment using VERION image guided system and data was transferred to operating microscope. Steep and flat meridian were displayed on screen and incision were made on steep axis. Pre and 2 week post op keratometric readings were noted on a workup performa for both the groups and compared. All the surgeries were done by the same surgeon. Statistical program for social sciences (SPSS) version 23.0 was used for statistical analysis.
Results:
Sixty eyes (29 male, 31 female) with mean age of 57.65 ± 7.41 years were studied. Group-1 included 30 eyes with mean age of 56.73 ± 9.16 years. Group-2 also included 30 eyes with mean age of 58.56 ± 5.10 years. Mean pre op astigmatism was 0.93 ± 0.45D and 0.88 ± 0.47 D in group 1 and 2 respectively. Mean...........
Downloads
Download data is not yet available.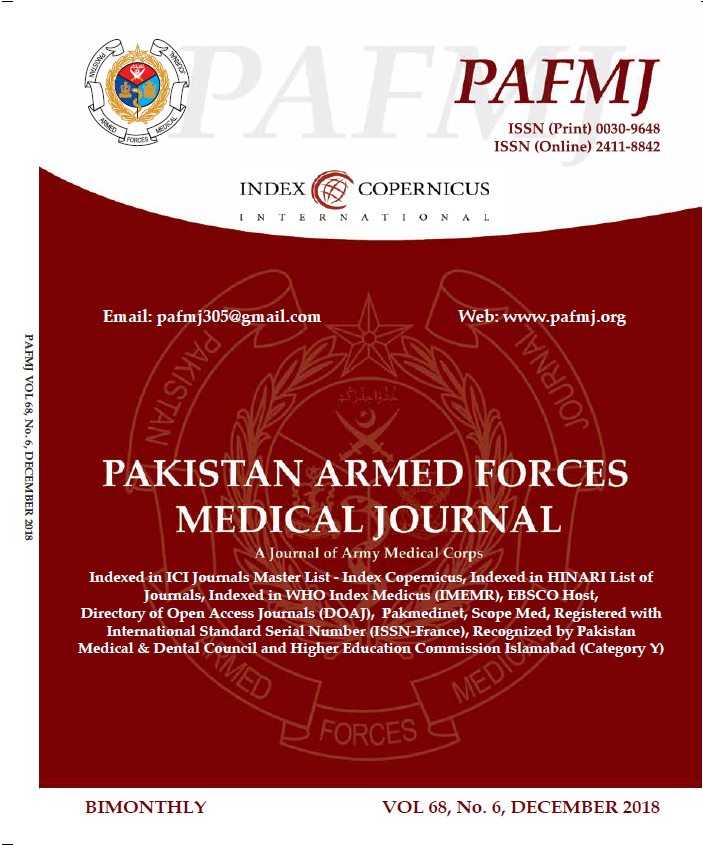 How to Cite
Habib, A., Khan, M., & Ishaq, M. (2018). EFFECT OF USING VERSION IMAGE GUIDED SYSTEM ON SURGICALLY INDUCED ASTIGMATISM (SIA) IN PATIENTS UNDERGOING CATARACT SURGERY. PAFMJ, 68(6), 1533-37. Retrieved from https://pafmj.org/index.php/PAFMJ/article/view/2535
Section
Original Articles