A COMPARATIVE STUDY OF TWO DIFFERENT DOSES OF 0.75% HYPERBARIC BUPIVACAINE FOR SPINAL ANAESTHESIA IN ELECTIVE CAESAREAN SECTION
Keywords:
Anesthesia, Bupivacaine, Caesarean section, Hypotension, Maternal blood pressure, Spinal
Abstract
Objective:
To compare the effect of 7.5mg versus 10mg of 0.75% hyperbaric bupivacaine in spinal anaesthesia for caesarean section.
Study Design: Randomized controlled trial.
Place and Duration of Study: Department of Anesthesia, Combined Military Hospital Rawalpindi, from Sep 2014 to Mar 2015.
Material and Methods:
One hundred and thirty patients fulfilling the inclusion/exclusion criteria were included in this study and they were divided into two groups. Group A was given 7.5mg and group B was given 10mg of 0.75% Bupivacaine. Blood pressure was recorded before and 03 minutes after administration of spinal anesthesia. Findings were recorded in the proforma. All the data collected through proforma was entered in the Statistical Package for Social Sciences (SPSS) Version 13.0 and analyzed using its statistical package.
Results:
The mean age in group A was 30.58 ± 3.12 years and in group B was 28.32 ± 2.53 years. The mean weight in group A was 64.45 ± 3.99 kg and in group B was 65.00 ± 5.38 kg. In group A, 5 (7.7%) patients developed hypotension while in group B there were 20 (30.8%) that developed it. Majority of the patients were between 31-35 years old in both groups. Mean systolic blood pressure after spinal anaesthesia was 80.23 ± 7.41 and 83.00 ± 7.43 in group-A and B respectively. The difference between two groups was statistically significant (p=0.001).
Conclusion:
In conclusion we can say that dose of local anesthetic is a significant factor that indirectly affects the maternal blood pressure and use of low.........
Downloads
Download data is not yet available.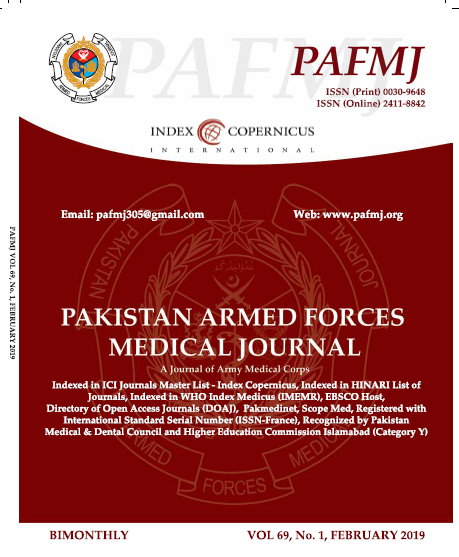 Downloads
How to Cite
Ali, M., & Iqbal, A. (2019). A COMPARATIVE STUDY OF TWO DIFFERENT DOSES OF 0.75% HYPERBARIC BUPIVACAINE FOR SPINAL ANAESTHESIA IN ELECTIVE CAESAREAN SECTION. Pakistan Armed Forces Medical Journal, 69(1), 154–59. Retrieved from https://pafmj.org/index.php/PAFMJ/article/view/2514
Section
Original Articles