KNOWLEDGE, ATTITUDE AND PRACTICE OF DENTAL STUDENTS AGAINST INFECTION CONTROL IN ALLIED HOSPITAL FAISALABAD
Keywords:
Practice, Knowledge, Infection control, Dental students, Attitude
Abstract
Objective: To evaluate knowledge, attitudes and practices regarding infection control measures among dental students of Allied Hospital Faisalabad. Study Design: A questionnaire based descriptive cross-sectional study. Place and Duration of Study: The study was conducted in Dental Section of Allied Hospital Faisalabad, from Dec 2017 to Jan 2018.
Material and Methods: A questionnaire-based descriptive cross-sectional study was conducted among 178 (1st, 2nd, 3rd & 4th) dental students at Allied Hospital Faisalabad and convenience sampling technique was used. The self-administered questionnaire was comprised of 7 knowledge based, 11 attitudes based and 4 practice-based questions regarding knowledge about various infectious diseases, use of barrier techniques, vaccination status, post exposure prophylaxis, attitude towards infection control and practices related to it. First and second year students were asked about only knowledge and attitude-based questions while third and final year students were asked about all three aspects (knowledge, attitude and practice). Data was analyzed using SPSS version 20. Variables were determined using chi square test, A p-value <0.05 was considered significant. Results: The response rate was 100% (all students were potential respondents). Results of the study revealed that 55.1%, 40.4% and 4.5% of the participants obtained poor, fair and satisfactory level of knowledge about infections and infection control in dentistry respectively. Most of the students showed positive attitude towards infection control measures. Overall, 97.8% of the students (3rd & 4th year) had been vaccinated for hepatitis B virus (non-significant difference, p=0.96) and only 56.2% were tested for post hepatitis B virus serology (non-significant difference p=0.94)...........
Downloads
Download data is not yet available.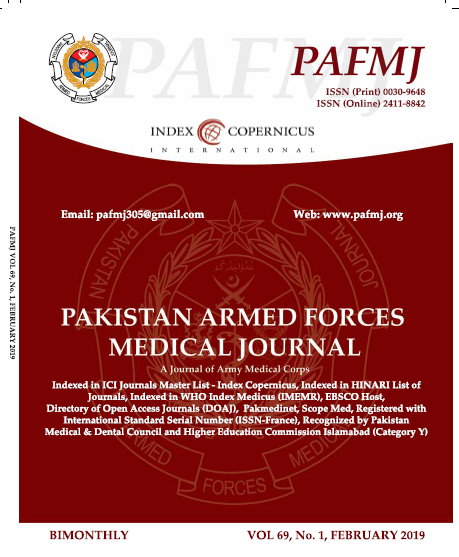 Downloads
How to Cite
Arif, S., Janjua, O. S., & Qureshi, S. M. (2019). KNOWLEDGE, ATTITUDE AND PRACTICE OF DENTAL STUDENTS AGAINST INFECTION CONTROL IN ALLIED HOSPITAL FAISALABAD. Pakistan Armed Forces Medical Journal, 69(1), 130–35. Retrieved from https://pafmj.org/index.php/PAFMJ/article/view/2510
Section
Original Articles