PRESCRIPTION PATTERNS OF GENERAL PRACTITIONERS IN THE TREATMENT OF THYPOID FEVER IN RAWALPINDI AND ISLAMABAD
Abdul Fatah

Army Medical Corps School and Center Abbottabad Pakistan

Shakeel Ahmed Mirza

AAD Facility Complex Rawalpindi Pakistan

Qasim Anser

AAD Facility Complex Rawalpindi Pakistan

Sajad Ahmed

Army Medical Corps School and Center Abbottabad Pakistan

Asif Ali

PAF Hospital Jacobabad Pakistan

Muhammad Ashraf Memon

Frontier Medical College Abbotabad Pakistan
Keywords:
Recrudescence, Prescription, Typhoid Fever, General Practitioners
Abstract
Objective:
To analyze the prescription patterns of general practitioners for the treatment of typhoid fever, identifying the gaps in treatment and recommendations for change of practice by general practitioners (GP's).
Study Design: Descriptive cross sectional study.
Place and Duration of Study: Different regions of Rawalpindi & Islamabad, from Sep to Nov 2011.
Methodology:
Convenient Sampling was done and one hundred GP's (n=100) were selected. We visited their clinics for private practise and gotconsent to fill questionnaires. Those who answered questionnaire and fulfilled the eligibility criteria were finally selected as study participants. Practitioners were selected irrespective of age, sex, ethnicity and locations within twin cities of Rawalpindi and Islamabad. Results: The prescription patterns revealed 55% GP's recommend quinolone's, 40% GP's 3rd generation cephalosporins, 2% GP's chloramphenicol, 1% GP's ampicillin / cotrimoxazole and 2% GP's prescribe other than these drugs. Forty one percent GP's recommended antibiotics for 14 days, 36% GP's advise for 10 days, 15% GP's recommend for 7 days, 7% GP's for 5 days and only 1% GP'sprescribed antibiotics for 3 days. Sixty two percent GP's were of opinion that effective order of drugs in the treatment of typhoid fever is quinolones, 3rd generation cephalosporin and ampicillin while 3rd generation cephalosporins, quinolones, azithromycin, ampicillin and chloramphenicol is effective orderin view of 32% GP's. For relapse / recrudescence of typhoid fever, 50% GP's prefer 3rd generation cephalosporins, 29% prescribed quinolones, 8% advise azithromycin / nalidixic acid, 6% recommended chloramphenicol and 3% prescribed ampicillin / cotrimoxazole. Conclusion: Inappropriate prescription pattern.........
Downloads
Download data is not yet available.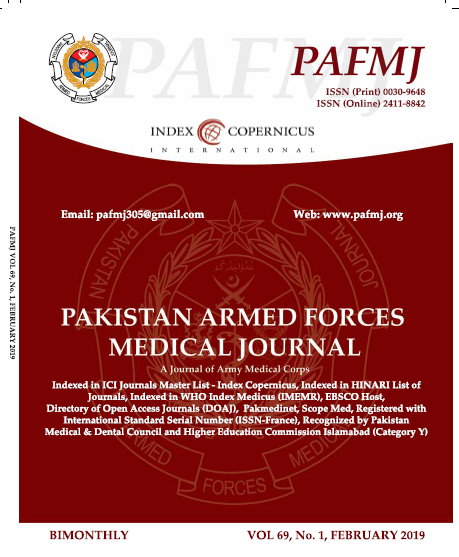 How to Cite
Fatah, A., Mirza, S., Anser, Q., Ahmed, S., Ali, A., & Memon, M. (2019). PRESCRIPTION PATTERNS OF GENERAL PRACTITIONERS IN THE TREATMENT OF THYPOID FEVER IN RAWALPINDI AND ISLAMABAD. Pakistan Armed Forces Medical Journal, 69(1), 112-16. Retrieved from https://pafmj.org/index.php/PAFMJ/article/view/2507
Section
Original Articles