AN IMPROVED MODIFIED PROTOCOL FOR SILVER STAINING OF DS DNA IN AGAROSE GEL
Nuzhat Aisha Ikram

Karachi Institute of Medical Sciences (KIMS) Karachi Pakistan

Bushra Iftikhar

Combined Military Hospital Malir/National University of Medical Sciences (NUMS) Pakistan

Shoaib Ahmed

Karachi Institute of Medical Sciences (KIMS) Karachi Pakistan

Fasiha Fatima

Karachi Institute of Medical Sciences (KIMS) Karachi Pakistan

Tehmina Qamar

Karachi Institute of Medical Sciences (KIMS) Karachi Pakistan

Shakeel R Farooqi

Karachi Institute of Medical Sciences (KIMS) Karachi Pakistan
Keywords:
Silver staining protocol, dsDNA, Agarose gel
Abstract
Objective:
Present study was aimed to develop a reproducible, cheap and sensitive method for silver staining of double stranded DNA in agarose gel.
Study Design: Experimental, repeated measure design.
Place and Duration of Study: Department of Genetics, University of Karachi, Karachi. This experimental study was conducted, from Nov 2013 to Jan 2014.
Material and Methods:
The new method is the modification and improvement in the original method proposed in the literature. Samples of ds genomic DNA was run on a nondenaturing 1.5% agarose/0.5X TBE. After electrophoresis gel was fixed in 10% acetic acid and staining was performed using 1 gm % silver nitrate. DNA bands were developed using 1.5% NaOH. At each step shaking was done manually with a circular movement. The modified method was also compared with the ethidium bromide staining of the same samples of DNA. Results: The modified method was proved to be as sensitive as the ethidium bromide with the advantage of having long term conservation ability of the gel. The main advantage of the protocol is the consumption of far less concentrations of silver nitrate and sodium hydroxide and the avoidance of the use of sodium thiosulphate.
Conclusion:
This method was easily reproducible, sensitive, and cheap with improved conservation ability of gel. It also avoids use of hazardous, expensive and time consuming radioactive and fluorescent detection.
Downloads
Download data is not yet available.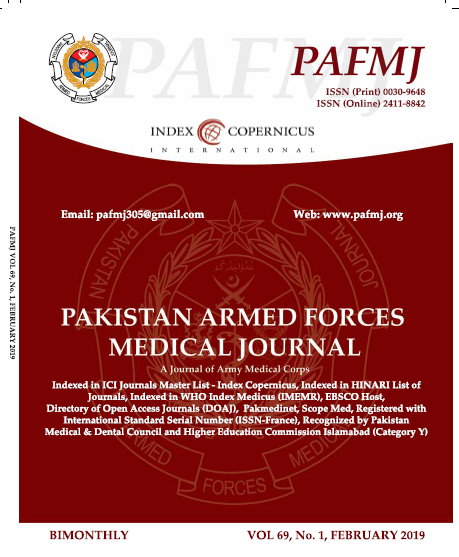 How to Cite
Ikram, N., Iftikhar, B., Ahmed, S., Fatima, F., Qamar, T., & Farooqi, S. (2019). AN IMPROVED MODIFIED PROTOCOL FOR SILVER STAINING OF DS DNA IN AGAROSE GEL. Pakistan Armed Forces Medical Journal, 69(1), 87-91. Retrieved from https://pafmj.org/index.php/PAFMJ/article/view/2502
Section
Original Articles