HYPERURICEMIA IN PRE-DIALYSIS CHRONIC KIDNEY DISEASE PATIENTS. A SINGLE CENTRE EXPERIENCE
Keywords:
Uric acid, Predialysis, CKD
Abstract
Objective:
To determine the prevalence of hyperuricemia in predialysis CKD patients in a tertiary care hospital and analyze its relationship with various socio-demographic factors.
Study Design: Descriptive cross sectional study.
Place and Duration of Study: Pak Emirates Military Hospital, Rawalpindi, from 1st Jun 2017 30th Nov 2017.
Material and Methods:
The sample population comprised of 200 predialysis CKD patients, stage 1-5, of a tertiary care hospital in Rawalpindi, Pakistan. Fasting serum uric acid level was obtained from the patients. Relationship of age, gender, education status, marital status, smoking history, dietary history, BMI, eGFR, lipid profile and blood pressure (systolic and diastolic) was assessed with the serum uric acid level.
Results:
Out of 200 patients, 62.5% had hyperuricemia and 37.5% had normal levels. After applying the logistic regression we found that presence of increased systolic blood pressure, raised cholesterol level, increasing age, lowe GFR and smoking history had significant association with the hyperuricemia.
Conclusion:
This study showed a high prevalence of hyperuricemia in predialysis CKD patients. Special consideration should be remunerated to the predialysis CKD population having risk factors like hyperlipidemia, high systolic blood pressure along with hyperuricemia as propitious management can procrastinate the progression of CKD and eventually paring down the cardiovascular morbidity and mortality.
Downloads
Download data is not yet available.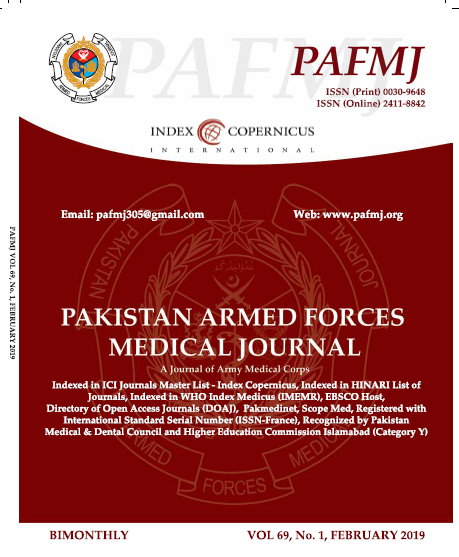 Downloads
How to Cite
Qayyum, M., Butt, B., & Khan, G. (2019). HYPERURICEMIA IN PRE-DIALYSIS CHRONIC KIDNEY DISEASE PATIENTS. A SINGLE CENTRE EXPERIENCE. Pakistan Armed Forces Medical Journal, 69(1), 66–70. Retrieved from https://pafmj.org/index.php/PAFMJ/article/view/2498
Section
Original Articles