MOBILE PHONE USAGE AND DISTRACTION IN LEARNING SESSIONS
Keywords:
Medical students, Digital distraction, Cell phones
Abstract
Objective:
To identify the prevalence of mobile phone use in class rooms and the distraction they cause. Study Design: Mixed method transformational study conducted in pragmatic paradigm.
Place and Duration of Study: Army Medical College, Rawalpindi, from 1st Mar 2017 to 31st Mar 2017.
Material and Methods:
Focus group discussions were conducted employing three expressive students from each of the three classes. These discussions were used to develop themes which were then utilized to formulate a questionnaire. The validity of the questionnaire was confirmed by two expert medical educationists. The survey was conducted by distributing the self-answering questionnaire among the students. Simple descriptive statistics were then used to analyze the cross sectional data thus collected using SPSS version 20.
Results:
A total of 300 forms were distributed of which 235 (78.33%) were retrieved. Ninety one (38.72%) were from 3rd year, 82 (34.89%) from 4th year and 62 (26.38%) from final year. A total of 124 (52.8%) were males and 111 (47.2%) were females. Fifty three point two percent used their mobile in class rooms 21-30 times/day and 12.3% even more than that. Fifty four percent students texted and 17% played games during the class. About 50% claimed that they spent 25-50% class time on their mobiles. About 30% claimed that they used mobiles to fight boredom in the class.............
Downloads
Download data is not yet available.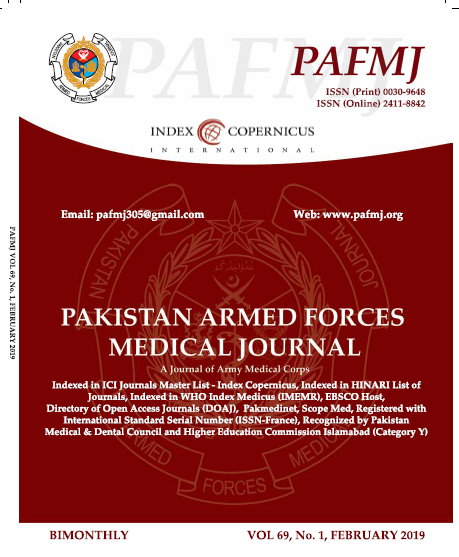 Downloads
How to Cite
Jalil, J., & Sabir, S. (2019). MOBILE PHONE USAGE AND DISTRACTION IN LEARNING SESSIONS. Pakistan Armed Forces Medical Journal, 69(1), 54–59. Retrieved from https://pafmj.org/PAFMJ/article/view/2496
Section
Original Articles