EXPERIENCES OF CONTINUING PROFESSIONAL DEVELOPMENT PROGRAMME IN PAK ARMY. AN INITIAL STEP IN JOURNEY TOWARDS PROFESSIONAL EXCELLENCE
Keywords:
Learning, Health care, Continuing education
Abstract
Objective:
To share initial experience of Continuing Professional Development Programme of Pak Army with overview of uptake rates and opinion of the implementers.
Study Design: Cross sectional study was conducted through mix methods convergent parallel design.
Place and Duration of Study: Study was conducted across Pak Army, from Jan to Dec 2014.
Material and Methods:
Mix methods triangulation design was adopted with compilation of uptake rates through quantitative techniques while opinions of implementers was sought through qualitative methodology using thematic content analysis.
Results:
Programme was implemented in different categories of health care establishments. Eighty eight establishments submitted 119 claims with overall up take of 64% including the exempted units. Best response obtained from Centers of Excellence (78%) followed by tertiary care referral hospitals (75%) and mid-level establishments (71%). Uptake of 29% and 28% was found in field medical and dental establishments respectively. Opinions of implementers entailed high level of confidence on programme. Programme flexibility, exemption of operational units and inclusion of military training activities were considered strong points and less opportunities for junior and male HCAs in peripheral establishments and stress of attaining CPD credits within stipulated time frame were main barriers identified. Maintenance and retrieval of extensive data, absence of record keeping software and lack of countercheck mechanisms were identified as possible threats. Reduction of credit limit for Junior health care administrators, e-learning and accessibility of data were recommended for further improvement.
Conclusion:
Effective CPD Programme provides forum for enhancement of professional knowledge.
Downloads
Download data is not yet available.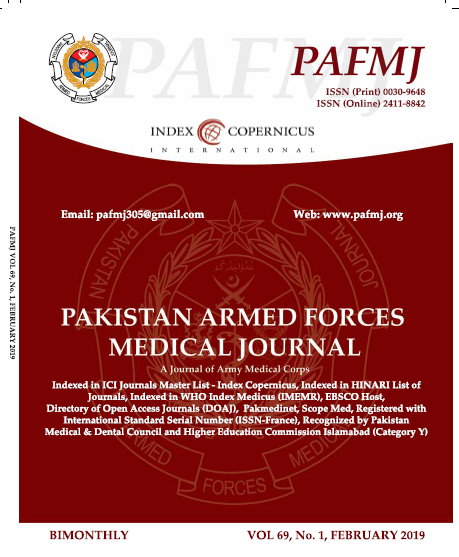 Downloads
How to Cite
Roshan, R., Ahamad, G., & Khan, V. A. (2019). EXPERIENCES OF CONTINUING PROFESSIONAL DEVELOPMENT PROGRAMME IN PAK ARMY. AN INITIAL STEP IN JOURNEY TOWARDS PROFESSIONAL EXCELLENCE. Pakistan Armed Forces Medical Journal, 69(1), 47–53. Retrieved from https://pafmj.org/index.php/PAFMJ/article/view/2495
Section
Original Articles