EVALUATION OF SINGLE DOSE SODIUM POLYSTYRENE SULFONATE FOR MANAGEMENT OF HYPERKALEMIA AND ITS EFFECT ON OTHER SERUM ELECTROLYTES
Keywords:
Sodium polystyrene sulphonate, Hperkalemia, Electrolytes level
Abstract
Objective:
To assess the effectiveness of sodium polystyrene sulphonate in treating hyperkalemia and its effect on different serum electrolytes level.
Study Design: Quasi-experimental study.
Place and Duration of Study: Lyari general hospital, 500 bedded tertiary care public sector hospital at Karachi, from Jan 2017 to Mar 2017.
Material and Methods:
Hyperkalemic patients were included in study who fulfilled inclusion criteria and were administered with single STAT 30 grams dose of Sodium Polystyrene Sulfonate. Serum electrolytes such as sodium, chloride, magnesium, phosphate and calcium were measured before and after 2 hours of administration of Sodium Polystyrene Sulfonate. Paired t-test was used as tool for statistical analysis.
Results:
Significant (p<0.05) decrease in serum potassium level with mean decrease of 0.61 mmol/L was observed in hyperkalemic patients (n=83) after single dose of Sodium Polystyrene Sulfonate. Among 83 studied patient, 67 (81%) recovered from hyperkalemia. Besides, there was significant (p<0.05) increase in sodium level with a mean increase of 2.26 mmol/L. Serum magnesium and calcium levels were significantly decreased (p<0.05) with mean difference of 0.02mmol/L and 0.13mmol/L respectively. No significant difference was found in serum chloride and phosphate levels (p>0.05).
Conclusion:
Sodium polystyrene sulphonate found to be effective in treating hyperkalemia and considerable changes in serum sodium level have been observed with minimal changes in serum magnesium and calcium levels.
Downloads
Download data is not yet available.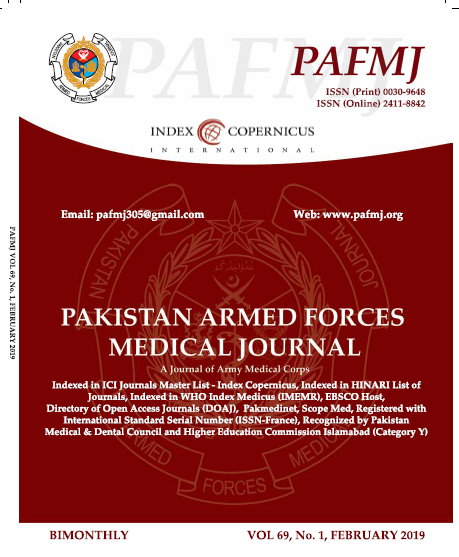 Downloads
How to Cite
Alam, S., Ishaqui, A. A., Khan, M. A., Iqbal, A., Jawed, S. H., Khalid, F., … Zehra, N. (2019). EVALUATION OF SINGLE DOSE SODIUM POLYSTYRENE SULFONATE FOR MANAGEMENT OF HYPERKALEMIA AND ITS EFFECT ON OTHER SERUM ELECTROLYTES. Pakistan Armed Forces Medical Journal, 69(1), 37–42. Retrieved from https://pafmj.org/index.php/PAFMJ/article/view/2493
Section
Original Articles