IDIOPATHIC TRIGEMINAL NEURALGIA: NEUROLYSIS WITH PULSED RADIOFREQUENCY (PRF). EXPERIENCE OF 30 CASES AT ARMY PAIN CENTRE CMH RAWALPINDI
Keywords:
Trigeminal neuralgia, Pulsed radiofrequency
Abstract
Objective: To describe the experience of 30 patients with idiopathic trigeminal neuralgia who underwent pulsed radiofrequency neurolysis of the trigeminal ganglion. Study Design: Prospective descriptive study. Place and Duration of Study: Army Pain Centre, CMH Rawalpindi, from Jan 2016 to Mar 2017. Material and Methods: Total 30 patients fulfilling the inclusion criteria were included in this study after approval of the ethical committee through non probability consecutive sampling technique. All patients received pulsed radiofrequency therapy under image guided fluoroscopy through percutaneous approach. The definitive position of the electrode was verified with sensory stimulation between 0.1–0.6V at a frequency of 50Hz and motor stimulation between 0.5-2V at 2Hz to locate the affected nerve. Pulsed radiofrequency is then delivered for 4 minutes at 45 V, with a pulse width of 10 ms and a pulse frequency of 2 Hz. The cut-off needle tip temperature was set at 42°C. BNI scoring scale used for evaluating post procedural pain relief at, 1, 3, 6 and 12 month and graded as excellent, satisfactory and poor on the basis of BNI scores. Mean ± standard deviations were calculated for quantitative variables, while qualitative variables presented in frequency and percentages. Chi-square test used for qualitative variables. Results: The patient diagnosed with typical idiopathic trigeminal neuralgia in the present study, was ranged between 45 to 68 years of age, peak incidence of the disease was in the fifth and sixth decades of life, females to male ratio was 2.33:1...........
Downloads
Download data is not yet available.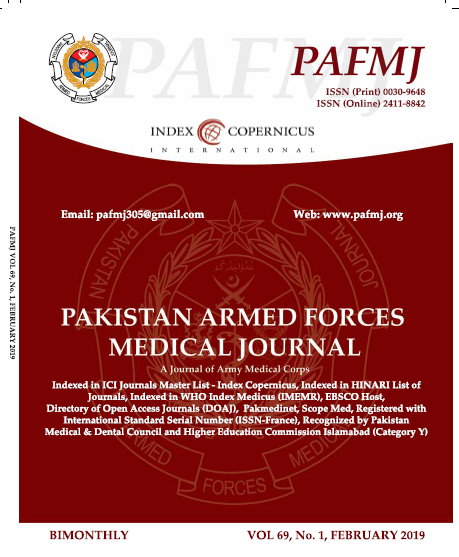 Downloads
How to Cite
Waseem, S. M., & Iqbal, A. (2019). IDIOPATHIC TRIGEMINAL NEURALGIA: NEUROLYSIS WITH PULSED RADIOFREQUENCY (PRF). EXPERIENCE OF 30 CASES AT ARMY PAIN CENTRE CMH RAWALPINDI. Pakistan Armed Forces Medical Journal, 69(1), 31–36. Retrieved from https://pafmj.org/index.php/PAFMJ/article/view/2492
Section
Original Articles