VISUAL OUTCOME IN MYOPIC PATIENTS AFTER CLEAR LENS EXTRACTIOIN (CLE)/REFRACTIVE LENS EXCHANGE (RLE) AND IMPLANTATION OF INTRAOCULAR LENS
Zulfiqar Uddin Syed

Combined Military Hospital Peshawar/National University of Medical Sciences (NUMS) Pakistan

Zulqarnain Ashraf Raja

Combined Military Hospital Peshawar/National University of Medical Sciences (NUMS) Pakistan

Tufail Ahmed

Combined Military Hospital Peshawar/National University of Medical Sciences (NUMS) Pakistan

Abid Hassan Naqvi

Combined Military Hospital Peshawar/National University of Medical Sciences (NUMS) Pakistan

Amjad Akram

Combined Military Hospital Quetta/National University of Medical Sciences (NUMS) Pakistan
Keywords:
Visual outcome, High Myopia, Clear lens extraction
Abstract
Objective:
To evaluate the visual outcome after clear lens-extraction (CLE)/refractive lens exchange (RLE) and implantation of intraocular lens (IOL) in myopic eyes. Study Design: A descriptive study.
Place and Duration of Study:
This study was conducted in CMH Multan from Jan 2014 to Aug 2015 and CMH Peshawar from Sep 2015 to Dec 2016.
Patients and Methods:
Eighty eyes of 40 patients had clear lens extraction by Phacoemulsification and aspiration followed by foldable intraocular lens implantation through 2.75mm clear corneal incision. There were seventeen (42.5%) male patients i.e. 34 eyes and twenty three (57.5%) female patients i.e. 46 eyes. Mean age of patients was 26.8 years. Myopia of -9.00 D to -20.00 D with one year stability were included in the study. Pre op retina was examined in all cases with special emphasis to retinal degenerative changes. All surgeries were performed by the same surgeon, under topical anaesthesia using the same make Phacoemulsification unit. All surgeries were uneventful and patients were followed up for six months after surgery. Results: Best spherical corrected visual acuity improved by 11.5% postoperatively i.e. 59 eyes (73.75%) had vision of 6/18 or better which increased to 68 eyes (85%) after surgery. Postoperative spherical correction was between - 0.50 to -1.50 D and there were no vision threatening complications.
Conclusion:
In experienced hands clear lens extraction with foldable intraocular lens implantation is safe and effective way to treat high myopia that is not suitable for laser refractive surgery.
Downloads
Download data is not yet available.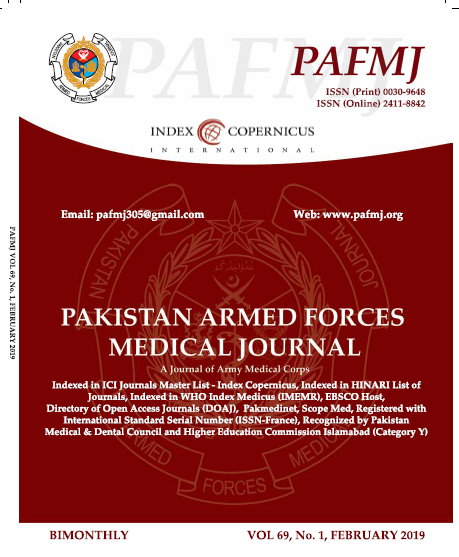 How to Cite
Syed, Z., Raja, Z., Ahmed, T., Naqvi, A., & Akram, A. (2019). VISUAL OUTCOME IN MYOPIC PATIENTS AFTER CLEAR LENS EXTRACTIOIN (CLE)/REFRACTIVE LENS EXCHANGE (RLE) AND IMPLANTATION OF INTRAOCULAR LENS. Pakistan Armed Forces Medical Journal, 69(1), 26-30. Retrieved from https://pafmj.org/index.php/PAFMJ/article/view/2491
Section
Original Articles