DISSEMINATION AND DETECTION OF CARBAPENEMASES PRODUCING GRAM-NEGATIVE RODS
Keywords:
Carbapenem, Carbapenemases, Healthcare workers, Modified hodge test
Abstract
Objective:
To evaluate the burden of carbapenemases producers among carbapenem-resistant isolates. Study Design: Cross-sectional study. Place and Duration of Study: This cross-sectional study was conducted at microbiology lab, Pathology department, Allama Iqbal Medical College Lahore, from Jul 2016 to Apr 2017.
Material and Methods:
A total of 12126 clinical specimens were enrolled through a non-probability/consecutive sampling technique, every sample was processed for bacterial culture, identification was done on the basis of colonial morphology, Gram stain, and biochemical profile. All those isolates that were Gram-negative rods, were processed for carbapenemases detection by Modified Hodge test (MHT) in accordance with CLSI 2016.
Results:
Out of total n=12126 samples, culture positive were 35.9% (n=4361) of which 40.5% (n=1770) were Gram-negative rods, among these 9.6% (n=170) were carbapenem-resistant isolates of which 50% (n=85) were carbapanamases producers (MHT positive). Organisms wise carbapenem resistance was detected in Acineto- bacter species 44.%, Pseudomonas species 34%, E.coli 7%, Klebsiella species 8%, Proteus species 3%, Citrobacter species 1%, Enterobacter species 0.7% Among these isolates MHT positivity was as followed Acinetobacter species were 53%, Pseudomonas species 51%, E.coli 36%, Klebsiella species 50%, Proteus species 20%, Citrobacter species 66%, Enterobacter species 50%, department wise distribution of carbapenemases producer showed that among total sample received from surgical units 51.4%, ICU 65.3% medical units 43.5%, pediatric ward 71.4%, orthopedic 11.1% neurosurgery 20%, other wards 55.1% were MHT positive. The almost similar resistant pattern was observed in MHT positive and negative isolates.
Conclusion:
Emergence of carbapenem resistance is an alarming situation in clinical settings.resu
Downloads
Download data is not yet available.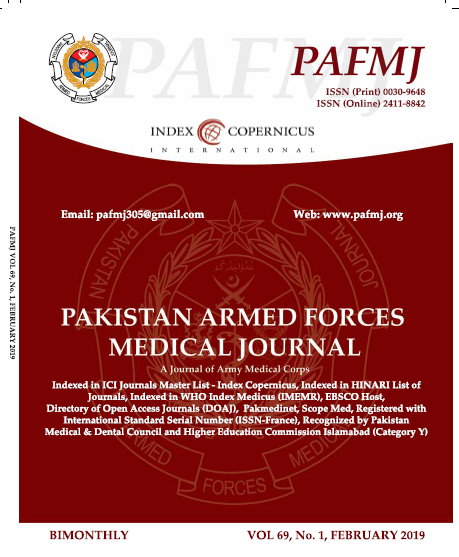 Downloads
How to Cite
Awan, M., Rasheed, F., Saeed, M., Irum, S., Ashraf, F., & Imran, A. A. (2019). DISSEMINATION AND DETECTION OF CARBAPENEMASES PRODUCING GRAM-NEGATIVE RODS. Pakistan Armed Forces Medical Journal, 69(1), 9–14. Retrieved from https://pafmj.org/index.php/PAFMJ/article/view/2486
Section
Original Articles