COMPARISON BETWEEN URETHROPLASTY WITH AND WITHOUT STENT FOR HYPOSPADIAS IN TERMS OF POSTOPERATIVE URETHROCUTANEOUS FISTULA FORMATION
Naveed Ahmed

Pak Emirates Military Hospital/National University of Medical Sciences (NUMS) Rawalpindi

Iftikhar Ahmed

Pak Emirates Military Hospital/National University of Medical Sciences (NUMS) Rawalpindi

Omar Faraz

Pak Emirates Military Hospital/National University of Medical Sciences (NUMS) Rawalpindi

C. Aqeel Safdar

Pak Emirates Military Hospital/National University of Medical Sciences (NUMS) Rawalpindi

Mudasir Saleem

Pak Emirates Military Hospital/National University of Medical Sciences (NUMS) Rawalpindi

Safdar Hussain Awan

Pak Emirates Military Hospital/National University of Medical Sciences (NUMS) Rawalpindi

Javad Yusuf

Army Medical College/National University of Medical Sciences (NUMS) Rawalpindi Pakistan
Keywords:
Urethroplasty, Stent, Hypospadias, Fistula
Abstract
Objective:
To compare the urethroplasty with and without stent for hypospadias in terms of frequency of postoperative urethrocutaneous fistula formation. Study Design: Randomized controlled trial. Place and Duration of Study: Department of Pediatric Surgery, Pak Emirates Military Hospital Rawalpindi, from Jan 2015 to Dec 2017. Patients and Methods: A total of 260 patients with diagnosis of hypospadias were selected from outpatient department after confirming their diagnosis by taking a detailed history and performing thorough clinical examination. Patients were divided randomly into two groups, group A and group B via lottery method. In group A, urethroplasty was done by using a stent while in group B, urethroplasty was done without a stent although stent was used in this group as a template preoperatively to form a neo urethra and then removed after 24 hours. The 6-8 FR nasogastric tube was used as stent. The follow up was after 2, 6 and 12 weeks to see the fistula formation in both types of procedures. All the data was recorded on the specially designed proforma attached as annexure A. Data was analyzed using SPSS version 22.
Results:
The overall incidence of urethrocutaneous fistula was 21 (8%) out of the total study population. In group-A there were 18 (13%) cases who developed fistula and in group-B 3 (2%) cases developed fistula. There was significantly higher no of cases in group-A, who developed fistula as compared to group-B, p-value = 0.001.
Conclusion: Stents are routinely used in many centres after urethroplasty for hypospadias repair leading to higher incidence of urethrocutaneous fistula. If urethroplasty is done meticulously, stentless surgery may produce fewer fistulas.
Downloads
Download data is not yet available.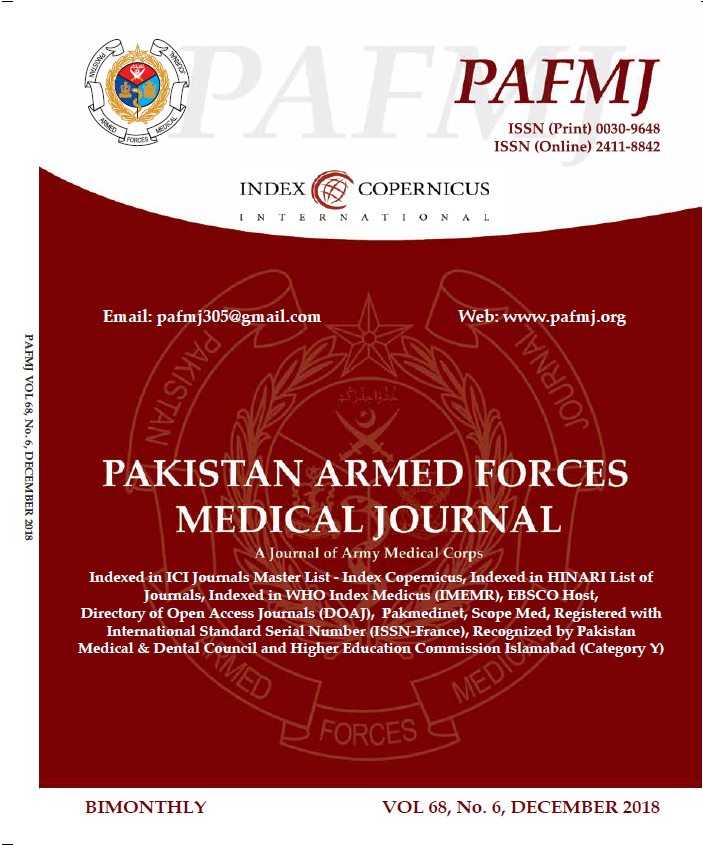 How to Cite
Ahmed, N., Ahmed, I., Faraz, O., Safdar, C. A., Saleem, M., Awan, S., & Yusuf, J. (2018). COMPARISON BETWEEN URETHROPLASTY WITH AND WITHOUT STENT FOR HYPOSPADIAS IN TERMS OF POSTOPERATIVE URETHROCUTANEOUS FISTULA FORMATION. Pakistan Armed Forces Medical Journal, 68(6), 1511-16. Retrieved from https://pafmj.org/index.php/PAFMJ/article/view/2408
Section
Original Articles