DETERMINATION OF REFERENCE INTERVAL OF LIVER FUNCTION TESTS DURING PREGNANCY IN URBAN AREA OF DISTRICT RAWALPINDI PAKISTAN
Keywords:
Liver function tests, Pregnancy, Reference interval
Abstract
Objective: To determine the reference Interval of liver function tests during uncomplicated pregnancy in
population of Rawalpindi and assess their correlation over first and second trimesters of pregnancy.
Study Design: Cross sectional study.
Place and Duration of Study: Department of Chemical Pathology & Endocrinology Armed Forces Institute of
Pathology Rawalpindi from Feb 2017 to Jun 2018.
Methodology: Seven hundred and fifty four pregnant women with uncomplicated, single intrauterine pregnancy were recruited from Rawalpindi. Thirteen patients with known history of Diabetes Mellitus, hypertension, liver disease, renal disorders and those on anti-epileptics, non-steroidal anti-inflammatory drugs and steroids were excluded from the study. Blood sample was taken from each subject to analyze serum bilirubin, albumin, total alkaline phosphates and alanine aminotransferase on random access discrete auto analyser, ADVIA 1800 Chemistry system manufactured in Japan for Siemens Healthcare Diagnostics Inc. Data for serum bilirubin, albumin, ALP and ALT were expressed as mean ± standard deviation. As the reference data followed the Gaussian distribution, therefore the 2.5th and 97.5th percentiles were estimated by values approximately 2SD on each side of mean.
Results: After analysis of serum samples of 754 subjects, the reference intervals for bilirubin, albumin, ALP and
ALT during first trimester were; bilirubin 3-9 µmol/l, albumin 31-45 g/L, ALP 122-224 U/l and ALT 3-35 U/l, while of second trimester were: bilirubin 2- 7µmol/l, albumin 28-45 g/L, ALP131-300U/l and ALT 1-33U/l.
Conclusion: First and second trimester wise reference values of Liver Function Tests have been determined in
pregnancy in this study. This would not only........
Downloads
Download data is not yet available.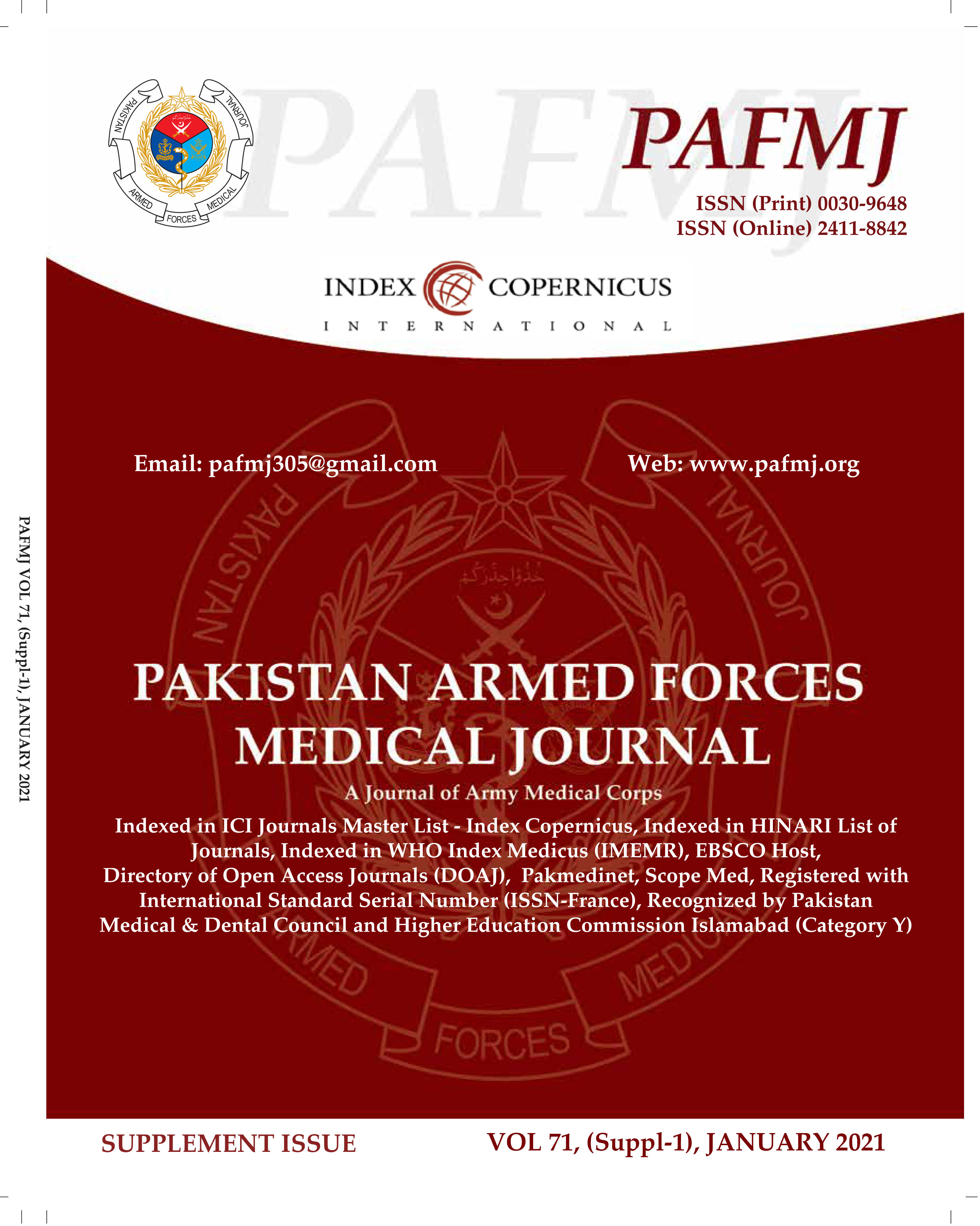 Downloads
How to Cite
Younas, A., Gilani, M., ain, Q. ul, Asif, N., Aamir, M., & Ali, A. (2021). DETERMINATION OF REFERENCE INTERVAL OF LIVER FUNCTION TESTS DURING PREGNANCY IN URBAN AREA OF DISTRICT RAWALPINDI PAKISTAN. Pakistan Armed Forces Medical Journal, 71(Suppl-1), S250–54. https://doi.org/10.51253/pafmj.v71iSuppl-1.2404
Section
Original Articles