COMPARISON OF EFFICACY OF SPIRONOLACTONE PLUS ORAL CONTRACEPTIVES WITH METFORMIN IN PATIENTS OF PCOS WITH HIRSUTISM
PCOS With Hirsutism
Keywords:
Hirsutism, Oral contraceptives, Polycystic ovarian syndrome, Spironolactone.
Abstract
bjective: To compare the efficacy of spironolactone plus oral contraceptives with metformin in treatment of hirsutism among patients with polycystic ovarian syndrome (PCOS).
Study Design: Randomized controlled trial.
Place and Duration of Study: Dermatology department, Military Hospital Rawalpindi, from Jan 2016 to Jul 2016.
Material and Methods: A total of 84 women with PCOS and hirsutism with ages ranging between 16 and 50 years were included in the study. Patients with hirsutism due to etiologies other than PCOS like idiopathic hirsutism, Cushing syndrome or late-onset congenital adrenal hyperplasia were excluded. Random allocation of treatment was done, those reporting on even dates were enrolled in group A and those reporting on odd dates were placed in group B. Group A received oral tablet spironolactone 50mg twice a day along with combined oral contraceptive pills (cOCPs) containing levonorgestrel 0.15mg / ethinyl estradiol 0.03mg daily as combination therapy for 6 months, while group B received oral metformin 500mg twice daily for 6 months. Hirsutism scores were determined according to the modified Ferriman-Gallwey (mFG) scoring system (attached as annexure A) and 50% reduction from the baseline was considered effective therapeutic response.
Results: The mean age of patients in group A was 32.83 ± 8.28 years and in group B was 32.57 ± 8.21 years. The mean duration of disease in group A was 18.84 ± 7.26 months and in group B was 18.04 ± 7.11 months. Efficacy in group A was observed in 29 (69.05%) patients while in group B it was observed in 17 (40.48%) patients.
Conclusion: The efficacy of spironolactone plus cOCPs combination therapy is better than metformin alone in the treatment of hirsutism among patients of PCOS.
Downloads
Download data is not yet available.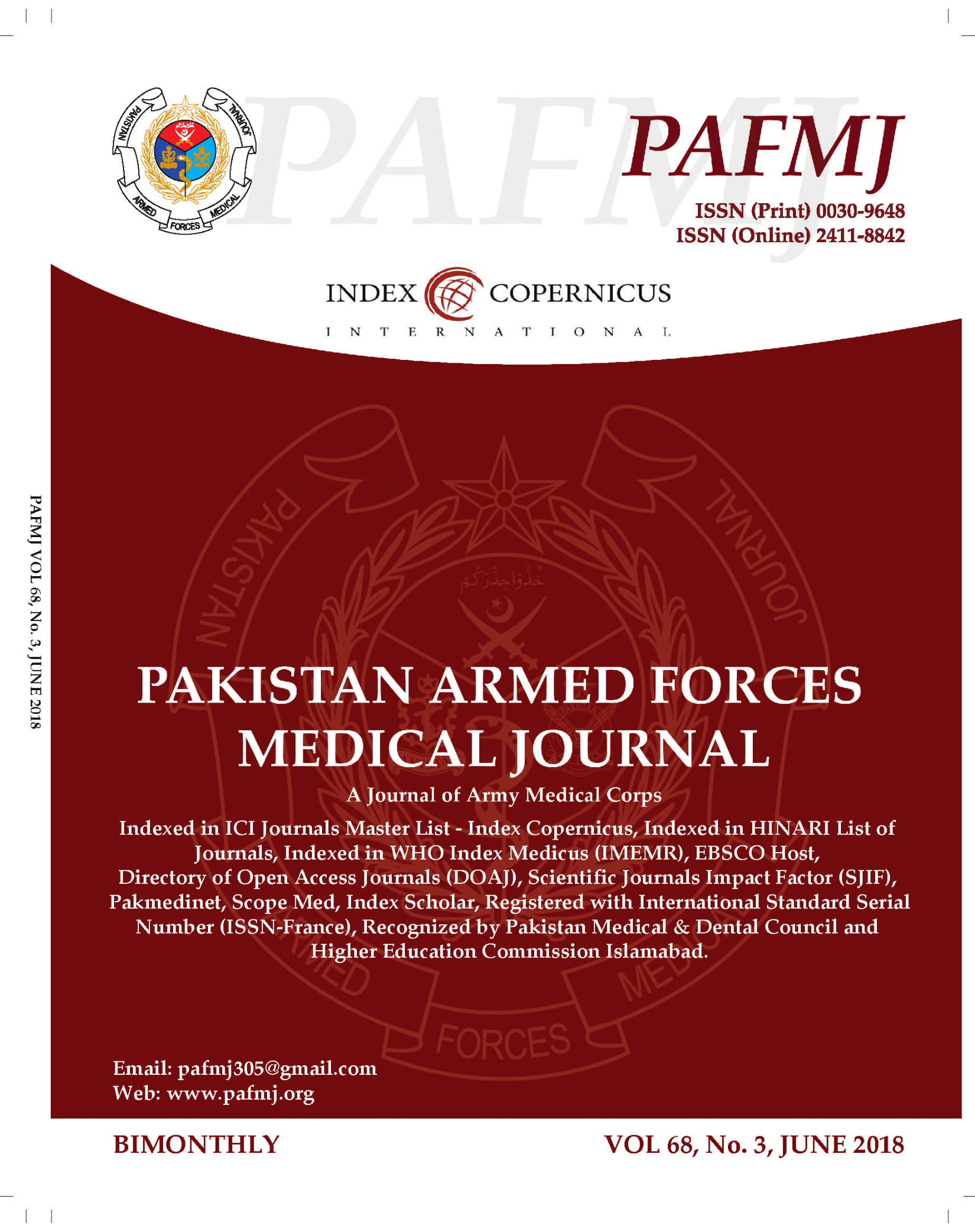 Downloads
How to Cite
Malik, S., Sheikh, Z. I., Kausar, S., & Ahmed, N. (2018). COMPARISON OF EFFICACY OF SPIRONOLACTONE PLUS ORAL CONTRACEPTIVES WITH METFORMIN IN PATIENTS OF PCOS WITH HIRSUTISM: PCOS With Hirsutism. Pakistan Armed Forces Medical Journal, 68(3), 460–65. Retrieved from https://pafmj.org/index.php/PAFMJ/article/view/240
Section
Original Articles