THROMBOCYTOPENIA AMONG TRAUMA PATIENTS ADMITTED IN ICU: FREQUENCY AND RELATIONSHIP WITH OUTCOME
Thrombocytopenia Among Trauma Patients
Aamir Farukh

Combined Military Hospital Peshawar/National University of Medical Sciences (NUMS) Pakistan

Ejaz Ahmad

Combined Military Hospital Peshawar/National University of Medical Sciences (NUMS) Pakistan

Zahid Farooq Baig

Combined Military Hospital Peshawar/National University of Medical Sciences (NUMS) Pakistan

Umair Ahmad Siddique

Combined Military Hospital Peshawar/National University of Medical Sciences (NUMS) Pakistan

Tariq Bashir Tareen

Combined Military Hospital Peshawar/National University of Medical Sciences (NUMS) Pakistan

Aslam Khan

Combined Military Hospital Peshawar/National University of Medical Sciences (NUMS) Pakistan
Keywords:
Intensive care unit, Outcome, Thrombocytopenia
Abstract
Objective: To assess the frequency of thrombocytopenia among the patients of trauma at an intensive care unit and to look for its relationship and other socio-demographic factors with the outcome.
Study Design: Cross-sectional study.
Place and Duration of Study: Intensive Care Unit, Combined Military Hospital Peshawar, from Mar to Aug 2017.
Methodology: Thrombocytopenia was defined as platelet count of <150,000/μl and was performed on the fifth day of admission in the Intensive Care Unit. Age, gender, presence of thrombocytopenia, history of platelet transfusion, and length of stay in the Intensive Care Unit were correlated with the outcome in our study population.
Results: A total of 107 patients admitted to intensive care unit with traumatic injuries during the study period were included in analysis. Mean age of the patients was 37.93 ± 6.697 years. Thrombocytopenia developed in 35 (32.7%) of the patients while 72 (67.3%) had normal platelet count. Less than 18% patients died in the intensive care unit. Long duration of Intensive Care Unit stay and presence of thrombocytopenia were statistically significantly associated (p<0.05) with the presence of poor outcome in our sample population.
Conclusion: Frequency of thrombocytopenia was high among patients admitted with trauma in intensive care unit and was also related to poor outcome in these patients.
Downloads
Download data is not yet available.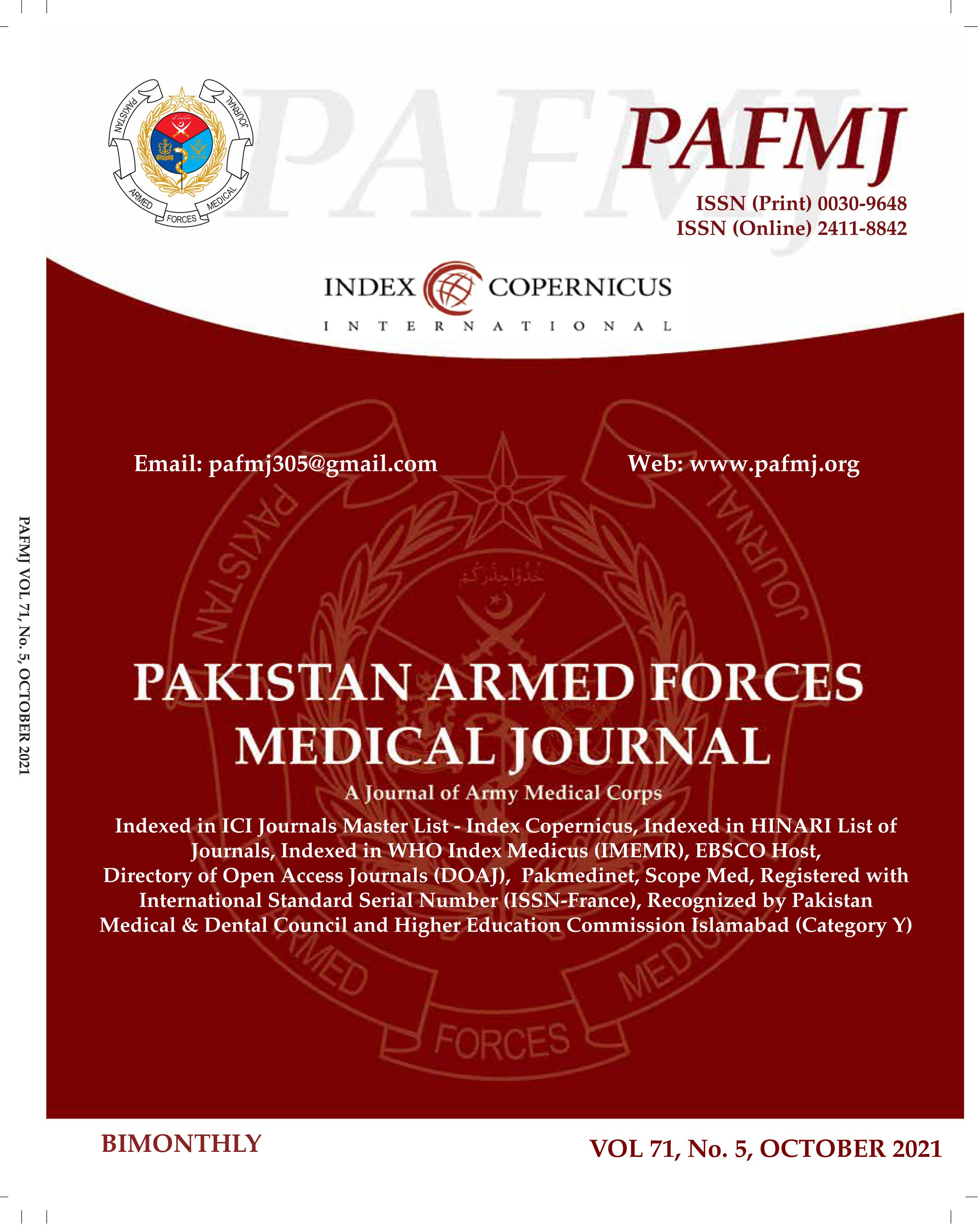 How to Cite
Farukh, A., Ahmad, E., Baig, Z., Siddique, U., Tareen, T., & Khan, A. (2021). THROMBOCYTOPENIA AMONG TRAUMA PATIENTS ADMITTED IN ICU: FREQUENCY AND RELATIONSHIP WITH OUTCOME. PAFMJ, 71(5), 1630-32. https://doi.org/10.51253/pafmj.v71i5.2369
Section
Original Articles