CLINICOPATHOLOGICAL SPECTRUM OF SYNOVIAL SARCOMA AT ARMED FORCES INSTITUTE OF PATHOLOGY, RAWALPINDI, PAKISTAN
Synovial Sarcoma
Huma Saifullah

Histopathologist, Kulsum International Hospital Islamabad Pakistan

Iqbal Mohammad

Armed Forces Institute of Pathology/ National University of Medical Sciences (NUMS) Rawalpindi Pakistan

Shoaib Naiyar Hashmi

Armed Forces Institute of Pathology/ National University of Medical Sciences (NUMS) Rawalpindi Pakistan

Hafeez Ud Din

Armed Forces Institute of Pathology/ National University of Medical Sciences (NUMS) Rawalpindi Pakistan

Rabia Ahmed

Armed Forces Institute of Pathology/ National University of Medical Sciences (NUMS) Rawalpindi Pakistan

Mohammad Zubair

Armed Forces Institute of Pathology/ National University of Medical Sciences (NUMS) Rawalpindi Pakistan
Keywords:
Clinicopathological spectrum, Synovial sarcoma
Abstract
Objective: To analyse the clinicopathological spectrum of synovial sarcoma cases presenting in our institution.
Study Design: Descriptive case series.
Place and Duration of study: Armed Forces Institute of Pathology (AFIP) Rawalpindi, from Jan 2010 to Jan 2015.
Material and Methods: All cases of synovial sarcoma diagnosed on histopathological examination were recovered from the Armed Forces Institute of Pathology (AFIP) laboratory information management system.The inclusion criteria consisted of optimally processed Haematoxylin and Eosin stained slides. Positive immunohistochemistry for epithelial membrane antigen/cytokeratin and CD99. Both genders were included. Patients' gender, age, tumour size, site, histological subtype, grade, microscopic margin status, depth and stage were noted. The data were analysed using SPSS Version 21. Frequencies and percentages were calculated for qualitative data and the standard deviation and mean for quantitative data.
Results: Sixty-seven cases of synovial sarcoma (SS) were included in this study. The mean age of the patients was 35.1 years, with males at 55.2%. The most common site was the lower extremity 41.8%. The average size was 8.5 cm. The most common stage was pT2b (64.2%). Monophasic histological subtype was more common at 58.2%. Grade 2 tumours were 77.6%. Microscopic positive margins were 30.0%. Specimens that were fragmented or not oriented properly were 33.3%.
Conclusion: The clinicopathological spectrum of synovial sarcoma in our institution is similar to that of other parts of the world. This study has highlighted that a significant proportion (33.3%) of resection specimens were fragmented or unmarked; therefore surgical margins could not be evaluated in these cases, increasing the chances of inadequate surgeries.
Downloads
Download data is not yet available.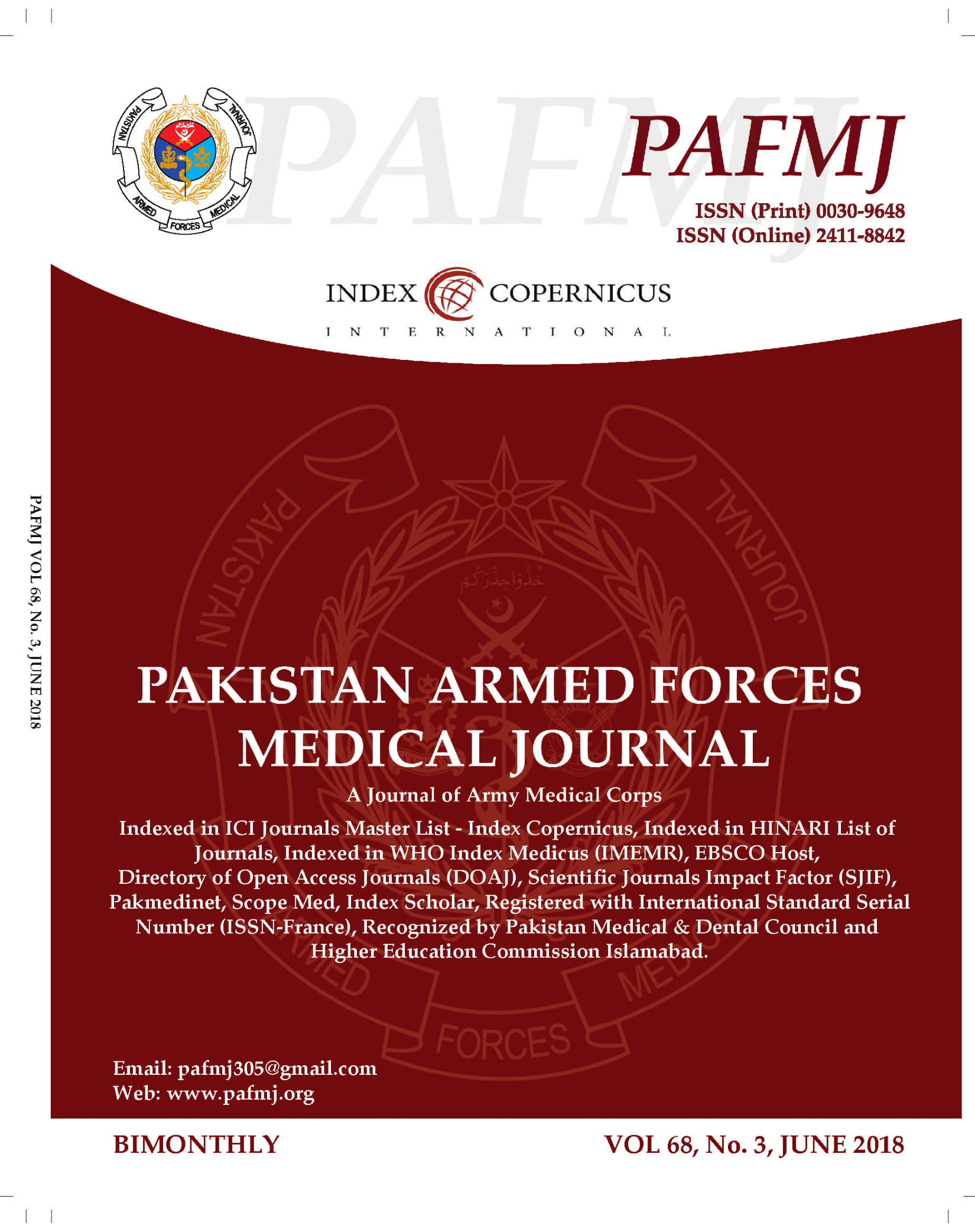 How to Cite
Saifullah, H., Mohammad, I., Hashmi, S., Din, H., Ahmed, R., & Zubair, M. (2018). CLINICOPATHOLOGICAL SPECTRUM OF SYNOVIAL SARCOMA AT ARMED FORCES INSTITUTE OF PATHOLOGY, RAWALPINDI, PAKISTAN. Pakistan Armed Forces Medical Journal (PAFMJ), 68(3), 455-59. Retrieved from https://pafmj.org/index.php/PAFMJ/article/view/226
Section
Original Articles