FREQUENCY OF DIFFERENT PRESENTATIONS AND SURGICAL MANAGEMENT OF ECTOPIC PREGNANCY AT COMBINED MILITARY HOSPITAL LAHORE
Ayesha Imran

Combined Military Hospital Lahore

Nilofar Mustafa

Combined Military Hospital Lahore

Naeem Akhtar

Combined Military Hospital Lahore
Keywords:
Ectopic pregnancy, ß-hCG,, pelvic inflammatory disease, laparoscopy, ultrasonography
Abstract
Objectives: To determine frequency of different presentations of ectopic pregnancy presenting at Combined Military Hospital Lahore and types of surgical management offered.
Design:  Descriptive study
Place and Duration of Study: Department of Gynaecology and Obstetric Combined Military Hospital, Lahore from1-06-2006 to 31-12-07.
Patients and Methods:  Fifty women with ectopic pregnancy whether booked or unbooked were treated at CMH, Lahore, during study period were included. Diagnosis was made from history, clinical examination and confirmed by ultrasonography, serum ß-hCG or laparoscopy.
Results:  The mean age of patients was 23.6 + 5.0. The commnest presentation was with pain lower abdomen 92.0%. Eighty two percent of patient presented with amenorrhea. Vaginal bleeding/spotting was present in 76.0% while 18.0% presented with shock and fainting attacks were the presenting feature in 14.0% of cases. Regarding surgical management salpingectomy was performed in 84.0% of cases. Linear salpingostomy in 6.0 % of patients. Segmental resection with reanastomosis in 4.0% of cases, salpingoophrectomy in 4.0% and partial oophrectomy in 2.0% of cases.
Conclusions: Ectopic pregnancy is still a major obstetric and gynaecological emergency. As majority of patients present at late stage with either ruptured ectopic pregnancy or irrepairable damage to tube and ovary so management by laparotomy is more practicable in developing countries like ours.
Downloads
Download data is not yet available.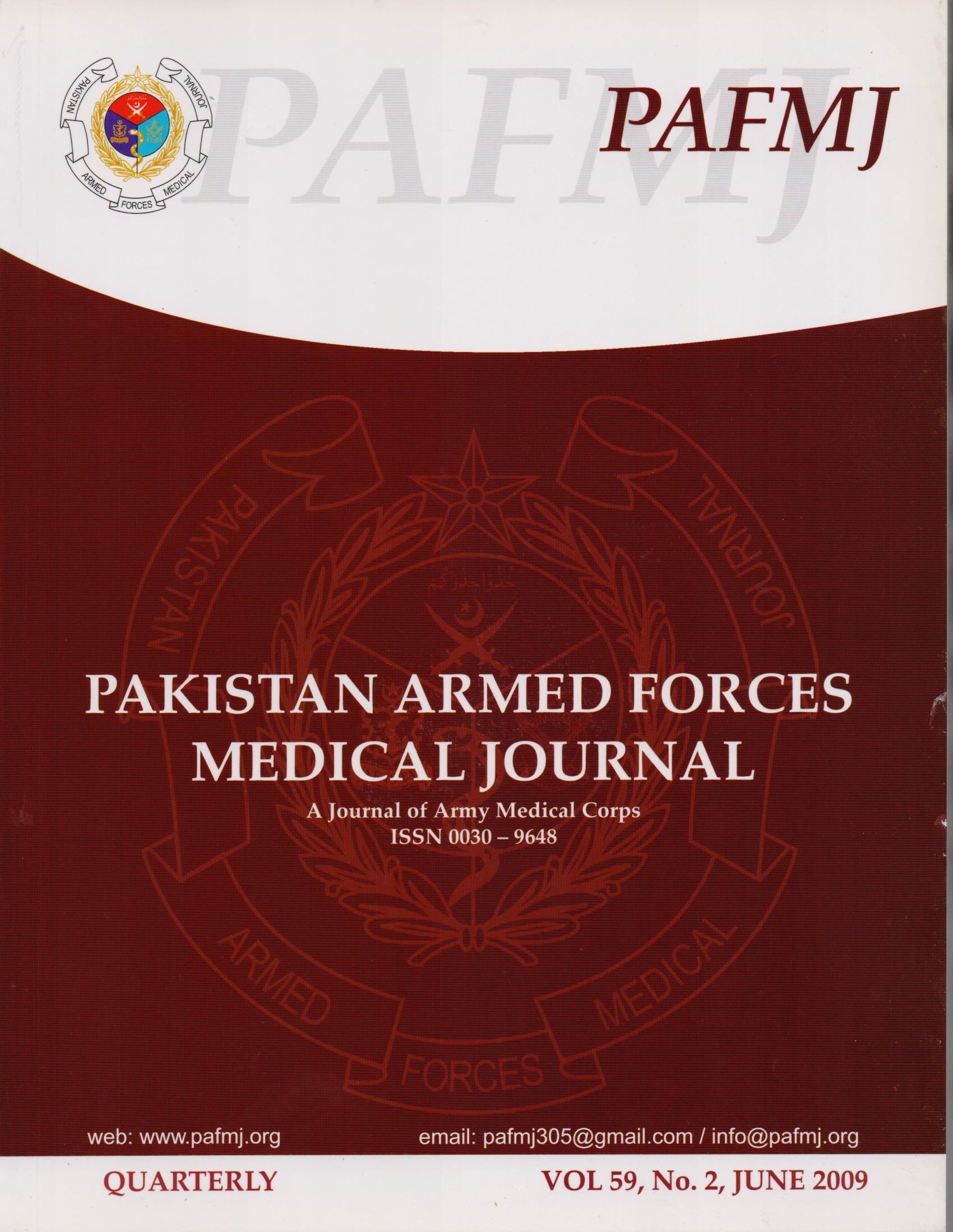 How to Cite
Imran, A., Mustafa, N., & Akhtar, N. (2018). FREQUENCY OF DIFFERENT PRESENTATIONS AND SURGICAL MANAGEMENT OF ECTOPIC PREGNANCY AT COMBINED MILITARY HOSPITAL LAHORE. Pakistan Armed Forces Medical Journal (PAFMJ), 59(2), 207-10. Retrieved from https://pafmj.org/index.php/PAFMJ/article/view/1891
Section
Original Articles