FREQUENCY OF POLYCYSTIC OVARIAN SYNDROME (PCOS) AMONG OBESE DIABETIC AND NON DIABETIC FEMALES WITH CLINICAL FEATURES OF HYPERANDROGENISM
Asifa Siraj

Combined Military Hospital Kharian

Mamoona Mushtaq

Military Hospital Rawalpindi
Keywords:
Polycystic Ovarian Syndrome, Diabetes Mellitus
Abstract
Objective: To determine the frequency of Polycystic Ovarian Syndrome in obese diabetic and non-diabetic females with clinical features of hyperandrogenism and to find if type 2 diabetes is a risk factor for developing polycystic ovarian syndrome.
Study design: A cross-sectional comparative study.
Place and Duration of study: The study was done in Gynaecology and obstetric unit of Military Hospital Rawalpindi from June 2004 to April 2005.
Patients and Methods: Eighty four obese females were enrolled and counseled about the procedure Body Mass Index (BMI) age and clinical features of hyperandrogenism, were recorded. Informed consent was taken, their relevant information was documented on the data collection sheets.  These females were divided in two groups, 46 patients who had type 2 diabetes mellitus were enrolled in group 1 (n=46), 38 patients with normal fasting plasma glucose were enrolled in group 2 (n=38) as controls. Transvaginal scan was done on females of both groups to record the findings of Polycystic Ovarian Syndrome (PCOS).
Results: Eighty four women were included for the study, all had BMI > 28, out of 46 patients who were enrolled in group-1; 32 (69%) (95% C1:59.2-78.8) had polycystic ovaries on transvaginal scan (table), while in control group, 38 women who were enrolled 23; (61%) (95% CI: 50.7 – 71.3) had polycystic ovaries. The frequency of PCOS was slightly higher in diabetics compared to the non diabetics 70% vs 61% respectively. The statistical analysis by chi-square test revealed a statistically insignificant relationship (p>0.05).
Conclusion: There was no statistically significant difference between the frequency of PCOS among diabetics and non-diabetics and this does not support the view that type 2 diabetes could be a risk factor for PCOS.
Downloads
Download data is not yet available.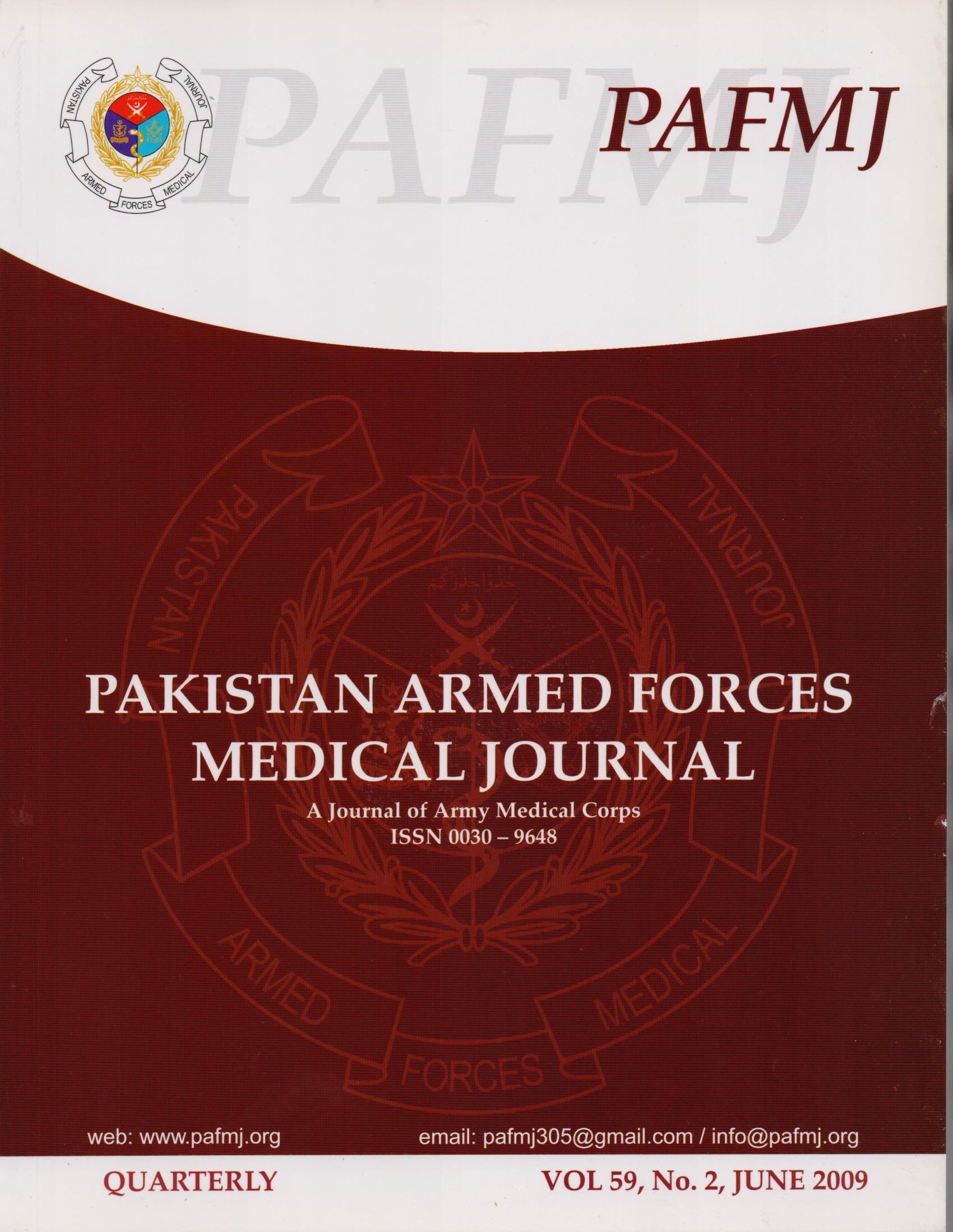 How to Cite
Siraj, A., & Mushtaq, M. (2018). FREQUENCY OF POLYCYSTIC OVARIAN SYNDROME (PCOS) AMONG OBESE DIABETIC AND NON DIABETIC FEMALES WITH CLINICAL FEATURES OF HYPERANDROGENISM. Pakistan Armed Forces Medical Journal, 59(2), 204-6. Retrieved from https://pafmj.org/index.php/PAFMJ/article/view/1890
Section
Original Articles