COMPARISON OF OVER-UNDERLAY AND UNDERLAY TECHNIQUES OF MYRINGOPLASTY
Muhammad Azeem Aslam

Islamic International Medical College Rawalpindi

Muhammad Javed Aslam

NESCOM Hospital Islamabad
Keywords:
Myringoplasty, Tympanic membrane, middle ear
Abstract
Objectives: To compare the success rate of over-underlay and underlay techniques of myringoplasty regarding rate of graft acceptance, hearing improvement and complications.
Design: Quasi-experimental study
Place and duration of Study: This study was conducted at the Department of Otorhinolaryngology and Head & Neck Surgery, Foundation University Teaching Hospital, Rawalpindi from 1st January 2003 to 31st December 2005.
Patients and Methods: Clinical records of patients who underwent myringoplasty by either over-underlay or underlay techniques in the past three years were analyzed.  A total of 62 patients who had dry central tympanic membrane perforations of various sizes secondary to chronic tubotympanic suppurative otitis media were included in the study. These patients were divided into two groups.  In group A (study group), 34 patients were included in which tympanic membrane was repaired by using over-underlay technique of myringoplasty whereas group B (control group) comprised of 28 cases of myringoplasty in which underlay technique was used. The results of two techniques were compared in terms of graft success rate i.e., full take or failure to takeup, medialization or lateralization of graft within 6 months of operation and improvement in hearing at the end of 6 months of follow up.
Results: In group A, graft success was noted in 32 (94.1%) cases compared to 26 (92.8%) in group B (p <0.05). Medialization of graft was seen in only 1 (2.9%) case in group A whereas it was noted in 5 (17.8%) patients in group B (p >0.05). Lateralization of graft was not observed in any case in either group. As far as hearing improvement is concerned, the mean air bone gap closure was 10.8 dB (SD+ 5.56) in group A compared to11.3 dB (SD+5.84) in group B (p < 0.05).
Conclusions: Over-underlay technique of myringoplasty is equally effective to more commonly practiced underlay technique in terms of graft take and hearing improvement. As far as complications are concerned, over-underlay technique is associated with less chances of graft medialization.
Downloads
Download data is not yet available.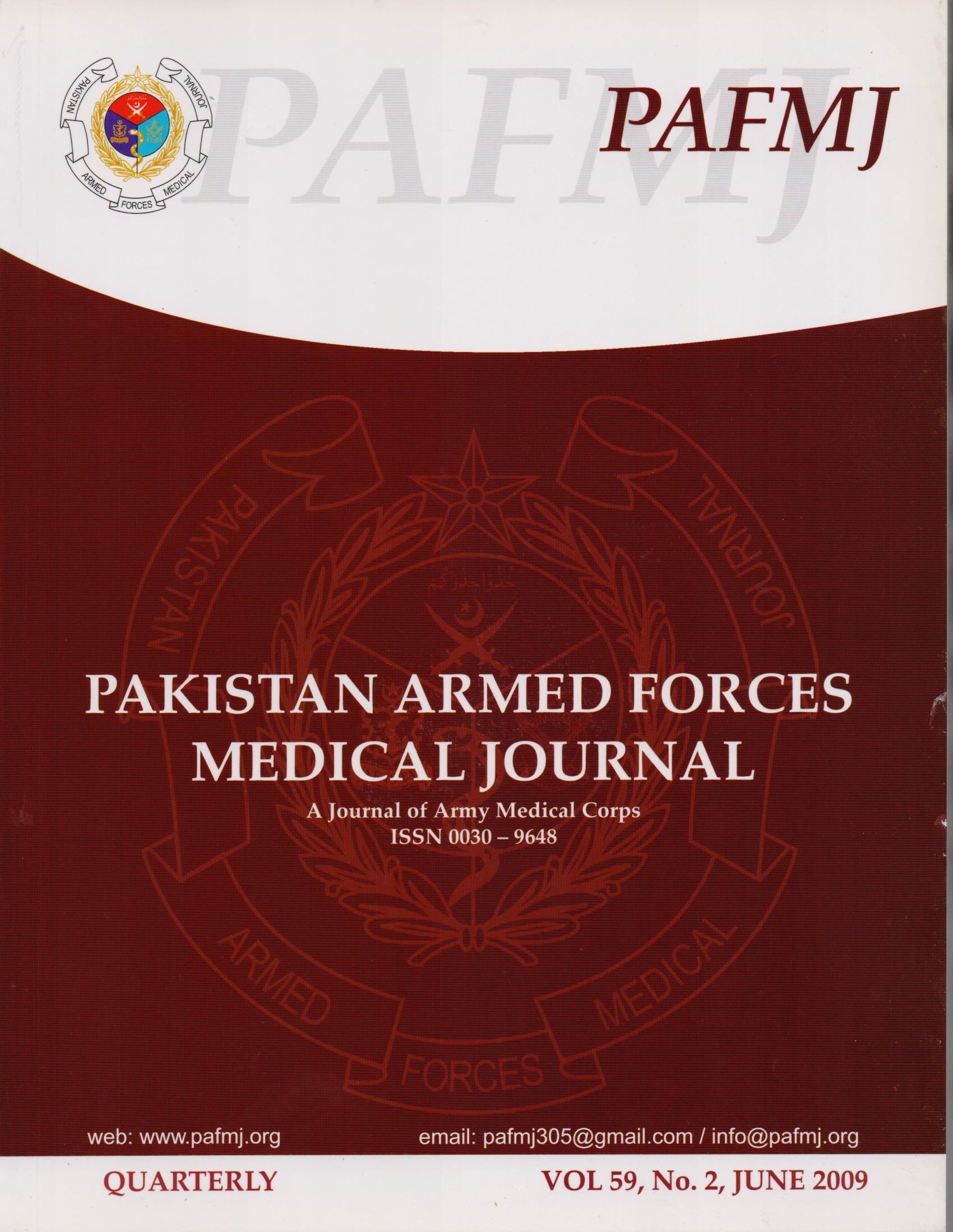 How to Cite
Aslam, M. A., & Aslam, M. J. (2018). COMPARISON OF OVER-UNDERLAY AND UNDERLAY TECHNIQUES OF MYRINGOPLASTY. Pakistan Armed Forces Medical Journal (PAFMJ), 59(2), 189-93. Retrieved from https://pafmj.org/index.php/PAFMJ/article/view/1876
Section
Original Articles