A FREQUENCY OF GESTRIC MALIGNANCY IN PATIENTS UNDERGOING ENDOSCOPY FOR DYSPEPSIA
Falak Sher Khan Bhatti

Military Hospital Rawalpindi
Abstract
Objective: To find out the frequency of Gastric Malignancy in endoscoped patients presenting with dyspepsia.
Design: A descriptive study carried out for 12 years.
Place and Duration of Study: Gastroenterology Department of CMH Quetta from 1991-95, CMH Peshawar 1995-2000 and CMH Lahore 2000-2003. Patients came from Baluchistan, Sind, NWFP, Afghanistan and Punjab respectively.
Patients and Methods: Hundred adult patients, who presented with symptoms suggestive of upper digestive tract disease and were confirmed to have gastric malignancy on histopathology of the gastric lesion.
Results: Out of 5000 patients presenting with dyspepsia, 100 patients were ascertained to have gastric malignancy on endoscopic biopsy and registered in the study. Twenty four (24%) were female and 76 (76%) male. The Age ranged from 25 to 85 years with average 54.51 years. Ninety four (94%) patients had adenocarcinoma including 20(20%) signet ring carcinoma, 4(4%) lymphoma, 1(1%) adenosquamous carcinoma and 1(1%) had leiomyoblastoma. Eighty- five (85%) were registered in Peshawar and Quetta out of two thousands i.e. one out of every 23rd gastroscoped patient, while 15(15%) were diagnosed in Lahore out of 3000 i.e. one out of 200.
Conclusion: Gastric Malignancy is the cause of dyspepsia in 4. 25 % patients in Baluchistan and NWFP and 0.5 % in Punjab, who presented with upper digestive tract disturbances, substantive enough to warrant endoscopy. Hence gastric malignancy is much more common in Baluchistan and NWFP as compared to Punjab.The average age is 54 .51 years
Downloads
Download data is not yet available.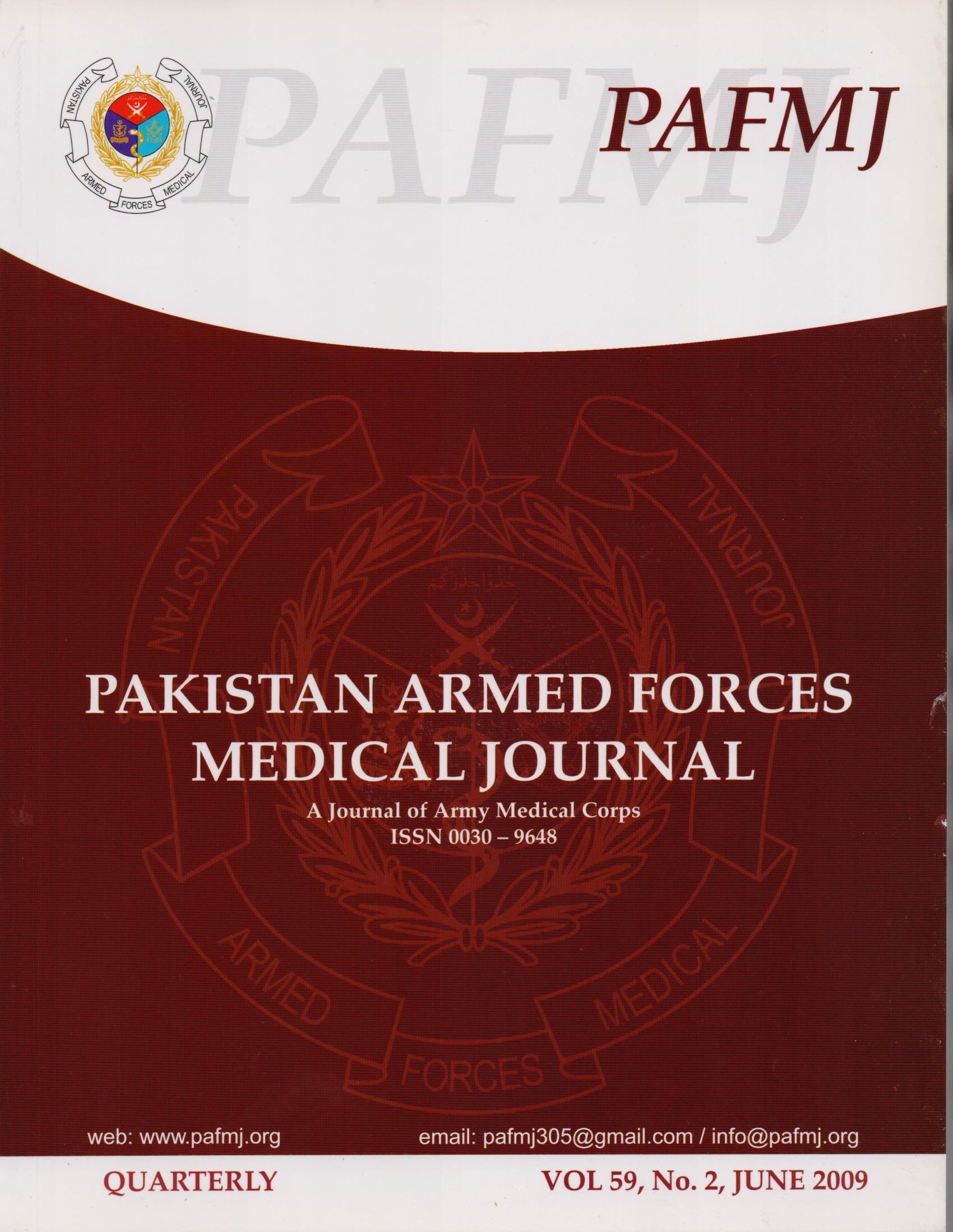 How to Cite
Bhatti, F. S. K. (2018). A FREQUENCY OF GESTRIC MALIGNANCY IN PATIENTS UNDERGOING ENDOSCOPY FOR DYSPEPSIA. Pakistan Armed Forces Medical Journal (PAFMJ), 59(2), 184-8. Retrieved from https://pafmj.org/index.php/PAFMJ/article/view/1874
Section
Original Articles