FREQUENCY OF EXTENDED SPECTRUM BETA–LACTAMASES (ESBL) PRODUCING NOSOCOMIAL ISOLATES IN A TERTIARY CARE HOSPITAL IN RAWALPINDI
Arif Maqsood Ali

Combined Military Hospital Okara

Shahid Ahmed Abbasi

Army Medical College/National University of Medical Sciences (NUMS) Rawalpindi Pakistan

Mubasher Ahmed
Keywords:
ESBL, infection control,, antibiotics resistance
Abstract
Objectives of Study: To find out the frequency of extended spectrum beta–lactamases (ESBL) producing organisms among Gram negative rods from clinical specimens.
Design: This was a descriptive study.
Setting: The study was carried out in the Microbiology Department of Army Medical College, Rawalpindi from 1 Jan 03 to 31 Dec 03 on clinical samples received from admitted patients in Military hospital, Rawalpindi.
Materials and Methods:  It was carried out on clinical specimens of urine, blood, pus, catheter tips, fluids including CSF, sputum, chest tube, HVS and i/v canula/CVP line obtained from admitted patients in Military Hospital, Rawalpindi. The organisms were identified by standard techniques. Confirmation to the species level was done by API 20 E & API NE where required. Sensitivity testing was carried out by Modified Kirby Bauer disc diffusion method on Mueller Hinton agar incubated at 35o C in ambient air for 24 hrs. ESBL producing strains were identified by double disc diffusion method test according to Jarlier et al. Clavulanate was applied as the inhibitor of beta lactamases (AMO/CLAV disc). The results were tabulated as frequencies.
Results: Forty three percent of clinical isolates yielded ESBL producing gram negative rods.
Enterobacter cloacae (76%), Klebsiella oxytoca (68%) Acinetobacter baumanni, (63%) and Aeromonas hydrophila (50%) were the most frequent ESBL producing bacteria.
Conclusion: Production of ESBL among Gram negative rods is frequent in Military Hospital, Rawalpindi. Infection control measures are required to control their spread.
Downloads
Download data is not yet available.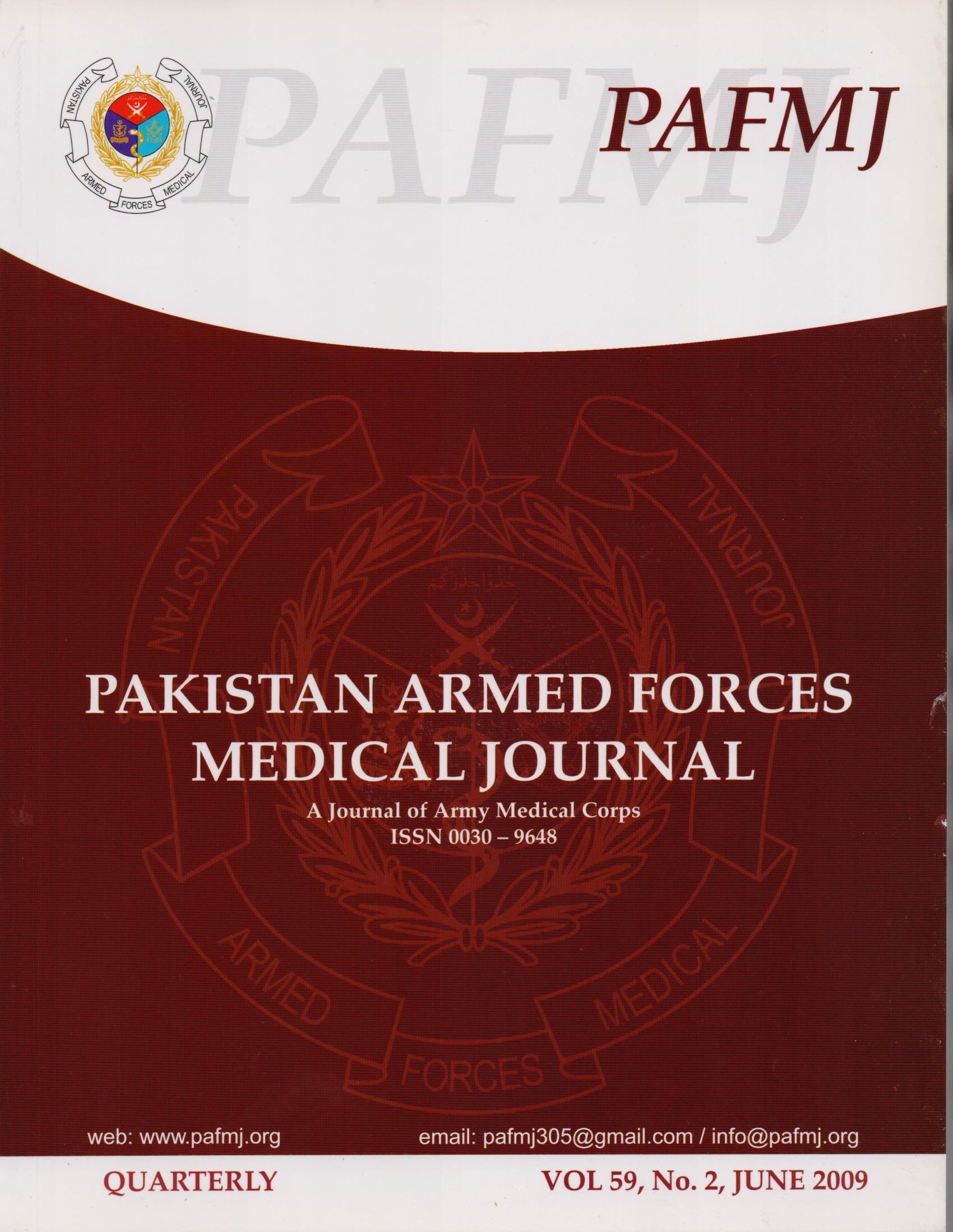 How to Cite
Ali, A. M., Abbasi, S. A., & Ahmed, M. (2018). FREQUENCY OF EXTENDED SPECTRUM BETA–LACTAMASES (ESBL) PRODUCING NOSOCOMIAL ISOLATES IN A TERTIARY CARE HOSPITAL IN RAWALPINDI. Pakistan Armed Forces Medical Journal (PAFMJ), 59(2), 154-8. Retrieved from https://pafmj.org/index.php/PAFMJ/article/view/1858
Section
Original Articles