FREQUENCY OF EAR PROBLEMS ASSOCIATED WITH DIVING AND THEIR PREVENTION IN PAKISTAN NAVY
Ear Problem Associated with Diving
Col Mahmood Ur Rehman

Community Medicine Department, Armed Forces Post Graduate Medical Institute, Rawalpindi

Saqib Zaheer

AFPGMI Rawalpindi,

Farwa Rizvi

CPSP Islamabad

Muhammad Afzal

CPSP Islamabad
Keywords:
Divers, Pakistan Navy, Ear problems, Occupational health hazard
Abstract
Objective: To determine the frequency of different ear problems among divers of Pakistan Navy and the factors contributing to them.
Study design: A cross sectional descriptive study.
Place and Duration of Study: This study was conducted in three major units of Pakistan Navy where active diving is going on all the times from March 2007 to July 2007.
Subjects and Methods: 100 divers were selected by consecutive sampling. They were examined and interviewed following a pre-designed questionnaire by the investigator.
Results: The overall frequency of ear problems was 54% including infection, barotraumas and deafness. Frequency of ear problems was more in those having more service as divers. It was about 8% in divers with diving experience 1-8 years, 32% in 9-16 years and about 66% in those with diving experience of more than 16 years (p< 0.001). There is an association between years of diving and sensorineural hearing loss. Frequency of ear problems was more in smokers (58%) as compared to non smokers (26%) and it was found statistically significant (p<0.004). Major factors contributing to the ear problems included Upper Respiratory Tract Infections and diving after long intervals.
Conclusion: Comprehensive medical examination should be done before selection of the divers for Prevention and early diagnosis.
Downloads
Download data is not yet available.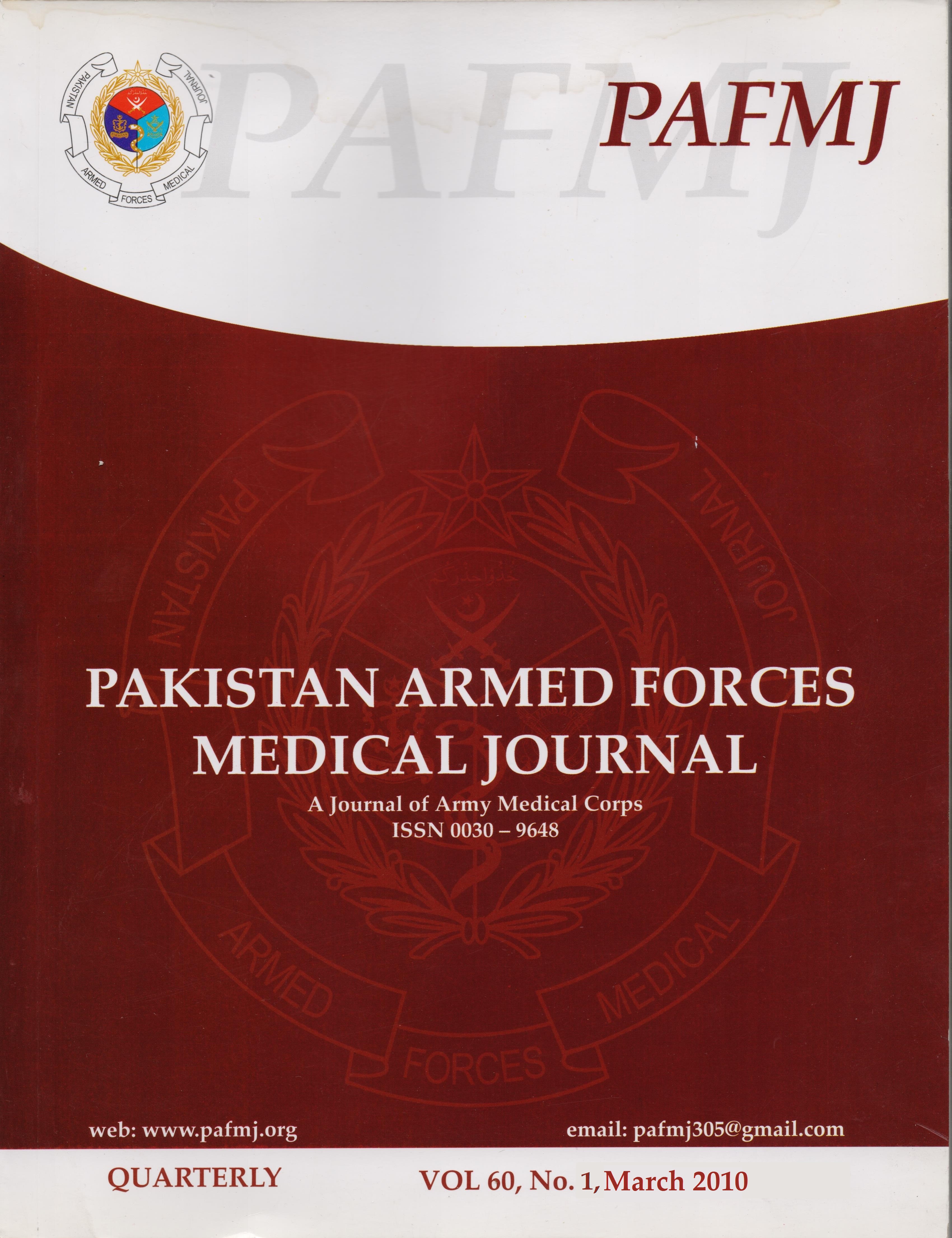 How to Cite
Rehman, C. M., Zaheer, S., Rizvi, F., & Afzal, M. (2010). FREQUENCY OF EAR PROBLEMS ASSOCIATED WITH DIVING AND THEIR PREVENTION IN PAKISTAN NAVY. Pakistan Armed Forces Medical Journal, 60(1), 135-9. Retrieved from https://pafmj.org/index.php/PAFMJ/article/view/1785