ADVERSE METABOLIC EFFECTS OF CONVENTIONAL AND ATYPICAL ANTIPSYCHOTICS: A COMPARATIVE STUDY
Conventional and Atypical Antipsychotics
Dr Najam Akhtar

H. no. 367, St # 04, Gulrrez Housing, Phase – 4, Rawalpindi

Mowadat Hussain Rana

Armed Forces Institute of Mental Health Rawalpindi
Keywords:
Atypical antipsychotics, Body Mass Index, Metabolic changes
Abstract
Objective: To compare the adverse metabolic effects (changes in Body Mass Index, fasting blood glucose and serum cholesterol levels) of conventional and atypical antipsychotics in patients of psychosis.
Study Design: Randomized Control Trials (RCT).
Place and Duration of Study: Department of Psychiatry, Military Hospital Rawalpindi from August 2007 to August 2008.
Patients and Methods: A total of 110 patients were assigned to treatment with haloperidol (n=35), risperidone (n=36) and olanzapine (n=39). Fasting blood glucose, serum cholesterol levels and BMI were computed at baseline and subsequently repeated at 2nd week, 6th week and 8th week of treatment. In all the subjects, all the blood samples were drawn as a fasting sample in early morning.
Results: ANOVA analyses indicated that changes in mean fasting glucose and cholesterol levels reached significance in period 2 (from 2nd week to 6th week) but not in period 1 (from 0 to 2nd week) and period 3 (from 6th week to 8th week). The increase in mean fasting glucose and cholesterol levels over time reached statistical significance in the olanzapine group after 6 weeks. No significant change in glucose was detected in the haloperidol and risperidone groups. The largest weight gain was seen with olanzapine (mean=2.4 Kg), followed by risperidone (mean=1.25 Kg). There was minimal weight gain with haloperidol (mean=0.3 Kg).
Conclusion: There was a higher risk of adverse metabolic effects with olanzapine treatment as compared to risperidone and haloperidol in the study population. The metabolic effects appear between 2 to 6 weeks after starting treatment.
Downloads
Download data is not yet available.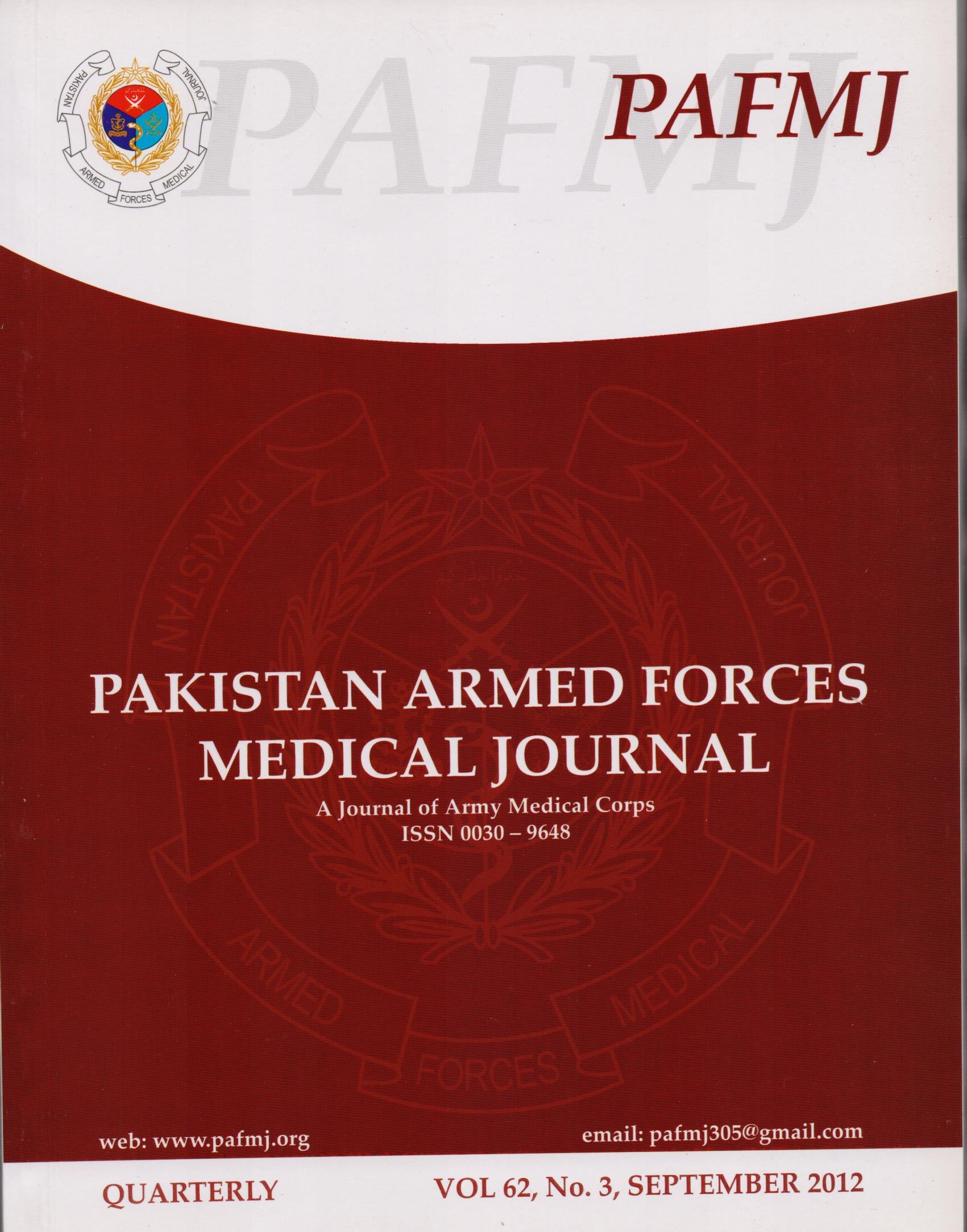 How to Cite
Akhtar, D. N., & Rana, M. (2012). ADVERSE METABOLIC EFFECTS OF CONVENTIONAL AND ATYPICAL ANTIPSYCHOTICS: A COMPARATIVE STUDY. Pakistan Armed Forces Medical Journal, 62(3), 427-30. Retrieved from https://pafmj.org/index.php/PAFMJ/article/view/1638
Section
Original Articles