IBUPROFEN VERSUS ACETAMINOPHEN PREMEDICATION ON SUCCESS OF INFERIOR ALVEOLAR NERVE BLOCK IN IRREVERSIBLE PULPITIS
Inferior Alveolar Nerve Block
Captain Jawad A Ali Shah

Operative Department, AFID Rawalpindi

Manzoor Ahmed

Armed Forces Institute of Dentistry Rawalpindi

Zahir Shah

Armed Forces Institute of Dentistry Rawalpindi

Zahid Mehmood Khan

Armed Forces Institute of Dentistry Rawalpindi

Ajmal .

Armed Forces Institute of Dentistry Rawalpindi

Imran Asghar

Armed Forces Institute of Dentistry Rawalpindi
Keywords:
Acetaminophen, Ibuprofen, Inferior Alveolar Nerve Block
Abstract
Objectives: To compare impact of ibuprofen and acetaminophen premedication on the efficacy of inferior alveolar nerve block in irreversible pulpitis.
Study Design: Randomized controlled trial.
Place and duration: Operative Department, AFID Rawalpindi from 18 September 2007 to 17 September 2008.
Patients and Methods: Three hundred and sixty patients with irreversible pulpitis were divided into two groups. At base line patients pain was recorded. Ibuprofen was given to patients in group A and acetaminophen to group B patients. Patients were given drugs in tablet form. After 30 minutes cold test with ethyl chloride was done and patient pain was recorded on visual analogue scale. Inferior alveolar nerve block was administered. Forty five minutes from base line cold test was performed and pain was recorded. Access to the endodontic cavity with round bur in high speed handpiece was made and patient response was noted. Inferior alveolar nerve block was successful if patient had no pain to cold test at 45 minutes and on access to cavity preparation. Data was analyzed by SPSS version 12.
Results: There was no statistically significant difference between ibuprofen and acetaminophen on success rate of inferior alveolar nerve block in patient with irreversible pulpitis.
Conclusions: Ibuprofen and acetaminophen premedication has similar efficacy on success of inferior alveolar nerve block in patients with irreversible pulpitis.
Downloads
Download data is not yet available.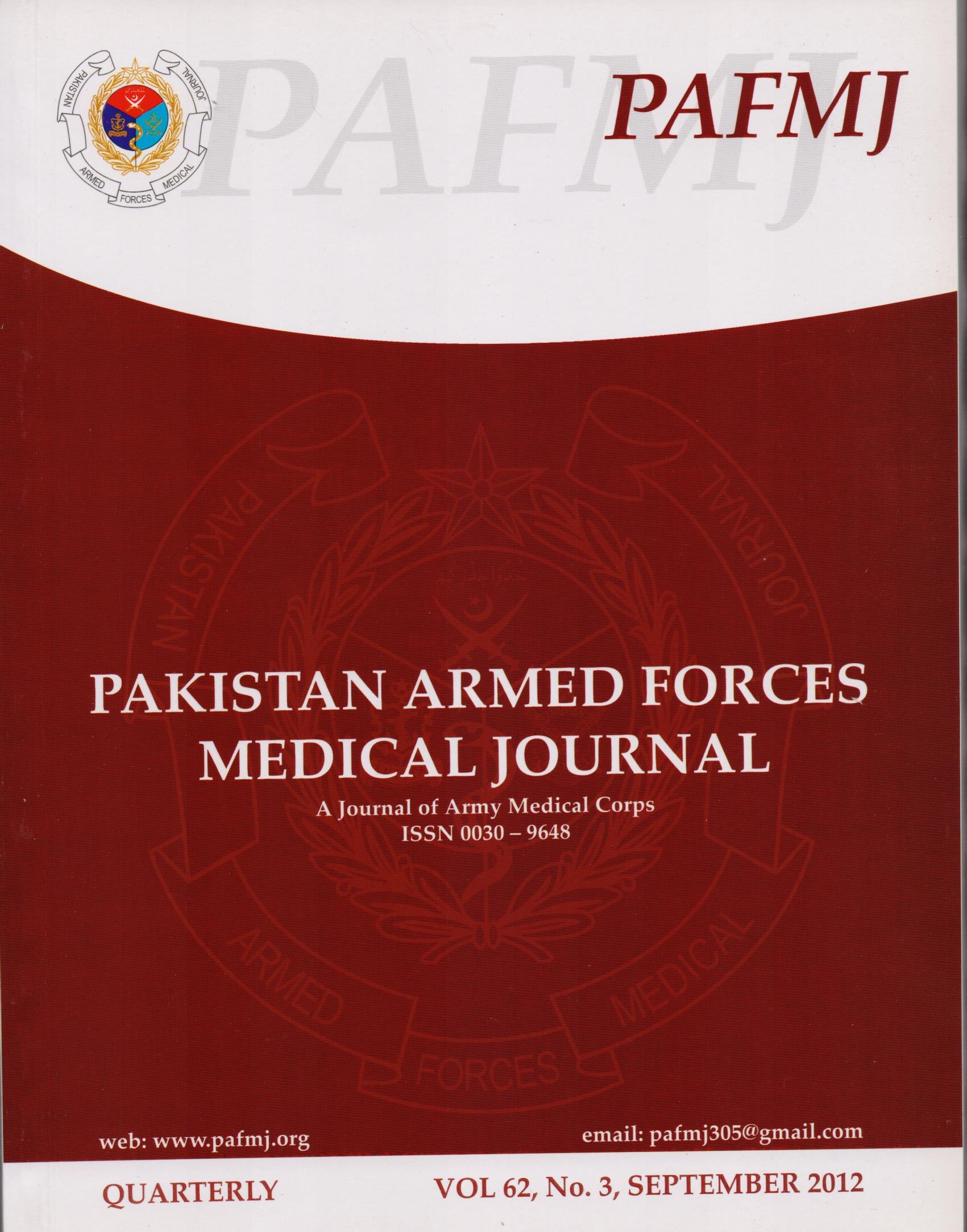 How to Cite
Shah, C. J. A., Ahmed, M., Shah, Z., Khan, Z., ., A., & Asghar, I. (2012). IBUPROFEN VERSUS ACETAMINOPHEN PREMEDICATION ON SUCCESS OF INFERIOR ALVEOLAR NERVE BLOCK IN IRREVERSIBLE PULPITIS. Pakistan Armed Forces Medical Journal, 62(3), 418-21. Retrieved from https://pafmj.org/index.php/PAFMJ/article/view/1636
Section
Original Articles