HEMODYNAMIC RESPONSE OF LOW DOSE BUPIVACAINE WITH FENTANYL SPINAL ANESTHESIA IN ELDERLY PATIENTS
Low Dose Bupivacaine
Major Muhammad Faisal Nadeem

House no.27/27 (ground floor), st no.5, near Ghausia Chock nai abadi, Talhi Mohri Rawalpindi

Waqas Ahmed Kazi

Combined Military Hospital Rawalpindi

Sarfraz Khan Janjua

Combined Military Hospital Rawalpindi
Keywords:
Elderly patients, fentanyl, hypotention, low dose bupivacaine, spinal anaesthesia
Abstract
Objectives: To determine whether a reduced dose of bupivacaine in combination with fentanyl could give reliable block with greater hemodynamic stability in elderly patients.
Study design: Quasi experimental study
Settings: Department of Anaesthesiology, Intensive Care and Pain Management Combined Military Hospital Rawalpindi
Duration and dates: One year duration, from May 2006 to April 2007.
Subjects: ASA I-III elderly patients (n=60) undergoing surgery for fracture neck of femur, meeting the inclusion and exclusion criteria.
Methods: Sixty elderly patients were randomized in two groups. The study group (group-A) received spinal anesthesia as a combination of hyperbaric bupivacaine 7.5 mg and fentanyl 15 μgm while the control group (group-B) received hyperbaric bupivacaine 15 mg. The hemodynamic stability of the patients and the quality of the blocks were compared.
Results: All patients had adequate duration of block. There was no significant difference in the change of heart rate between the two groups. Fall in blood pressure was more pronounced in the control group (group-B) patients requiring more ephedrine as compared with the study group (group-A) patients which remained more hemodynamically stable..
Conclusion: A reduced dose of hyperbaric bupivacaine in combination with fentanyl provides reliable spinal anesthesia in elderly patients with few events of hypotension and little need for vasopressor support of blood pressure.
Downloads
Download data is not yet available.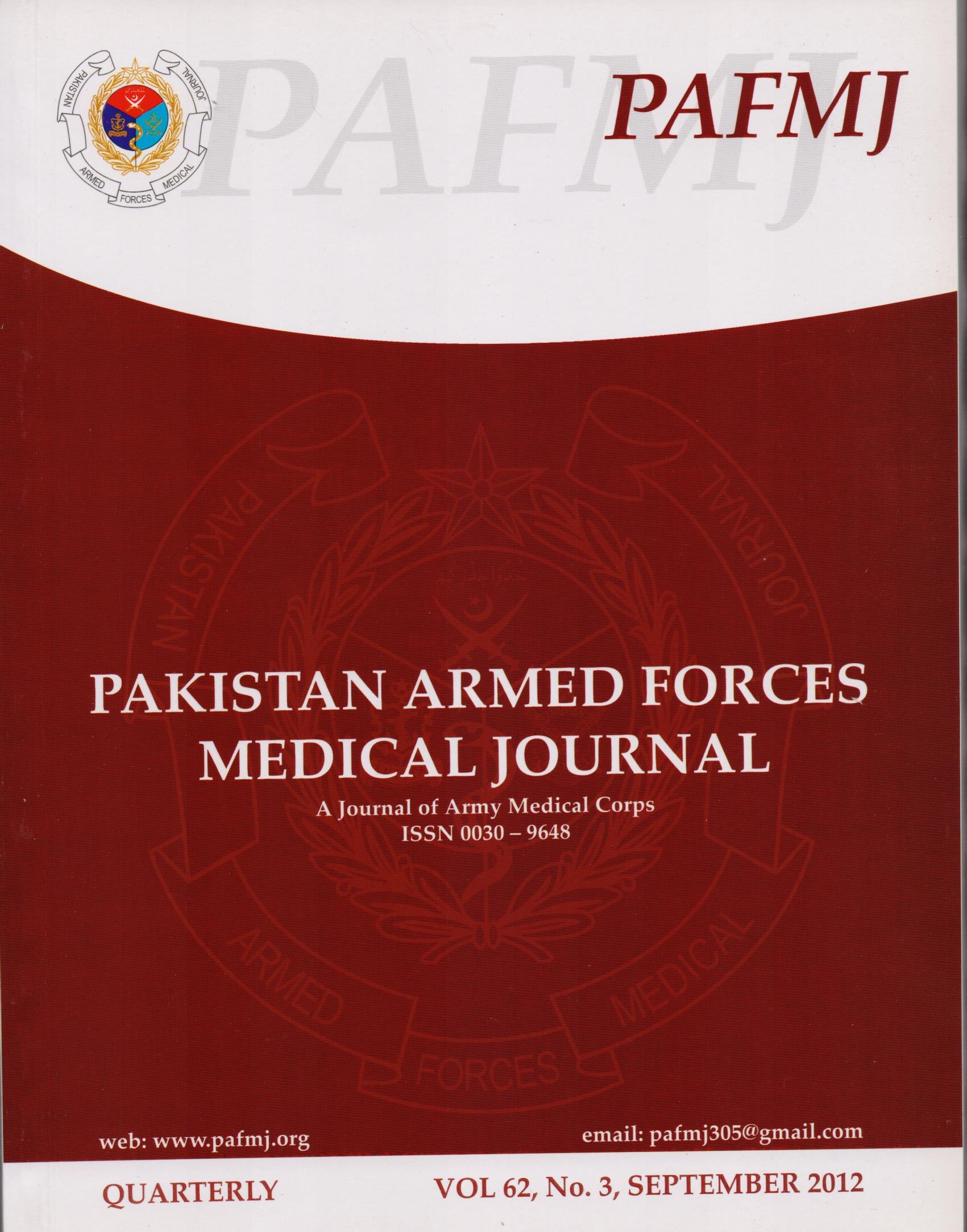 How to Cite
Nadeem, M. M., Kazi, W., & Janjua, S. (2012). HEMODYNAMIC RESPONSE OF LOW DOSE BUPIVACAINE WITH FENTANYL SPINAL ANESTHESIA IN ELDERLY PATIENTS. Pakistan Armed Forces Medical Journal, 62(3), 404-8. Retrieved from https://pafmj.org/index.php/PAFMJ/article/view/1623
Section
Original Articles