COMPARISON OF HEMODYNAMIC RESPONSES TO USE OF LARYNGEAL MASK AIRWAY VERSUS ENDOTRACHEAL TUBE IN HYPERTENSIVE PATIENTS
Comparison of Hemodynamic Responses
Dr Syed Samee Uddin

Graded Anaesthetist, CMH Bahawalpur

Muhammad Asghar Khan

Combined Military Hospital Bahawalpur

Syed Fazl e Karim

Combined Military Hospital Bahawalpur
Keywords:
Endotracheal tube, Hypertension, Laryngeal Mask Airway, Stress response
Abstract
Objective: To compare hemodynamic responses to use of laryngeal mask airway (LMA) versus endotracheal tube (ETT) in hypertensive patients.
Study Design: A quasi-experimental study.
Place and Duration of study: Department of Anaesthesiology and Intensive Care, Combined Military Hospital Rawalpindi and Kharian from January 2008 to December 2008.
Patient and Methods: Seventy hypertensive patients selected by non-probability convenience sampling technique were equally distributed in two groups ETT and LMA using alternate patient technique (n=35 each). Patients in both groups were anaesthetised using common anaesthetic technique. Patients in ETT group underwent laryngoscopy and ETT intubation, whereas patients in LMA group received LMA without laryngoscopy for their airway maintenance. Hemodynamic variables, (pulse, systolic, diastolic and mean arterial pressures) were measured using non-invasive monitoring technique at various intervals before and after intubation or LMA placement, before and after extubation or LMA removal.
Results: In ETT group after intubation there was an increase both in, pulse from 69±9 to 75±8, and mean arterial pressure (MAP) from 89±10 to 104±4mm Hg, when compared to LMA group, in which pulse increased from 67±7 to 68±5 and MAP from 89±11 to 94±8 mm Hg. Before extubation pulse in LMA group patients was 73±10 and MAP was 93±9 whereas in ETT group mean pulse was 76±9 and MAP was 107±9 mm Hg. On ETT extubation pulse increased from 76±9 to 77±8 and MAP from 107±9 to 108±8 mm Hg, whereas in LMA group pulse changed from 73±10 to 69±7 and MAP from 93±9 to 95±9. All the hempdynamic responses were significantly lower in LMA group than in ETT group (p<0.05).
Conclusion: Use of LMA in hypertensive patients for control of ventilation showed significantly lower hemodynamic responses when compared to ETT at both intubation and extubation.
Downloads
Download data is not yet available.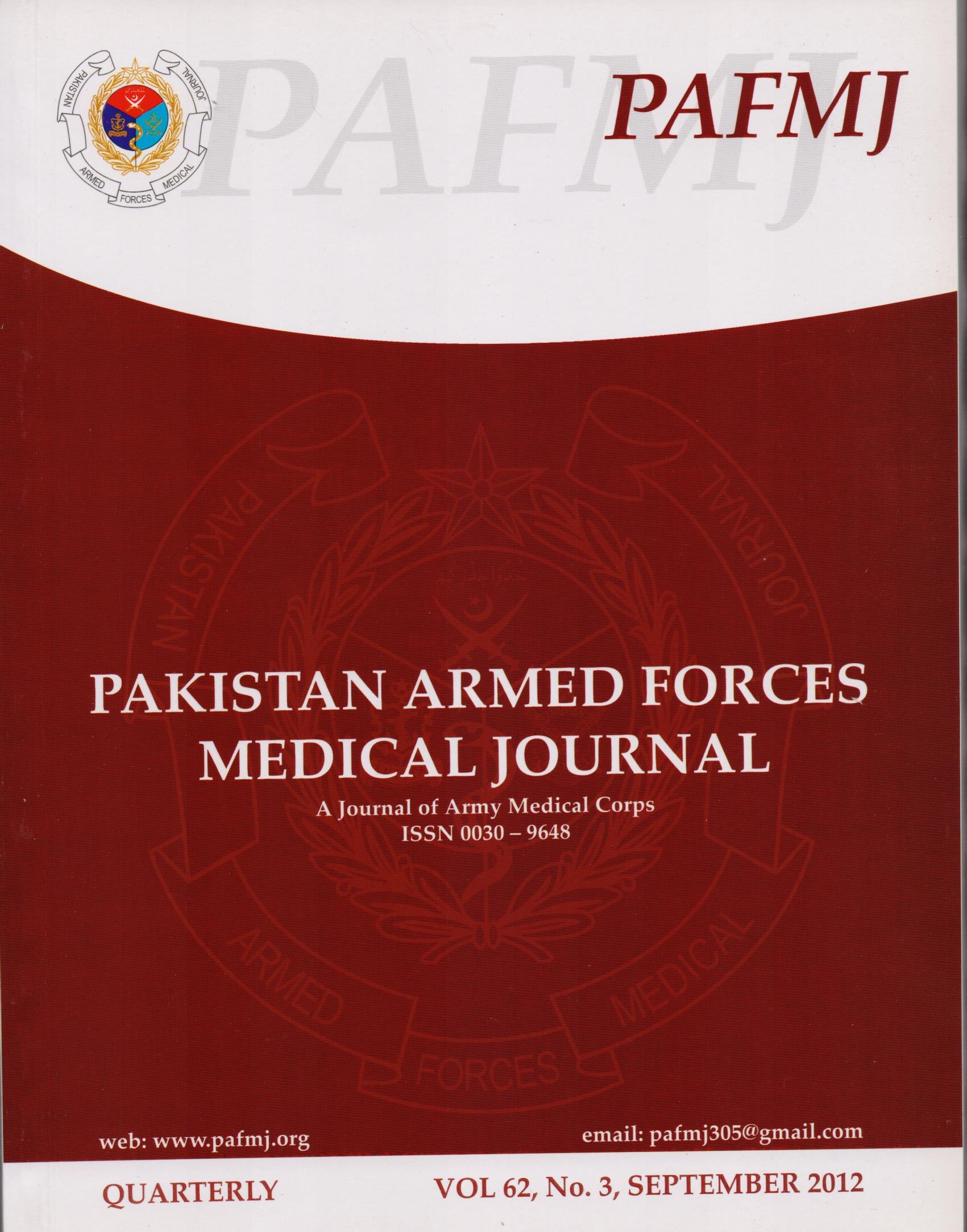 How to Cite
Uddin, D. S., Khan, M., & Karim, S. F. (2012). COMPARISON OF HEMODYNAMIC RESPONSES TO USE OF LARYNGEAL MASK AIRWAY VERSUS ENDOTRACHEAL TUBE IN HYPERTENSIVE PATIENTS. Pakistan Armed Forces Medical Journal, 62(3), 398-403. Retrieved from https://pafmj.org/index.php/PAFMJ/article/view/1622
Section
Original Articles