SECOND-OPINION HISTOPATHOLOGY – A STUDY OF 142 CASES AT ARMED FORCES INSTITUTE OF PATHOLOGY (AFIP), RAWALPINDI, PAKISTAN
Second-Opinion Histopathology
Brig Shahid Jamal

Prof of Pathology, 71-C, Lane No 8, Askari VII, Adyala Road Rawalpindi

Mohammad Atique

Armed Forces Institute of Pathology Rawalpindi

Muhammad Tahir Khadim

Armed Forces Institute of Pathology Rawalpindi

Tariq Sarfraz

Armed Forces Institute of Pathology Rawalpindi

Farhan Akhtar

Armed Forces Institute of Pathology Rawalpindi

Zafar Ali

Armed Forces Institute of Pathology Rawalpindi
Keywords:
Audit biopsy material, Second opinion histopathology, Unusual cases
Abstract
Objective: To assess the histopathological diagnosis made on the cases sent for second opinion to the Department of Histopathology.
Study Design: A descriptive study.
Place and Duration of Study: Department of Histopathology AFIP, Rawalpindi, Pakistan from July 2010 to April 2011.
Subject and Methods: During the study period, 142 cases were received for second opinion by the department. The demographical details of the patients were entered in a profroma. After initially seeing the H&E slides, immunohistochemical and special stains were applied where required. The initial diagnosis and review diagnosis were then analysed.
Results: During the study period, 142 cases were analysed, 81 were male and 61 female patients. There was wide age range, from 2 months to 90 years. Out of the total 22 (15.5%) were reviewed for benign conditions and 120 (84.5%) were malignant. Majority of cases were from lymphoreticular system. In 72 (50.7%) cases diagnosis was changed on review out of which 9 were benign conditions and rest malignant. Out of the 63 malignant 27 cases and 3 out of 9 benign cases, were those where change in diagnosis was such that it changed the treatment pattern. In 12 cases the review diagnosis was changed from benign to malignant and vice versa.
Conclusion: Getting second opinion on surgical biopsy material is very important part of treatment, particularly in our set up, where all the laboratories are not fully equipped.
Downloads
Download data is not yet available.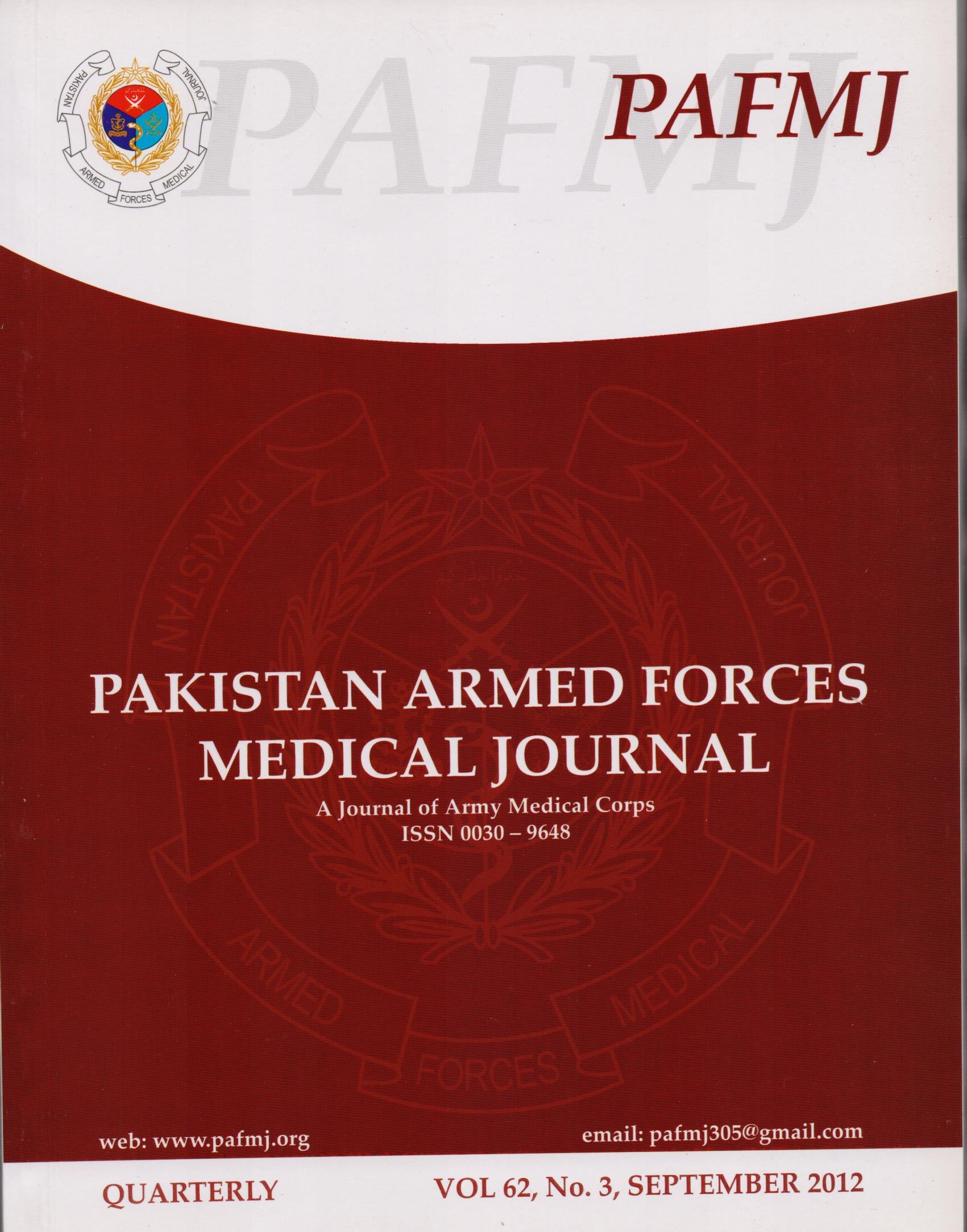 How to Cite
Jamal, B. S., Atique, M., Khadim, M., Sarfraz, T., Akhtar, F., & Ali, Z. (2012). SECOND-OPINION HISTOPATHOLOGY – A STUDY OF 142 CASES AT ARMED FORCES INSTITUTE OF PATHOLOGY (AFIP), RAWALPINDI, PAKISTAN. Pakistan Armed Forces Medical Journal, 62(3), 365-8. Retrieved from https://pafmj.org/index.php/PAFMJ/article/view/1610
Section
Original Articles