MINIMALLY INVASIVE PLATE OSTEOSYNTHESIS (MIPO) FOR COMMINUTED FRACTURES OF DISTAL TIBIA
Minimally Invasive Plate Osteosynthesis
Lt Col Muhammad Suhail Amin

Classified Orthopaedic Surgeon, CMH Muzaffarabad
Keywords:
MIPO, Comminuted fractures, Distal Tibia, Union
Abstract
Objective: To report experience with minimally invasive plate osteosynthesis (MIPO) for comminuted distal tibia fractures with specific reference to fracture union, complications encountered and functional outcome.
Design: Descriptive case series using purposive non-probability convenient sampling.
Place and duration of study: Study was conducted in the Department of Orthopaedic Surgery at Combined Military Hospital Multan and Muzaffarabad from March 2006 to October 2010.
Patients and Methods: Twenty three patients underwent MIPO for comminuted distal tibial fractures. Fractures were classified according to AO system. Open fractures were graded using Gustilo and Anderson classification. A 4.5mm Narrow Dynamic Compression Plate (DCP) was used for fixation in 16 cases whereas 7 fractures were fixed with 4.5mm Narrow Locking Compression Plate (LCP). Post-operative clinical and radiological assessment was done at monthly interval until radiological union and three monthly thereafter. The minimum follow-up period was eight months with a mean of 18 ± 4.1 months. Functional outcome was assessed in each case at final follow-up.
Results: There were 16 males and 7 females with mean age of 30.3 ± 9.2 years. Radiological and clinical union was achieved in all cases. Twenty one cases (91.3%) achieved union (primary) at mean of 17.5 ± 2.6 weeks whereas two cases (8.7%) required augmentation cancellous bone grafting before achieving union (secondary) at mean of 33 ± 2.8 weeks. Unsatisfactory radiological alignment (Coronal > 5°/ Sagittal > 5°) was observed in one (4.3%) case. There was one (4.3%) case of infection treated successfully with antibiotics. Single screw breakage was seen in 2 cases where conventional DCP had been used for fixation but neither led to loss of position nor affected the outcome adversely. Functional results were "excellent to good" in 91.3% cases and fair in two cases.
Conclusion: MIPO may be used successfully for treatment of high-energy peri-articular distal tibial fractures. The approach aims to preserve bone biology and minimize surgical soft tissue trauma. The technique certainly provides an answer to treat this challenging group of fractures.
Downloads
Download data is not yet available.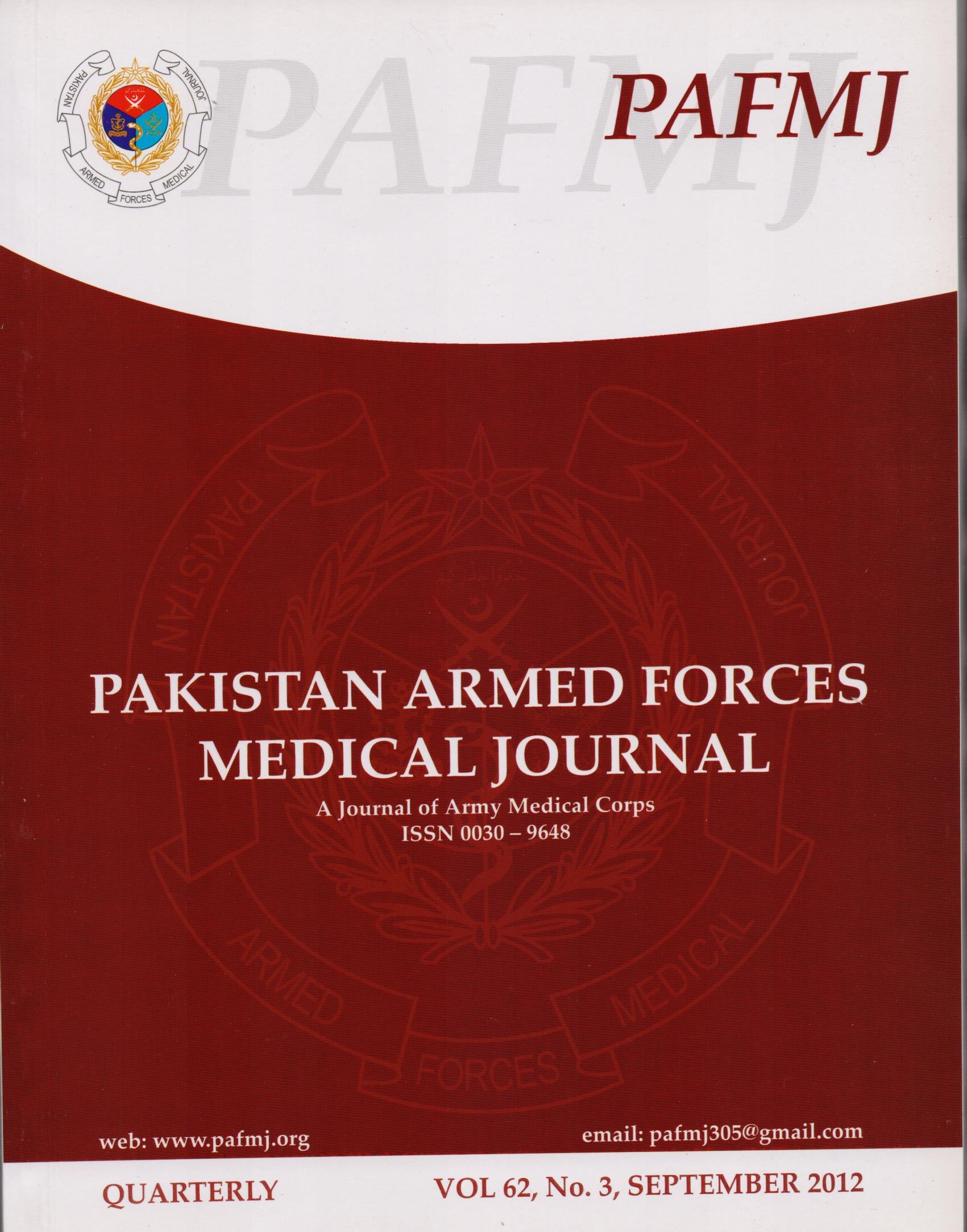 How to Cite
Amin, L. C. M. (2012). MINIMALLY INVASIVE PLATE OSTEOSYNTHESIS (MIPO) FOR COMMINUTED FRACTURES OF DISTAL TIBIA. Pakistan Armed Forces Medical Journal, 62(3), 349-55. Retrieved from https://pafmj.org/index.php/PAFMJ/article/view/1607
Section
Original Articles