VALIDITY OF TOTAL LEUCOCYTES COUNT AND NEUTROPHIL COUNT (DIFFERENTIAL LEUCOCYTES COUNT) IN DIAGNOSING SUSPECTED ACUTE APPENDICITIS
Validity of Total Leucocytes Count
Keywords:
Acute appendicitis, Total Leukocyte count (TLC), Differential Leukocyte Count (DLC)
Abstract
Objective: To compare the diagnostic accuracy of Total Leucocytes Count (TLC) with Neutrophil count; Differential Leucocytes Count (DLC) in diagnosing cases of suspected acute appendicitis.
Study design: Validation study.
Place & duration of the study: Department of Surgery, Combined Military Hospital (CMH) Rawalpindi, from April 2008 to October 2008.
Method: A total of 100 patients of Pain right iliac fossae who underwent appendicectomy were included. Detailed history of all the patients was taken for pain in right lower abdomen, its severity, its nature, relieving or provoking factors. Clinical examination was done in detail. Total and Differential Leucocytes Count was done. Every patient's appendix was examined grossly after appendicectomy for evidence of appendicitis. Diagnostic measures of TLC and DLC were calculated by standard formulas.
Results: Sensitivity and specificity of TLC is 86.9% and 81.25% respectively and that of DLC is 82% and 68.75% respectively. Accuracy was 86% for TLC and 80% for DLC.
Conclusion: TLC is more sensitive, specific and accurate test as compared to DLC and it should be used as diagnostic aid for suspected acute appendicitis cases.
Downloads
Download data is not yet available.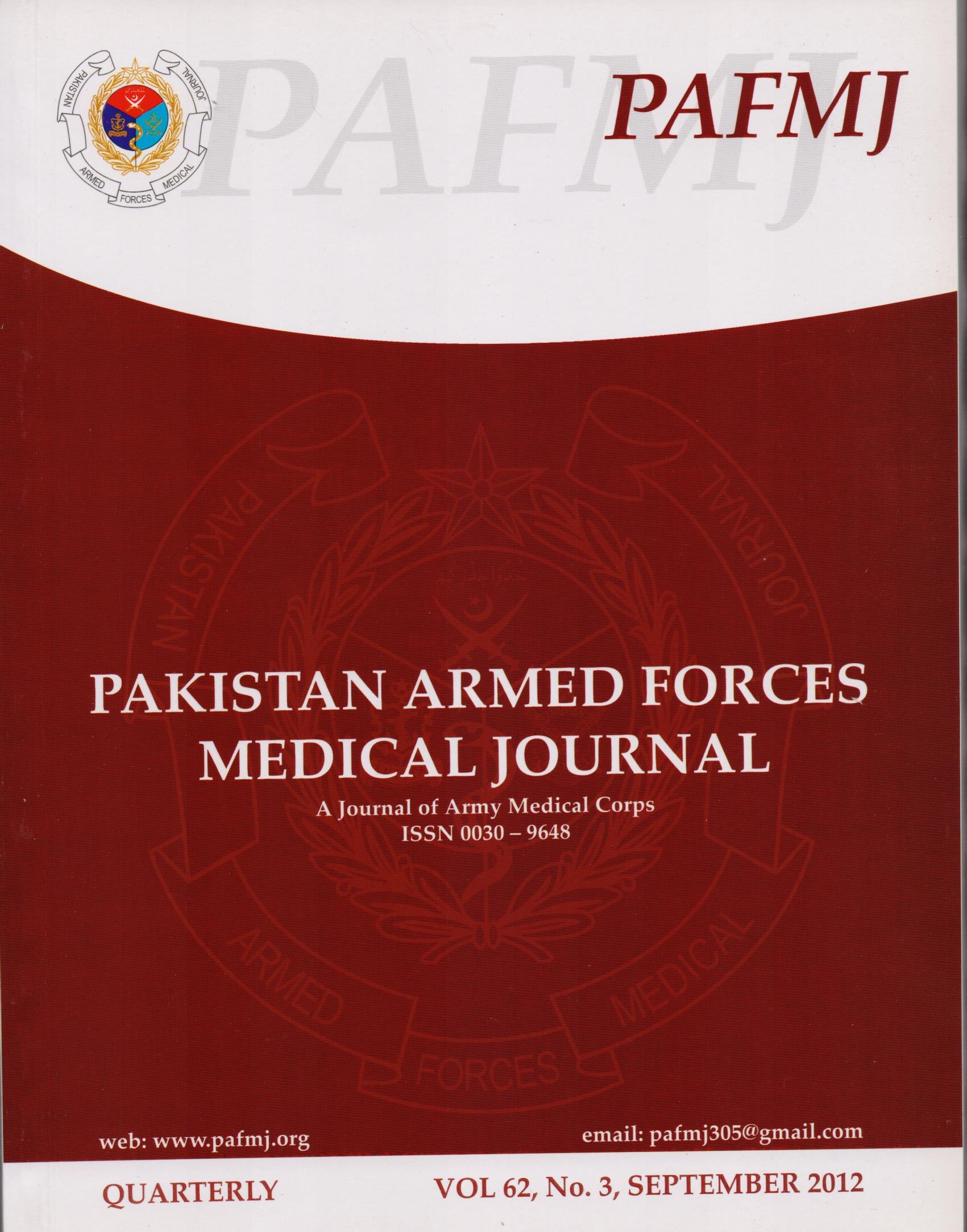 Downloads
How to Cite
Anwar, M. M. W., & Abid, I. (2012). VALIDITY OF TOTAL LEUCOCYTES COUNT AND NEUTROPHIL COUNT (DIFFERENTIAL LEUCOCYTES COUNT) IN DIAGNOSING SUSPECTED ACUTE APPENDICITIS: Validity of Total Leucocytes Count. Pakistan Armed Forces Medical Journal, 62(3), 344–8. Retrieved from https://pafmj.org/index.php/PAFMJ/article/view/1606
Section
Original Articles