MANAGEMENT OF WAR INJURIES – EXPERIENCE AT CMH RAWALPINDI DURING 2008 – 2010
War Injuries
Major Rao Saood Ahmad

Classified Surgical Specialist, CMH Bahawalpur

Shahid Hameed

Combined Military Hospital Bahawalpur

Ehtisham ul Haq

Combined Military Hospital Bahawalpur

Sameena Awan

Combined Military Hospital Bahawalpur

Abdul Majid

Combined Military Hospital Bahawalpur

Muhammad Waqas

Combined Military Hospital Bahawalpur

Rana Hassan Javaid

Combined Military Hospital Bahawalpur

Omamah Yousaf

Combined Military Hospital Bahawalpur

Ahsan Masood Butt

Combined Military Hospital Bahawalpur

Ghazanfar Ali

Combined Military Hospital Bahawalpur
Keywords:
War wounds, Management
Abstract
Objective: To see the changing mode of injury from firearm to blast, pattern of injury with modern body armor and improved surgical options with results of different procedures done.
Study design: Descriptive study.
Place and Duration of Study: Department of Plastic Surgery Combined Military Hospital Rawalpindi between Jan 2008 and Dec 2010.
Material and Methods: All victims of low intensity conflict whether civilian or military personnel from all age groups without sex discrimination were included. Data was collected from history, transferring notes from the forward medical facility to this hospital, case record documents in this hospital and `patients follow up proforma. All these cases were managed in collaboration with other concerned specialties including orthopedic surgery, general surgery, otolaryngyology, maxillofacial surgery and vascular surgery.
Results: Plastic surgery department managed 212 patients over last three years i.e. 2008-2010. Age range was 14-58 years and male to female ratio was 71:1. Primary surgical wound management was done at field military hospitals in majority of cases and few were air evacuated directly to CMH Rawalpindi. Majority of injuries were caused by explosions followed by firearms. Simultaneous injuries were 68.9% and isolated injuries were 31.1%. Decision of wound closure was usually dependent on level of tissue damage, contamination and infection. Concept of reconstructive ladder was followed. Majority of wounds were closed in delayed primary setting. Infection was the most common complication followed by partial or complete graft or flap loss.
Minimum complication rate was encountered in the wounds which were closed in delayed primary setting.
Conclusion: All war wounds are primarily contaminated. If these wounds are closed in delayed primary setting after 2-3 debridements, best results can be achieved. Although infected wounds, wounds with severely damaged structures and injuries associated with tendon or nerve injuries or bone loss will require secondary reconstructive procedures.
Downloads
Download data is not yet available.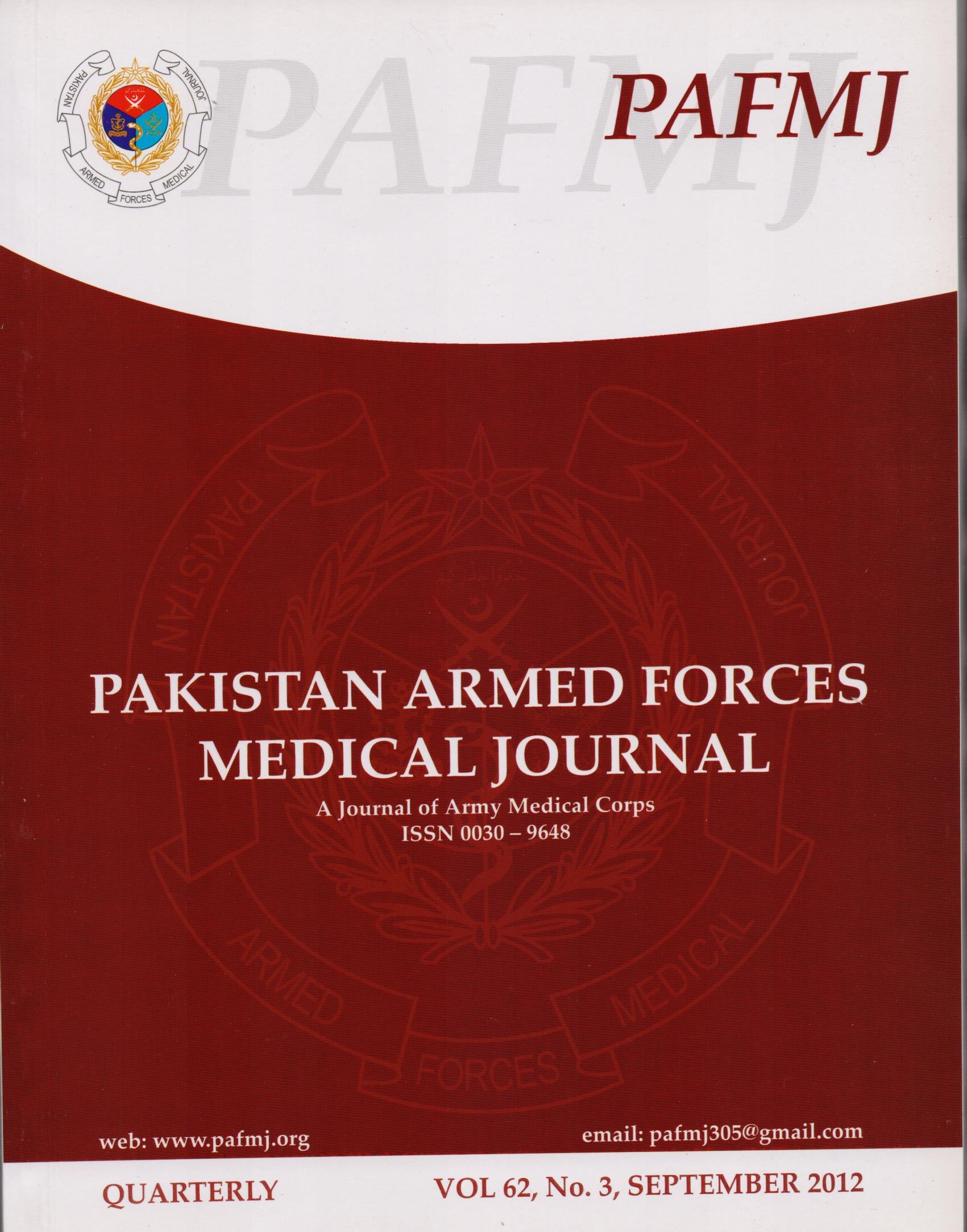 How to Cite
Ahmad, M. R., Hameed, S., Haq, E., Awan, S., Majid, A., Waqas, M., Javaid, R., Yousaf, O., Butt, A., & Ali, G. (2012). MANAGEMENT OF WAR INJURIES – EXPERIENCE AT CMH RAWALPINDI DURING 2008 – 2010. Pakistan Armed Forces Medical Journal, 62(3), 333-39. Retrieved from https://pafmj.org/index.php/PAFMJ/article/view/1604
Section
Original Articles