EFFECTS OF ASCORBIC ACID AND SELENIUM SUPPLEMENTATION ON BASAL TESTOSTERONE CORTISOL RATIO IN MALE SPRAGUE DAWLEY RATS
Effects of Ascorbic and Selenium Supplementation
Keywords:
Testosterone Cortisol Ratio, Malondialdehyde, Ascorbic Acid, Selenium
Abstract
Objective: To determine the effects of ascorbic acid and selenium supplementation on basal testosterone cortisol ratio in male Sprague Dawley rats.
Design: Quasi experimental study.
Place and Duration of Study: The study was carried out in the department of Physiology, Army Medical College Rawalpindi in collaboration with National Institute of Health, Islamabad during October 2006 to September 2007.
Materials and Methods: Forty male Sprague Dawley rats were divided into four groups with ten rats in each group and above mentioned antioxidants supplementation were given along with standard diet for one month. After this, blood samples were taken and analyzed for serum testosterone and cortisol by ELISA and malondialdehyde levels colorimetrically. Results were analyzed on SPSS version 13 and p value less than 0.05 was considered significant.
Results: There was no significant rise in testosterone cortisol ratio in rats supplemented with single antioxidant, however rats supplemented with combination of ascorbic acid and selenium revealed significant rise in testosterone cortisol ratio with a fall in malondialdehyde levels.
Conclusions: Synergistic effects of ascorbic acid and selenium may have resulted in a decline in reactive oxygen species induced lipid peroxidation and rise of testosterone cortisol ratio
Downloads
Download data is not yet available.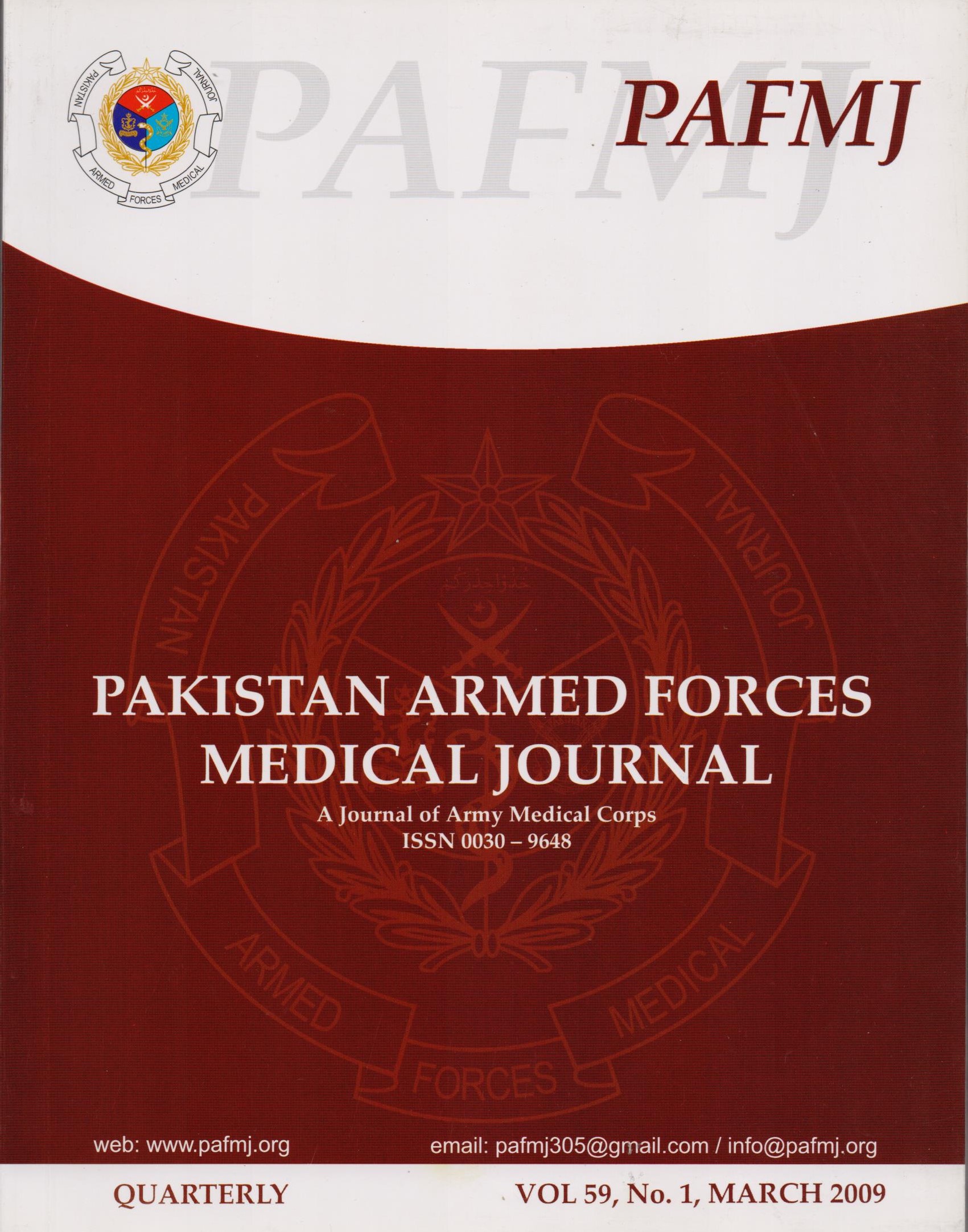 Downloads
How to Cite
Lodhi, G. M., Butt, I. F., Hussain, M. M., & Aslam, M. (2009). EFFECTS OF ASCORBIC ACID AND SELENIUM SUPPLEMENTATION ON BASAL TESTOSTERONE CORTISOL RATIO IN MALE SPRAGUE DAWLEY RATS: Effects of Ascorbic and Selenium Supplementation. Pakistan Armed Forces Medical Journal, 59(1), 14–19. Retrieved from https://pafmj.org/index.php/PAFMJ/article/view/1595
Section
Original Articles