PATHOGENS INVOLVED AND ANTIBIOTIC SENSITIVITY PATTERN OF ISOLATES IN COMMUNITY ACQUIRED COMMON BACTERIAL SKIN INFECTIONS PRESENTING IN A TERTIARY CARE HOSPITAL
Malik Muhammad Hanif

Combined Military Hospital Peshawar

Tariq Butt

Combined Military Hospital Peshawar

Mohammad Amjad

Combined Military Hospital Peshawar
Keywords:
Superficial skin infections, bacterial pathogens, staphylococcus aureus, streptococcus pyogenes, antibiotic sensitivity pattern
Abstract
Objective: To determine the bacterial pathogens involved and their antibiotic sensitivity pattern in commonly encountered community acquired superficial skin infections and determine the appropriate empirical antibiotics for such conditions.
Design: A descriptive study.
Place and Duration of Study: A descriptive study was carried out at Department of Dermatology and Pathology Combined Military Hospital Peshawar from 1st Oct 2005 to 31st Jan 2006.
Patients and Methods: Swabs from skin lesions of a total of 117 patients suffering from common primary pyodermas were collected for microbiological analysis. These were stained with gram stain and conventional biochemical & serological tests were performed for identification of different isolates after their culture followed by their antibiotic sensitivity testing with standard antibiotic discs using modified Kirby Bauer disk diffusion method as per National Committee for Clinical Laboratory Standards recommendations. 
Results: A total of 117 cases were studied with age range from 6months to 60 years (median age 12 years). Male and female ratio was 1.8:1. There were 12 cases, which did not reveal any growth. Among 69 positive cases of impetigo/ecthyma, in 14 (20.3%) Staphylococcus aureus was isolated; in 26 (37.7%) Streptococcus pyogenes; in 27 (39.1%) both Staphylococcus aureus and Streptococcus pyogenes and in only 2 cases (2.9%) both Staphylococcus aureus and Pseudomonas aerugenosa together were isolated. Among 26 positive folliculitis/furunculosis cases, in 19 (73.1%) Staphylococcus aureus; in 4 (15.4%) Streptococcus pyogenes and in 3 (11.5%) both these organisms were isolated. Among 10 positive cases of cellulitis, in 3 each (30%) Streptococcus pyogenes and Staphylococcus aureus alone and in 4 (40%) both these organisms together were isolated. In 105 positive cases, 72 Staphylococcus aureus and 67 Streptococcus pyogenes were isolated. In 34 cases both these organisms were isolated together. All Staphylococci were found resistant to all b lactamase labile penicillins and there were 6 (8.3%) staphylococci resistant to oxacillin (MRSA). However, all Staphylococci other than MRSA were susceptible to b lactamase stable penicillins like Amoxicillin-Clavulanic acid. All the MRSA were susceptible to vancomycin and fusidic acid and some of them were susceptible to gentamicin, amikacin, ciprofloxacin, chloramphenicol, doxycycline and clindamycin. All streptococci were susceptible to penicillins, fusidic acid and vancomycin. Almost half of them were resistant to erythromycin and most to doxycycline.
Conclusion:  First choice for an empirical treatment of community acquired superficial skin infections should be b lactamase resistant penicillins like Amoxicillin-Clavulanic acid. In patients allergic to penicillin, lincosamides (Lincomycin & Clindamycin) or fusidic acid can be a systemic and/or topical alternative.
Downloads
Download data is not yet available.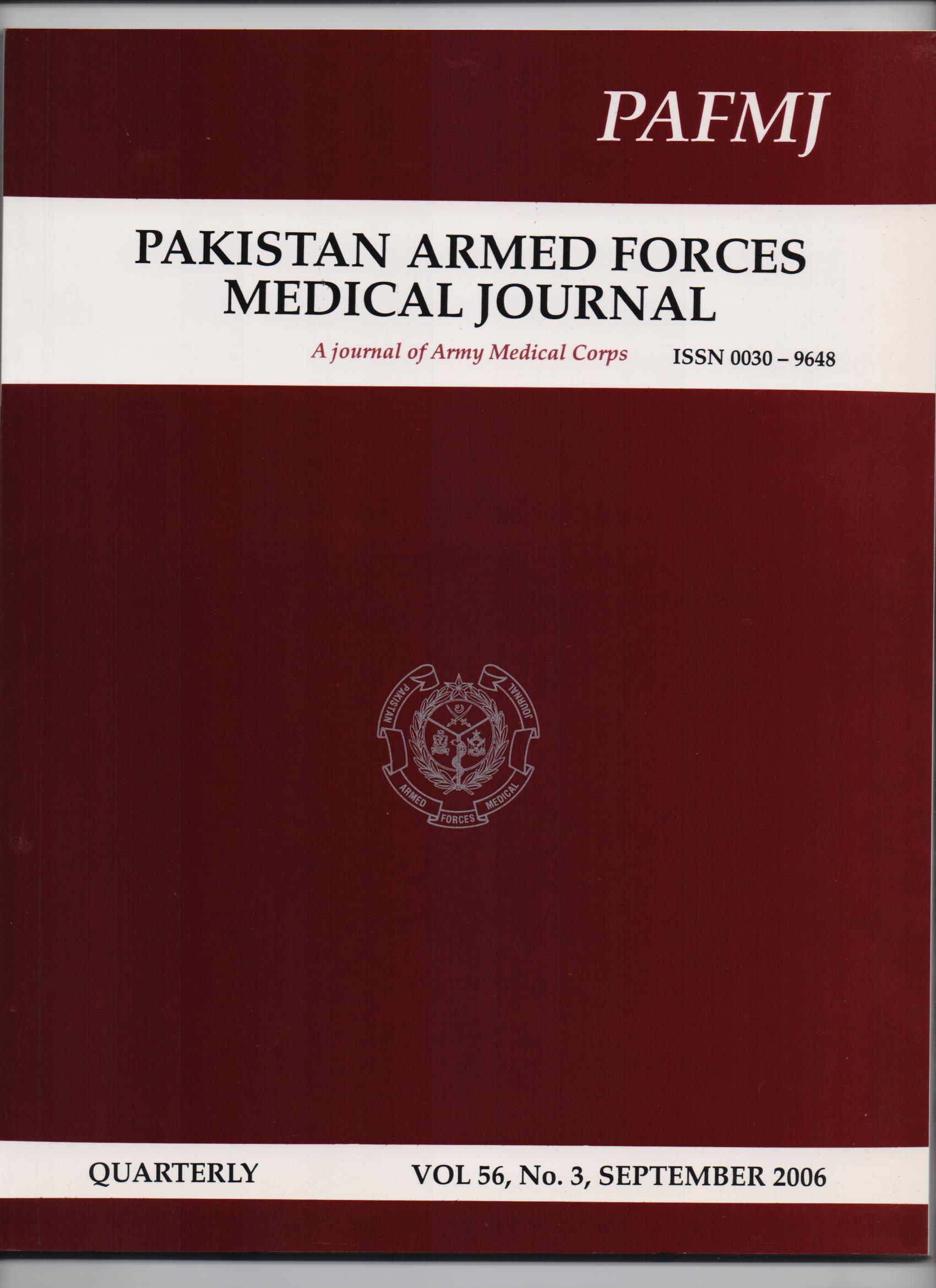 How to Cite
Hanif, M. M., Butt, T., & Amjad, M. (2018). PATHOGENS INVOLVED AND ANTIBIOTIC SENSITIVITY PATTERN OF ISOLATES IN COMMUNITY ACQUIRED COMMON BACTERIAL SKIN INFECTIONS PRESENTING IN A TERTIARY CARE HOSPITAL. Pakistan Armed Forces Medical Journal, 56(3), 289-94. Retrieved from https://pafmj.org/index.php/PAFMJ/article/view/1476
Section
Original Articles