PAEDIATRIC TYMPANOPLASTY: ANATOMICAL AND FUNCTIONAL RESULTS
Muhammad Azeem Aslam

Foundation University Medical College Rawalpindi

Muhammad Javed Aslam

NESCOM Hospital H-11/4 Islamabad
Keywords:
Pediatric, tympanoplasty, middle ear
Abstract
Objective: To analyse outcome of tympanoplasty in children is with regard to graft success rate and hearing improvement.
Study Design: Interventional and descriptive.
Place and Duration: ENT department of Fauji Foundation Hospital, Rawalpindi, from March 2003 to November 2005. 
Patients and Methods: Thirty three children between the ages of 8 to 14 years undergoing 37 tympanoplasties. All of them had dry central tympanic membrane perforations of various sizes secondary to chronic tubotympanic suppurative otitis media.
Results: Post auricular approach and underlay technique of tympanoplasty was used to repair the tympanic membrane perforation in all cases. They were then followed up at monthly interval for up to at least 6 months.  During that period, they were observed for the development of complications like graft failure, lateralization of graft and atelactasis. At the end of 6 months of follow up, pure tone audiogram with air and bone conduction thresholds was repeated to evaluate the change in air bone gap i.e., the difference between the average pre- and postoperative air bone gap at 0.5, 1 and 2 kHtz. Results were statistically analyzed with paired sample t test using statistical soft ware package SPSS 10.0.  Thirty four out of 37 operated ears had full graft take at 6 months of follow up resulting in graft success rate of 91.9%.  Average air bone gap closure was 13.5 dB (range 5 to 33.3 dB). The change in pre and post-operative air bone gap was found to be statistically significant (p< 0.05). 
Conclusion: Tympanoplasty proved to be a useful intervention in children age 8 to 14 years. The procedure gave good anatomical and functional results.
Downloads
Download data is not yet available.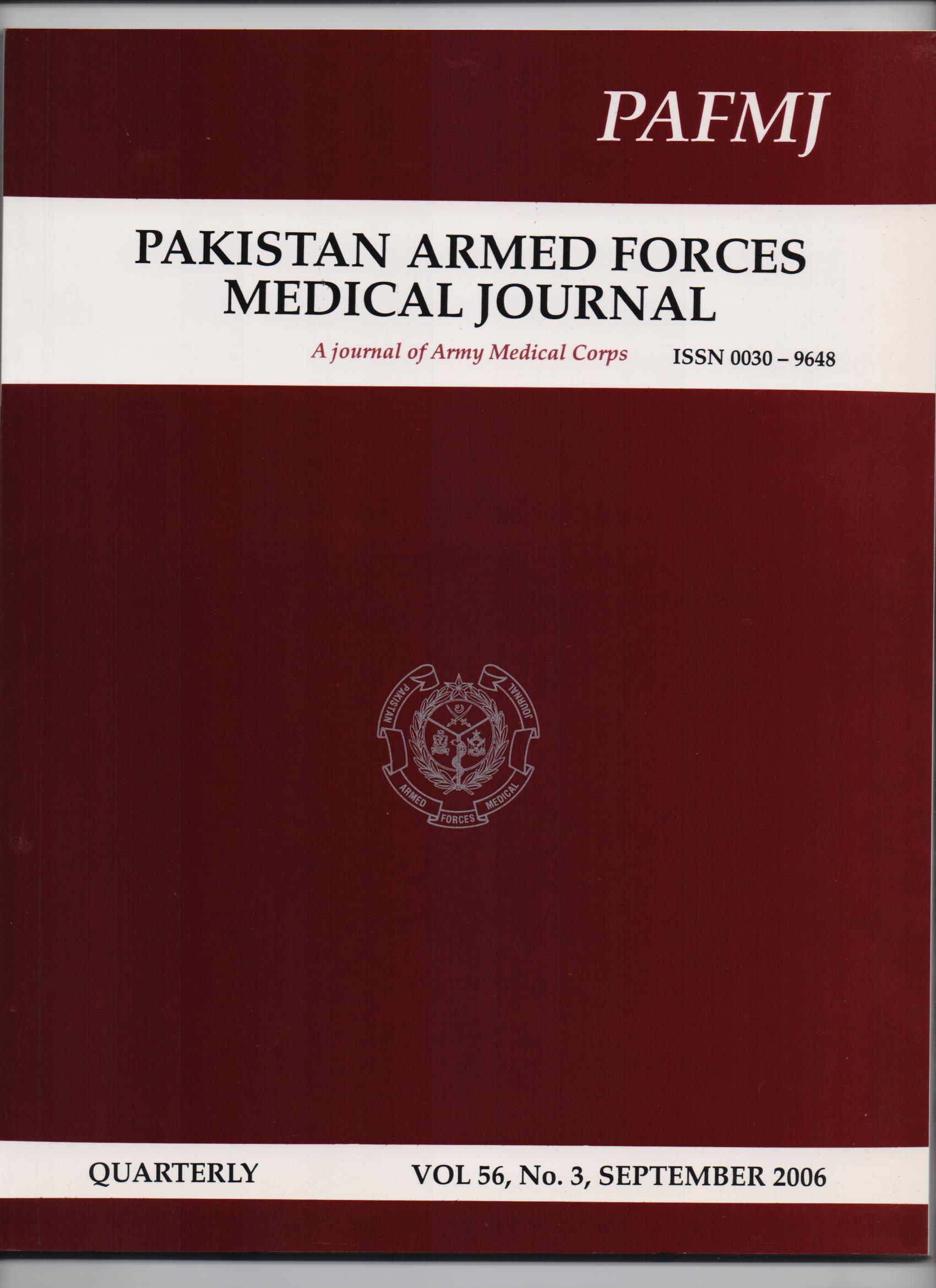 How to Cite
Aslam, M. A., & Aslam, M. J. (2006). PAEDIATRIC TYMPANOPLASTY: ANATOMICAL AND FUNCTIONAL RESULTS. Pakistan Armed Forces Medical Journal, 56(3), 276-279. Retrieved from https://pafmj.org/index.php/PAFMJ/article/view/1471
Section
Original Articles