TERM PRELABOUR RUPTURE OF MEMBRANES: MANAGEMENT AND OUTCOME
Farhat Karim

Combined Military Hospital Nowshera

Mamoona Mushtaq

Combined Military Hospital Quetta
Keywords:
PROM,, chorioamnionitis
Abstract
Objective: To review the management of term prelabour rupture of membranes and its outcome.
Study Design: Interventional and descriptive.
Setting and Duration: Military Hospital Rawalpindi from 10th June 2002 to 9th March 2003.
Patients and Methods: 110 patients including both primigravidas and multigravidas with singleton pregnancy having term prelabour rupture of membranes were recruited by convenience sampling.  They did not have any other complicating factor. They were managed according to their Bishop's score either expectantly or actively by inducing them.
Result:  64.54% of patients went into spontaneous labour within 24 hours and only 35.45% required active intervention. Deliveries by the vaginal route were 89.2% with 61% normal and 28.20 % instrumental.  Cesarean section rate was 10.90%, higher in those induced and primigravidas as compared to the expectantly managed and multigravidas. Chorioamnionitis was seen in 5.45% cases, 3.6% developed postpartum fever, 1.8% wound infection with no case of endometritis or neonatal mortality. 43.64% neonates were put on antibiotics but significant infection was seen in 5(4.54)% cases.
Conclusion: Both active and expectant management are equally effective with a significant percentage delivering vaginally. However the cesarean rate was higher among the actively managed.
Downloads
Download data is not yet available.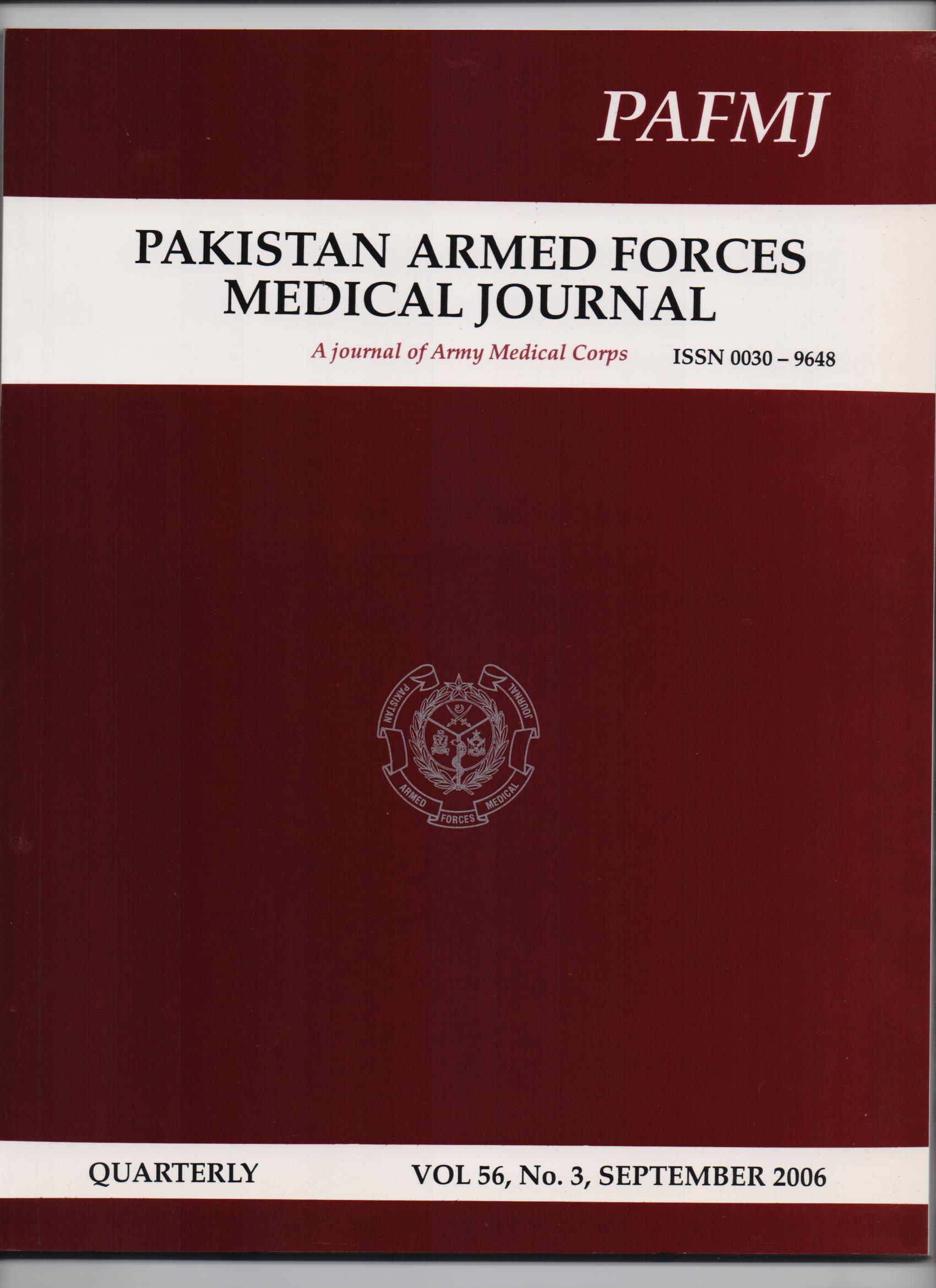 How to Cite
Karim, F., & Mushtaq, M. (2006). TERM PRELABOUR RUPTURE OF MEMBRANES: MANAGEMENT AND OUTCOME. Pakistan Armed Forces Medical Journal, 56(3), 232-238. Retrieved from https://pafmj.org/index.php/PAFMJ/article/view/1441
Section
Original Articles