EFFICACY OF HYPOFRACTIONATED RADIOTHERAPY IN LOCO-REGIONAL TUMOR CONTROL IN BREAST
Hypofractionated Radiotherapy in Loco-Regional Tumor Breast
Omer Riaz

Department of Oncology Combined Military Hospital Rawalpindi Pakistan

Ahsan Mahmood

Combined Military Hospital/National University of Medical Sciences (NUMS) Rawalpindi Pakistan

Zeeshan Ahmed Alvi

*Combined Military Hospital Lahore/National University of Medical Sciences (NUMS) Pakistan

Saffia Gul

*Pioneer College of Commerce, Bhakkar Pakistan

Shahid Rasul

Combined Military Hospital/National University of Medical Sciences (NUMS) Rawalpindi Pakistan,

Naeem Haider

Combined Military Hospital/National University of Medical Sciences (NUMS) Rawalpindi Pakistan
Keywords:
Breast radiotherapy,, Hypo-fractionation.
Abstract
Objective: To evaluate the efficacy of hypofractionated radiotherapy (HFRT) in locoregional control (LRC) in breast cancer.
Study Design: Descriptive case series.
Place and Duration of Study: Oncology Department of CMH Rawalpindi, from Jan 2014 to Oct 2014.
Material and Methods: Fifty three female patients with histopathologically confirmed breast cancer and Eastern Cooperative Oncology Group performance status (ECOG-PS) ≤2were enrolled in the study. These patients required post-operative radio-therapy to intact breast/ chest wall / residual breast tissue were treated using
linear accelerator. Lateral/medial tangential and ipsilateral supraclavicular fields were employed to a dose of 39 Gyin 13 fractions with 6 MV photon beam. The ipsilateral axilla was also radiated if required to same dose with postero-anterior field. Scar boost was administered using 6 MeV electron beam to a dose of 7.5 Gy in 3 fractions in patients with high risk features for local recurrence like high grade, positive axillary nodes, lymphovascular invasion and close or positive surgical resection margins. Patients were followed up weekly during radio-therapy (RT) and three monthly after completion of RT for a period of 6 months. Any suspicious lesion was subjected to biopsy. Data analysis was done with the help of the Statistical Package for the Social Sciences (SPSS) version 19 software, which included descriptive analysis. Loco-regional control (LRC) and loco-regional recurrence (LRR) rates were calculated. LRC was no recurrence of tumor/tumor control in chest wall, axilla, residual breast tissue, and/or infraclavicular/supraclavicular lymph nodes. LRR was appearance of nodules / leison at local site which was biopsied and confirmed histopathologically.
Results: Fifty three female patients with histopathologically confirmed breast cancer and ECOG-PS ≤2 requiring post-operative radio-therapy to intact breast/chest wall/ residual breast tissue were treated. The mean age was 47 years (age range, 20-70 years). Modified radical mastectomy (MRM) was performed in 47 (88.7%) patients and breast conserving surgery (BCS) in 6 (11.3%) patients. The commonest histological subtype was Invasive Ductal Carcinoma (IDCA) observed in 47 (88.7%) patients. Three (5.7%) patients had stage I disease, 16 (30.2%) patients had stage II and stage III included 34 (64.2%) patients. Four (7.5%) patients had T1 disease, 19 (35.8%) had T2, 18 (33.9%) had T3 and 12 (22.6%) patients had T4 disease. Node positive disease was present in 45 (85%) patients. LRC and LRR rates were 98.1% and 1.9% respectively.
Conclusion: It is concluded that HFRT is a simple and effective protocol for LRC in breast cancer in our set up. Large scale randomized trials and longer follow up is needed to confirm the results.
Downloads
Download data is not yet available.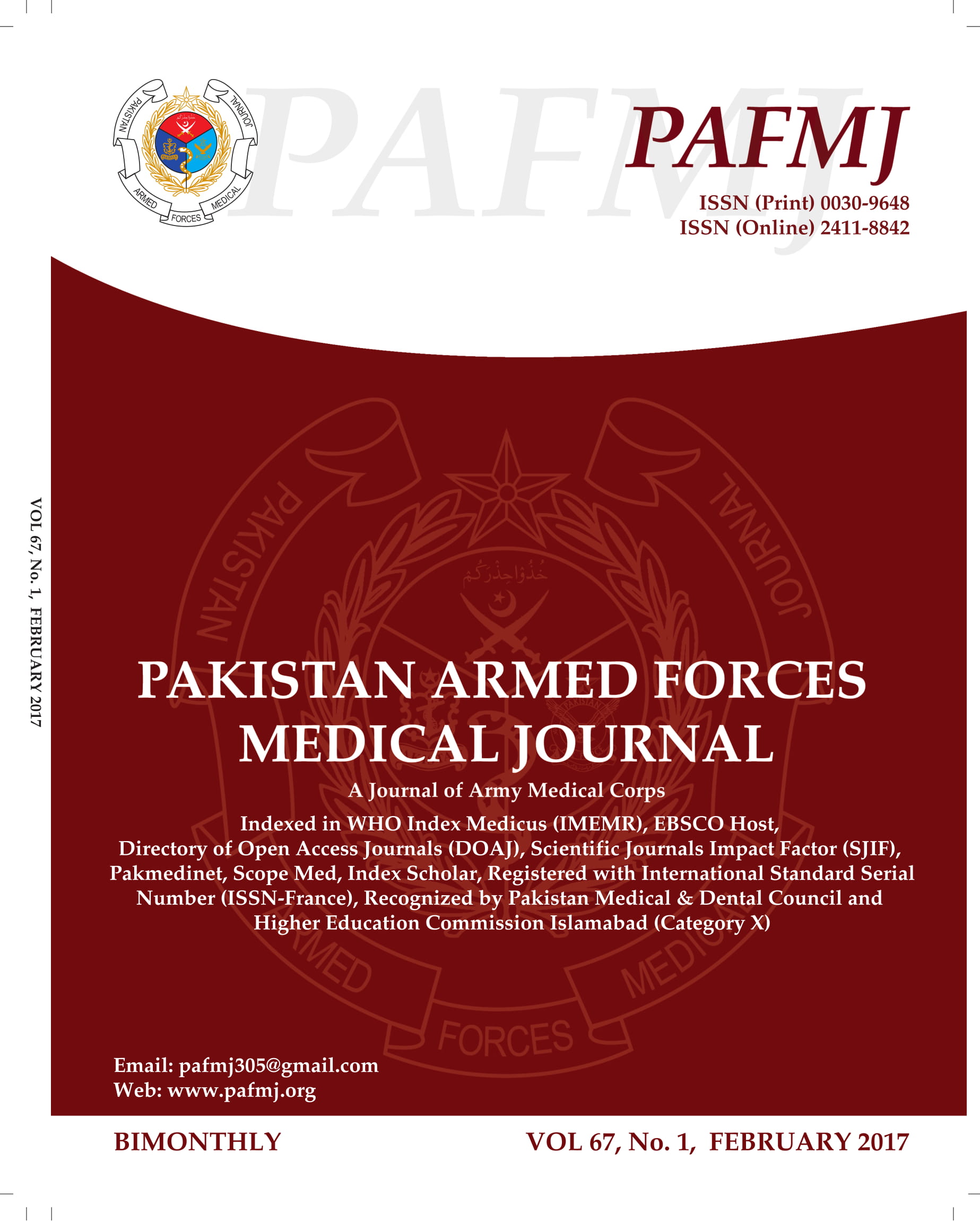 How to Cite
Riaz, O., Mahmood, A., Ahmed Alvi, Z., Gul, S., Rasul, S., & Haider, N. (2018). EFFICACY OF HYPOFRACTIONATED RADIOTHERAPY IN LOCO-REGIONAL TUMOR CONTROL IN BREAST. Pakistan Armed Forces Medical Journal, 67(1), 72-77. Retrieved from https://pafmj.org/index.php/PAFMJ/article/view/141
Section
Original Articles