MATERNAL PERCEPTION OF FEVER IN CHILDREN BY TACTILE TECHNIQUE. HOW VALID IT IS?
Fever in Children by Tactile Technique
Keywords:
Axillary thermometre fever, Tactile thermometry
Abstract
Objective: To determine the validity of tactile technique as a tool for fever assessment in children by mothers.
Study Design: A cohort study.
Place and Duration of Study: The study was conducted at the department of Paediatrics, Combined Military Hospital, Bahawalpur, Pakistan, from September 2007 to September 2009.
Patients and Methods: Convenient sampling technique was employed. Three hundred and ninety three children between the ages of 6 months and 5 years, brought to hospital by mothers with history of prolonged fever (7 days or more) perceived by tactile technique. Children were not supposed to be necessarily febrile at the time of enrollment. A six hourly temperature recording was done. Moreover, whenever mothers felt that their child is febrile by using tactile method of their choice, axillary thermometry was done irrespective of the number of recordings. Standard mercury thermometry by axillary technique (without adding a degree to measured value) was chosen. Reading of more than 99.50 Fahrenheit (37.50 centigrade) was labeled as fever. Cases that remained fever free for five days were labeled afebrile and discharged. Mothers were advised to watch for fever for one week at home and to report back immediately if they felt that their child has fever, confirmed by a single tactile measurement. Those who reported back were readmitted and subjected to the same method of monitoring and recording as was applied on first admission. Data was analyzed using SPSS version 17. Descriptive statistics were applied to calculate the frequencies, means and standard deviations.
Results: Among the 392 children 58.4% were males and 41.4% were females. The mean age was 24.4 ± 14.39 months. Majority had a history of fever of 5 to 24 days (70.2%). In only 184 (46.93%) patients fever was confirmed. In 208 (53.08%) patients no fever was recorded and were discharged. Twenty one patients reported back with fever. However, fever was confirmed in only 11 patients. In summary, a total of 195 (49.74%) patients actually had fever while a large population of 197 (50.25 %) did not had fever.
Conclusion: Fever was over estimated by the mothers when detected by tactile technique. Axillary thermometry as a tool for fever assessment at home and clinics should be encouraged. This will significantly reduce the need for undue investigations and unnecessary medications.
Downloads
Download data is not yet available.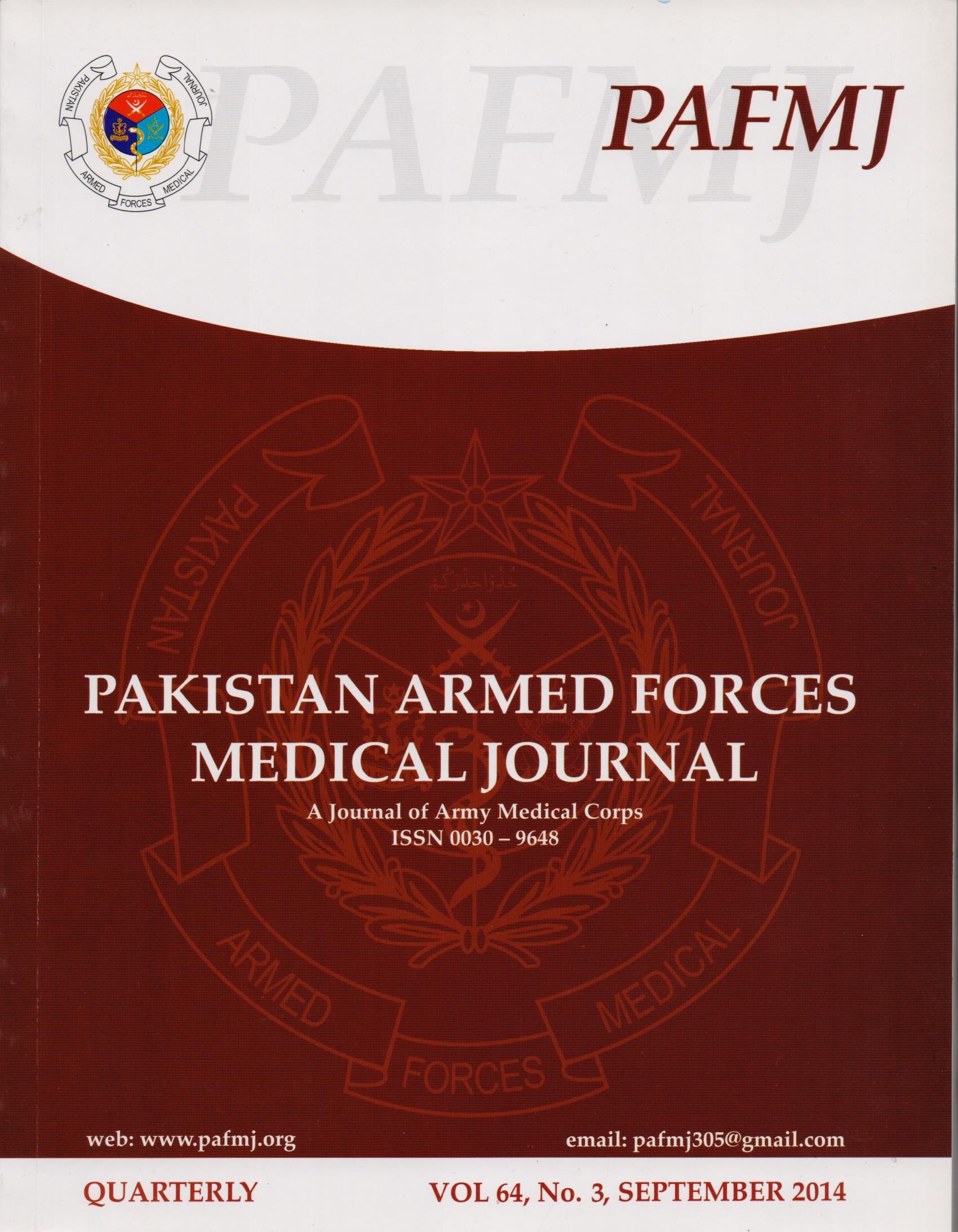 Downloads
How to Cite
Jalil, J., Basheer, F., Shafique, M., & Ghafoor, T. (2014). MATERNAL PERCEPTION OF FEVER IN CHILDREN BY TACTILE TECHNIQUE. HOW VALID IT IS? Fever in Children by Tactile Technique. Pakistan Armed Forces Medical Journal, 64(3), 488–92. Retrieved from https://pafmj.org/PAFMJ/article/view/1375
Section
Original Articles