COMPARISON OF INTRA-ARTICULAR PETHIDINE AND NEOSTIGMINE FOR POSTOPERATIVE ANALGESIA IN PATIENTS UNDERGOING KNEE ARTHROSCOPY
Bilal Yasin

Combined Military Hospital Kharian and *Rawalpindi

Waqas Ahmed Kazi

Combined Military Hospital/ National University of Medical Sciences (NUMS) Rawalpindi Pakistan
Keywords:
Pethidine, neostigmine, postoperative analgesia, knee arthroscop
Abstract
Background and Objectives: Traditionally local anesthetics such as bupivacaine along with systemic analgesics have been used for postoperative analgesia after knee arthroscopy but it has a short duration of action. Recently, neostigmine a cholinestrase inhibitor has shown analgesic actions when used intrathecally but this central delivery of neostigmine is associated with side effects. Same is the case with central actions of pethidine. Both drugs also have a peripheral analgesic effect. The purpose of this study was to compare the peripheral analgesic effects of intra-articular neostigmine and pethidine used separately in patients undergoing knee arthroscopy.
Patients and Methods: Fifty American Society of Anesthesiologist (ASA) class I and II patients, scheduled for diagnostic knee arthroscopy were allocated randomly in two groups. A standard anaesthetic technique was used. No systemic analgesic was administered. At the end of arthroscopy group I received intra-articular neostigmine 500 mg diluted in 30 ml of normal saline and group II received 50 mg pethidine diluted in 30 ml of normal saline. Postoperative analgesia was assessed by Pakistan Coin Pain Scale at 1, 4, 8, 24 and 48 hours. If required, rescue analgesia was given as intravenous Inj. pethidine.
Results: Pakistan Coin Pain Scale Scores were lower throughout in the neostigmine group as compared with pethidine group (p < 0.05). The requirement of rescue analgesia was also lower in neostigmine group as compared to pethidine group (p < 0.05).
Conclusion: Intra-articular administration of 500 mg of neostigmine in patients under going knee arthroscopy has superior analgesic effect as compared to 50 mg of intra-articular pethidine.
Downloads
Download data is not yet available.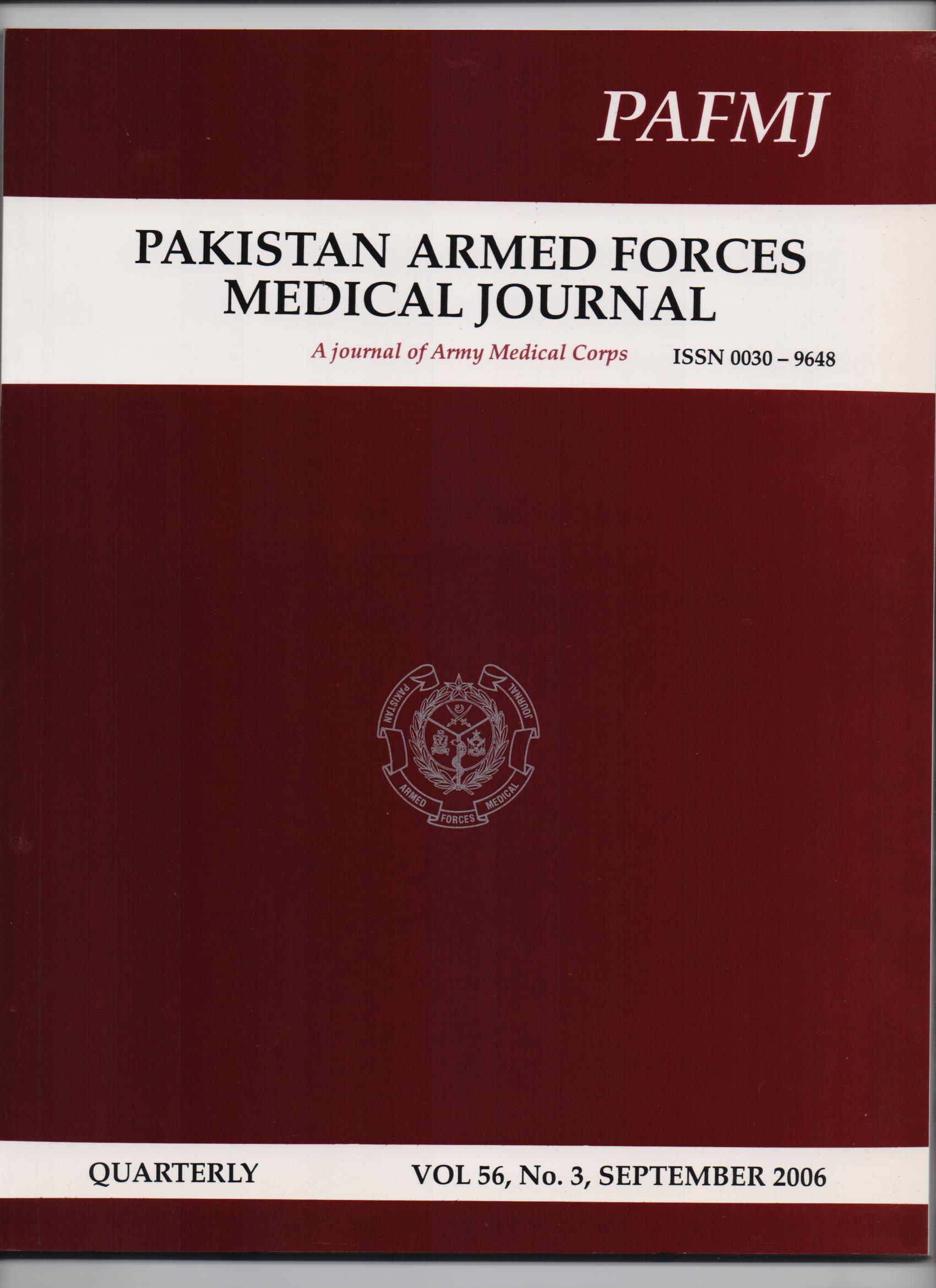 How to Cite
Yasin, B., & Kazi, W. A. (2006). COMPARISON OF INTRA-ARTICULAR PETHIDINE AND NEOSTIGMINE FOR POSTOPERATIVE ANALGESIA IN PATIENTS UNDERGOING KNEE ARTHROSCOPY. Pakistan Armed Forces Medical Journal, 56(3), 212-217. Retrieved from https://pafmj.org/index.php/PAFMJ/article/view/1374
Section
Original Articles