FUNCTIONAL OUTCOME OF ARTHROSCOPIC ASSISTED ANTERIOR CRUCIATE LIGAMENT RECONSTRUCTION
Arthroscopic ACL Reconstruction
Keywords:
Arthroscopy, Anterior cruciate ligament, Reconstruction
Abstract
Objective: To assess the mid-term functional outcome of arthroscopic assisted anterior cruciate ligament (ACL) reconstruction using bone-patellar tendon-bone (BPTB) graft based upon subjective scores.
Study Design: Cross sectional study.
Place and Duration of study: Department of Orthopaedics and Spine, Doctors Hospital & Medical Centre, Lahore, Pakistan from Jan to Dec 2016.
Patients and Methods: After fulfilling the inclusion criteria 52 patients who underwent arthroscopic assisted ACL reconstruction were enrolled into the study. Patients were subjectively evaluated with Lysholm knee scoring scale and Tegner activity scale. Preoperative scores were obtained and compared with those obtained 6 months after surgery and were analyzed using wilcoxon signed-rank test on IBM SPSS statistics version 20.
Results: Mean difference between preoperative and 6 months postoperative Lysholm scores was 30.04 ± 13.42 (p<0.001) and mean difference in Tegner activity scale was 2.88 ± 1.11 (p<0.001). Excellent scores were obtained in 40 (77%) patients, good in 1 (2%), fair in 7 (13%) and poor in 4 (8%) of patients. Postoperative complications included anterior knee pain in 3 (5.76%), superficial surgical site infection in 1 (1.9%), deep surgical site infection in 1(1.9%) and joint stiffness in 1 (1.9%) patient.
Conclusion: Arthroscopic assisted ACL reconstruction using BPTB autograft showed an excellent functional outcome explained in terms of subjective evaluation as depicted by Lysholm knee scoring scale and Tegner activity scale.
Downloads
Download data is not yet available.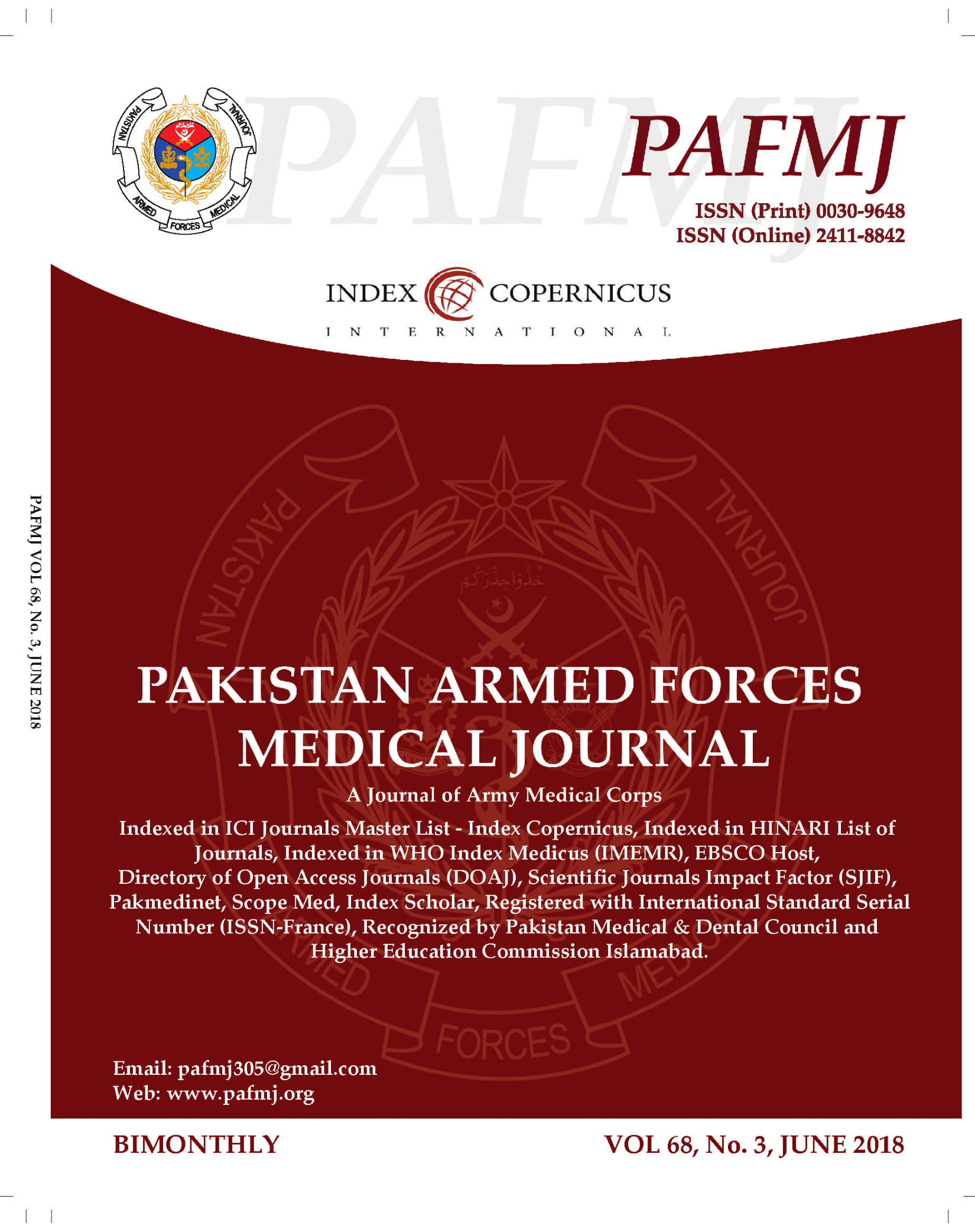 How to Cite
Siddiq, U. A. B., Zafar, A., Rehman, H. U., Siddiq, A. B., & Shah, G. (2018). FUNCTIONAL OUTCOME OF ARTHROSCOPIC ASSISTED ANTERIOR CRUCIATE LIGAMENT RECONSTRUCTION: Arthroscopic ACL Reconstruction. Pakistan Armed Forces Medical Journal, 68(3), 441–44. Retrieved from https://pafmj.org/index.php/PAFMJ/article/view/129
Section
Original Articles