RISK FACTORS IN DEVELOPMENT OF MULTI DRUG RESISTANT TUBERCULOSIS IN THE HOSPITALIZED PATIENTS
Tuberculosis
Ahmad Khan

PNS Shifa Karachi

Abdul Qadir Usmani

Army Medical College Rawalpindi

Abida Sultana

Army Medical College Rawalpindi

Zakir Hussain

PMA Kakul

Dilshad Ahmed Khan

AFPGMI Rawalpindi

Mahmood ur Rehman

AFPGMI Rawalpindi
Keywords:
MDR-TB, , anti- tuberculosis treatment,, INH and rifampicin.
Abstract
The emergence of multi-drug resistant tuberculosis (MDR-TB) is becoming a global threat. A study was carried out to determine the frequency and risk factors associated in the development of MDR-TB in the hospitalized patients. It was a retrospective study in which five hundred patients of tuberculosis, admitted in the TB wards of Military Hospitals Rawalpindi, were include. Diagnosis of MDR-TB was established based on susceptibility pattern of Mycobacterium tuberculosis by Agar diluted method on Lowenstein Jensen Medium. The isolates which showed simultaneous resistance to INH and Rifampicin either with or without resistance to other drugs were labeled as MDR-TB. Out of 500 diagnosed patients of tuberculosis, 40 (8%) patients developed MDR-TB. Smokers were at high risk to develop MDR-TB (12.9%) as compared to non-smokers (5.6%). MDR-TB was found more in extra pulmonary tuberculosis (35%), secondary tuberculosis (21.4%) and patients taking irregular anti tuberculosis treatment (36.6%) as compared to pulmonary tuberculosis (6.9%), primary cases (1.8%) and patients taking regular treatment (2.4%) respectively (p<0.05). smoking, extra pulmonary tuberculosis secondary tuberculosis and poor compliance to the anti-tuberculosis treatment are the main contributing factors in MDR-TB. The development of MDR-TB in community can be reduced by modifying these MDR-TB associated risk factors.
Downloads
Download data is not yet available.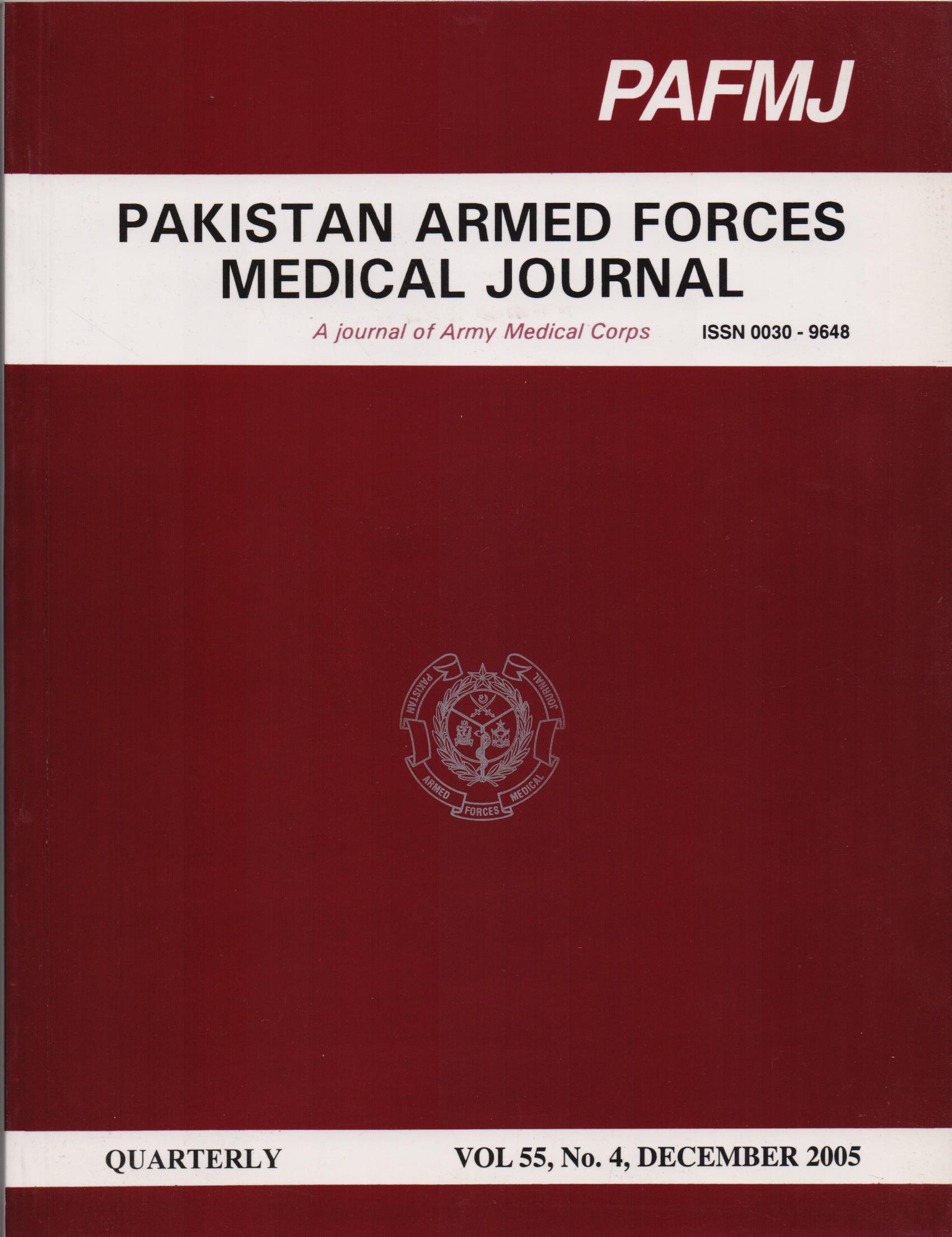 How to Cite
Khan, A., Usmani, A., Sultana, A., Hussain, Z., Khan, D., & Rehman, M. (2005). RISK FACTORS IN DEVELOPMENT OF MULTI DRUG RESISTANT TUBERCULOSIS IN THE HOSPITALIZED PATIENTS. Pakistan Armed Forces Medical Journal, 55(4), 290-295. Retrieved from https://pafmj.org/index.php/PAFMJ/article/view/1215
Section
Original Articles